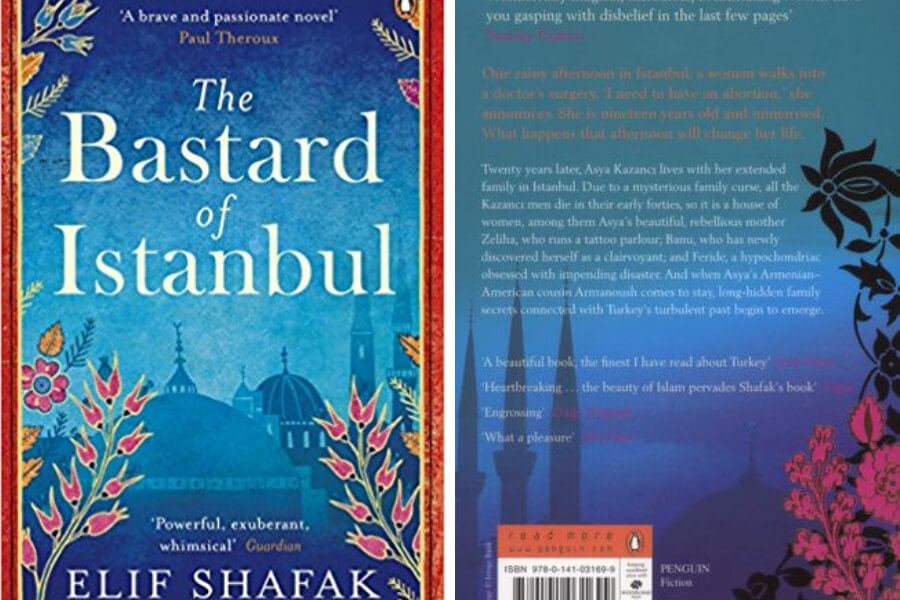 If you have read my 'About me' page, you must be knowing that I am on a book & food voyage around the world.  The last book which I have recently finished reading – The Bastard of Istanbul by Elif Shafak, was a perfect choice for this journey.
Elif is a Turkish-British novelist, a public speaker, and women's rights activist. This was my first experience of her writing and I thoroughly enjoyed it.  When I bought this book,  I was actually looking for another highly recommended book by the same author- Three daughters of eve, which was not in stock that day so I picked up this book seeing that it's also longlisted for the 2008 orange fiction prize.
I love writers who have a great sense of humor especially those can emblaze the most intense plots with this amazing quality of theirs. From this book, I believe that Elif Shafak also fits in this category.
No, this book is not a comedy book, on the contrary, it revolves around the painful past of two beautiful countries Turkey & Armenia and the agony of people who lived in that excruciating time when the relationship between Turks and Armenians was in it's worst stage, leading to the massacres.
I will call it my ignorance that before reading this book I didn't have the slightest knowledge of this awful time in history. Though not completely similar, still something like the relationship between India and Pakistan. However, in India and Pakistan's case, both the sides suffered equally but what I felt after reading this book and other related articles on google is that in Turkey and Armenia's case, one country acted like an oppressor and the other became a victim. Now after more than a 100 years of that heinous period, the victim doesn't want to forget the past and the oppressor doesn't want to remember it.
The writer has very beautifully plotted the whole story and for me, it was a complete delight as she has described the food of Turkey and Armenia with such detail that you can actually smell the aroma of dishes served on their dining tables. She has even shared a dessert recipe in the book, what more can I ask for.
The story has two main families in it, living miles apart- the Tchakhmakhchians and the Kazancis – one Armenian family and the other Turkish. Then one day their paths get connected through a common American family member and the readers were then taken to a different era – a gloomy past.
This book shows how the deeds of one person can completely change the life of many of his future generations. If we had a power to travel back in time like a djinn, to see the life of our forefathers and realize how what they were doing in their life will have such a great impact on our lives even after hundreds of years, will it make us more watchful of our actions so that we could make the life of our future generations more beautiful.
Revelations made in the last few chapters of the book are really shocking and heartbreaking. A beautiful story narrated in an incredible way.
I would highly recommend this book to all fiction lovers. Can't wait to buy – Three daughters of Eve now.