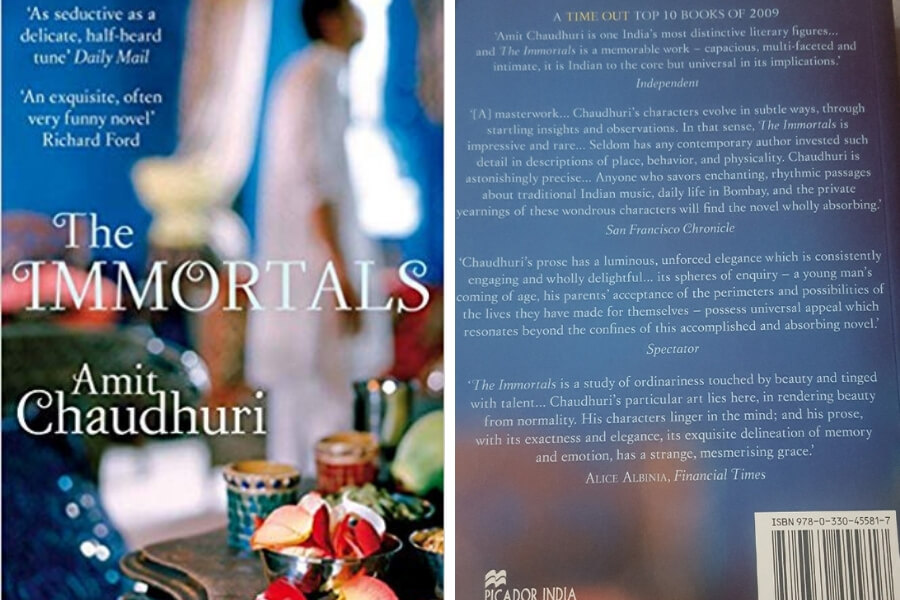 Last year, during our visit to India Amit, bought two books for me. I chose the books but he paid for them J.
One of the books was – The Immortals by Amit Chaudhuri.
Honestly, I had never heard of the author or the book before and my reason for picking up this book was the impressive list of awards won by the book, mentioned on its front cover.
I love reading authors I have never heard of or read before. During our college days, my sister (Ruchi di) and I used to pick up books by new authors and then share our experience with each other.
Amit Chaudhuri is an Indian novelist, poet, essayist, literary critic, editor, singer, and music composer. He is a professor of Contemporary Literature at the University of East Anglia.
Almost every novel written by him has won awards.
The Immortals is a book which is plotted in the 80's Bombay and revolves around different characters who are somewhat connected through Indian music.
The first character is a lady Mallika Sengupta- a talented voice waiting for an opportunity to become a playback singer in the Indian film industry. She struggles to maintain the discipline required by Indian classical music while playing her primary role of being the wife of a Senior Corporate Executive.
The second character is the son of Mallika Sengupta – Nirmalaya, also a classical music student concerned with her mother's lack of seriousness towards her career in classical music. Not a very happy child or teenager, Nirmalaya finds himself lost in the luxurious life of his parents upper middle-class family.
The third character is Shyamji, the music teacher of Mother-Son duo. A talented person who diverts his path from classical to the modern side of the Indian music industry in order to financially support not only his immediate but extended family too.
There are many other related characters in the book whom the author has crafted in such a natural way that you can immediately imagine what type of character he is talking about.
Though very beautifully written, I didn't enjoy the book much due to its storyline.
There were parts where I felt the story has been stretched a lot and there was nothing I was looking forward to reading in it.
However there a lot of positive reviews about this book and it has a lot of awards like – A New Yorker Book of the Year, A San Francisco Book of the Year, for me, it was not a book which I liked.
If you have read any other book of Amit Chaudhari and liked it, please let me know. I won't mind reading another Amit Chaudhari book.