Ram Laddu is a very popular vegan & gluten-free street food from Delhi. The amazing combination of piping hot lentil fritters, spicy green chutney & radish is a must try.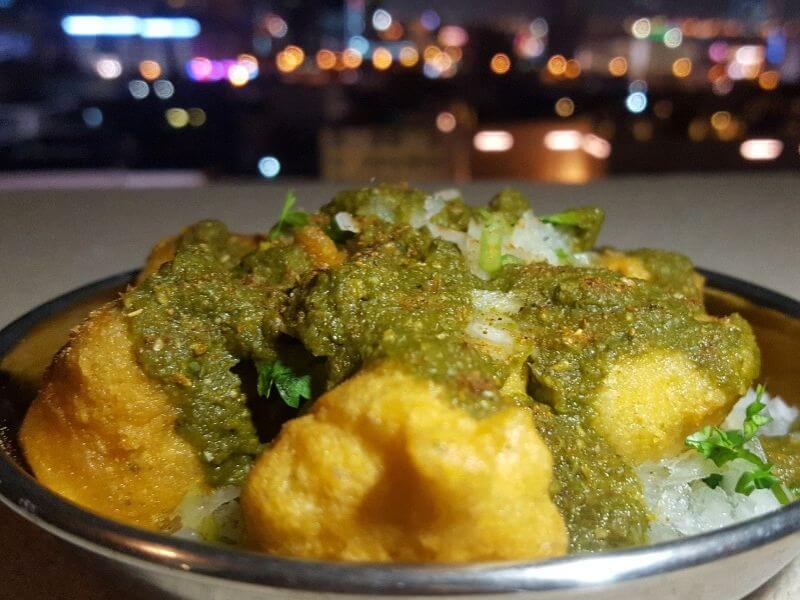 This post contains affiliate links. Please read my full disclosure here. As an Amazon Associate, I earn from qualifying purchases.
I have recently come back from almost a month-long break in India. It was the best vacation after my marriage as I got almost two weeks time to spend with my parents and one week with my sister (the longest time I got to spend at my parent's place after marriage).
Though I had planned of capturing a lot of recipes from my mother's kitchen we all were so happily engrossed in reliving the old days that I chose to skip blogging during that time. Maybe next time I will post recipes from my parent's kitchen.
After spending such a great time with family in India, I am feeling homesick now. When I was leaving for India, around a month back, the weather in Dubai was hot. Now after a month, it has become pleasantly warm and beautiful which it's making me even more nostalgic. Back in India, winter had started. The warmth of mom made sweaters, the magic of ginger and pepper tea on beautifully cold mornings, ever-smiling innocent faces of my parents, the awesome company of my sister, taste of mom-made food, enjoying TV shows like KBC, Big boss, Indian Idol, with family –tucked inside the quilt and drinking a cup of hot milk with turmeric or Chyawanprash, every single night – these memories will take time to fade away.
To overcome this nostalgia, yesterday, I thought of making something which we enjoy eating in India during winters. After checking the ingredients in my fridge and the weather outside, I decided to make one of my favorite chaats- Ram laddu. Ram laddu is a very popular street food of Delhi/ NCR. Though you can have it in any season they taste best during winters.
In this dish, lentil fritters are served with spicy green chutney and grated radish. The combination of piping hot fritters with cold radish and chutney is simply amazing.
Yesterday, after Amit came back from the office, we celebrated the beginning of the weekend, remembering India – sitting in the balcony of our house in Dubai while enjoying the street food of Delhi and watching the magnificent Burj Khalifa.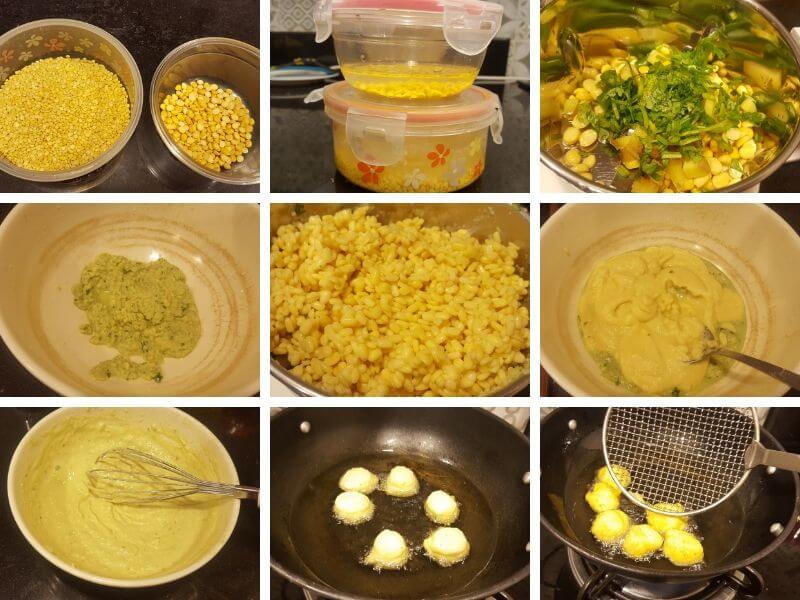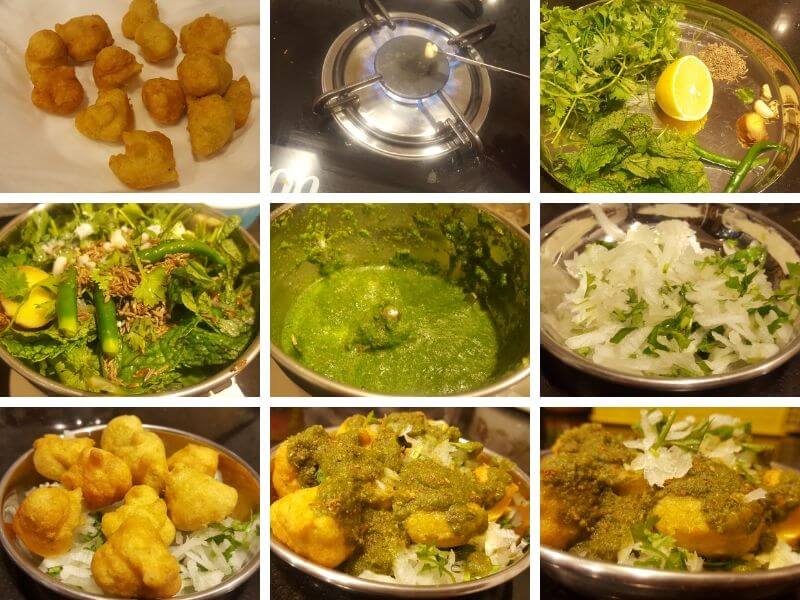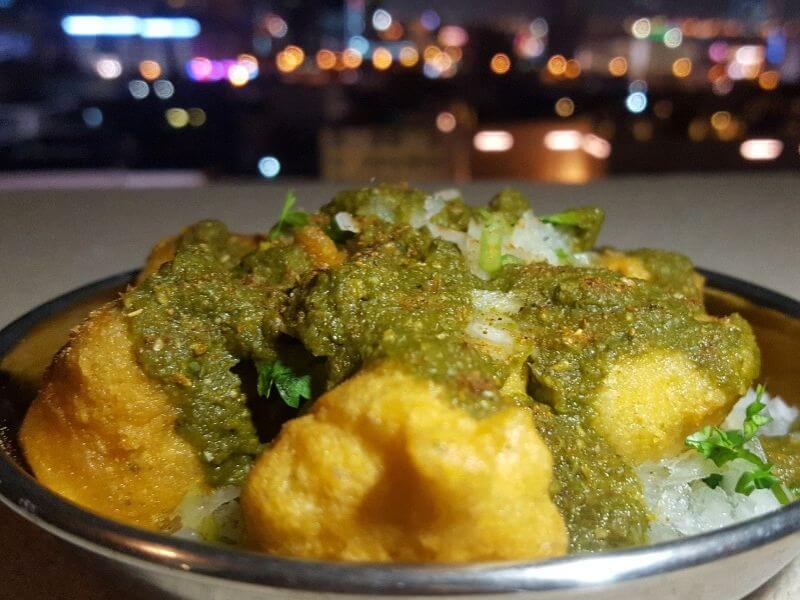 How to make Ram Laddu?
Recipe:
Preparation time: 10 minutes + 4-5 hours soaking time
Cooking time: 20 minutes
Serves: 4 (Makes around 40 bite-size fritters)
Ingredients for chutney:
Coriander leaves : 1 & ½ cups
Mint leaves: 15-20
Garlic cloves: 2-3
Ginger: ½ inch piece
Green chilies: 2 / as per taste
Cumin seeds: 1 teaspoon
Coriander seeds: 1 teaspoon
Red chili powder: 1 teaspoon
Lemon juice: 1 & ½ tablespoons
Salt: As per taste
Ingredients for fritters:
Moong dal (Yellow lentil/ split and dehusked mung bean) – ½ a cup
Chana dal (Split Bengal gram)- 1 & ½ tablespoons
Green chilies: 2
Ginger: ½ inch piece
Salt to taste
Oil for deep frying
Water: around 2 tablespoons
Ingredients for garnishing:
Grated white radish: 1
Chopped coriander leaves: ½ a cup
Chaat masala: 1 teaspoon
Method for making chutney:
Dry roast the garlic cloves over gas flames and keep aside. You can skip this and directly add the raw garlic but it's is a secret tip, shared with me by my sweet mum who makes the best chutneys in the world
Put all the ingredients under chutney in a grinding jar and grind to a paste
Add water to get the required consistency and blend again
Take out the chutney in a bowl and keep aside
Method for making fritters:
Soak both the lentils in water separately for around 4-5 hours
After 5 hours drain the water
Now put the split Bengal gram, chopped green chilies, chopped ginger, and around 1 tablespoon water in a grinder and make a smooth paste. The paste should be smooth but not runny so add as little water as possible
Take out the paste in a large bowl and add the yellow lentil to the grinding jar and make a smooth paste
Mix both the pastes, till it becomes light and fluffy. You can use an electric whisker, manual whisker, or your hands. However, if you do it manually, it will take around 8-10 minutes of whisking to get the right result
Heat oil in a pan. When the oil is ready, add salt to the paste and mix well. Don't add salt in advance otherwise, the paste will become watery and you won't get the required result
Now take a small portion of paste between your fingers and carefully drop it in the oil by pushing the paste with your thumb
Similarly, make more fritters and fry till they become golden brown
Take them out on a plate covered with tissue paper to absorb excess oil
You can also use an air fryer to get a healthier version
Final presentation:
Make a thin layer of grated radish and coriander leaves on a small plate
Put around 8-10 fritters on top of it
Garnish with some more radish and coriander leaves and a pinch of chaat masala. You can also use black salt if you don't have chaat masala
Serve hot and enjoy!