Ash-e-Reshteh is the most popular soup in Iran. Mainly made with beans and herbs this delicious soup is a complete meal in itself.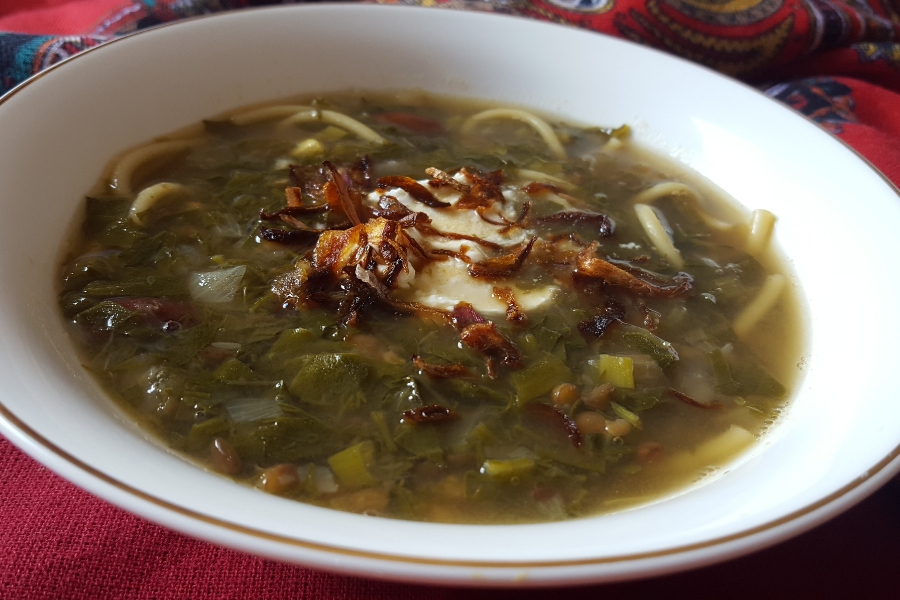 This post contains affiliate links. Please read my full disclosure here. As an Amazon Associate, I earn from qualifying purchases.
Last month I tried Persian food for the first time by making Fesenjan. That dish was so amazing that I really couldn't stop myself from trying another recipe from Iran.
If you have not checked out the recipe of Fesenjan, you can check it here. It's a must-try vegan recipe.
The second Persian recipe which I tried is a very popular Noodle soup of Iran – Ash e Reshteh. This dish is generally served during New Year or other special events in Iran.
It's basically a herbs and beans soup and is a complete meal in itself. We also didn't have it as a soup but as a meal.
Since the original recipe is also Vegan just served with a dairy-based topping (Kashk) so you don't need to make too many changes to it for creating a vegan version. Simply skip that topping or replace it with vegan sour cream.
I have really started loving Persian cuisine which is really surprising me as being a spicy food lover I generally don't prefer recipes in which no form of chili is added. In both the Persian recipes which I tried, nothing hot was added still they tasted amazing.
This shows that you should try new things with an open mind and remain ready to get surprised.
Please share with me if there is any recipe that completely surprised you. I would love to try it.
Look at the weather in Dubai today, isn't it perfect to have a comforting bowl of soup. We don't often get such an opportunity in Dubai 🙂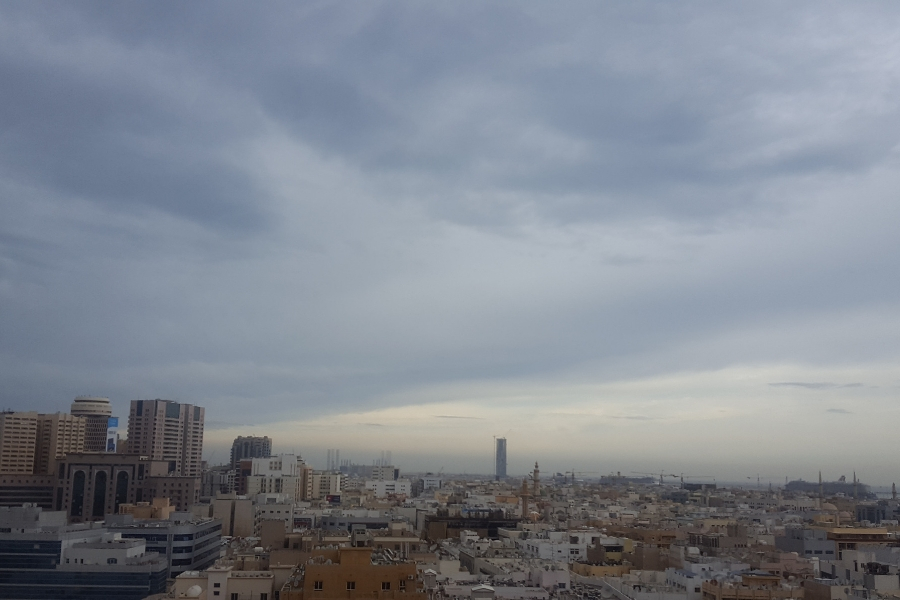 In this recipe, I have used brown lentil (sabut masoor), kidney beans, and Garbanzo beans, you can use any beans of choice.
Since I don't like the taste of canned beans much I prefer using dry beans and then cooking them at home.
If you want you can also use the canned beans.
Step by step photo instructions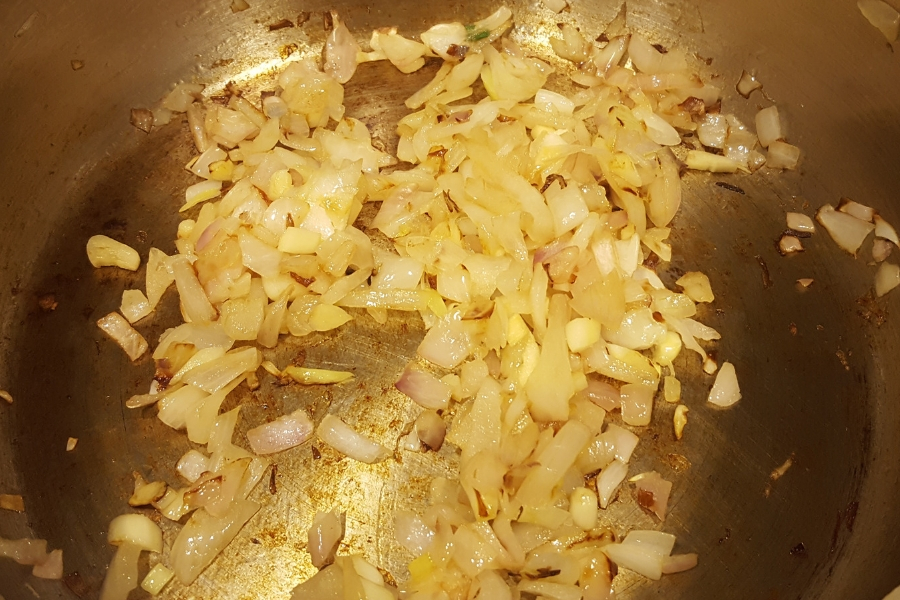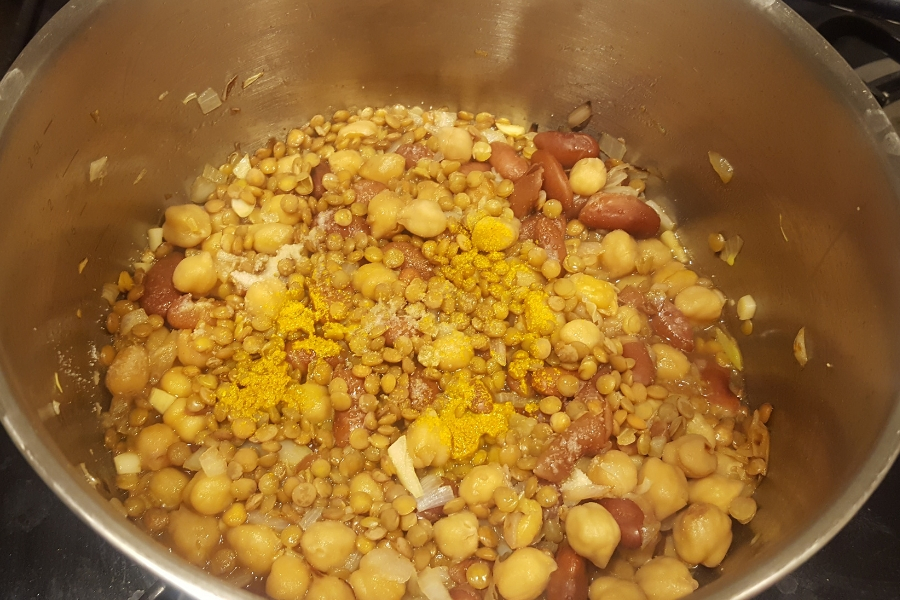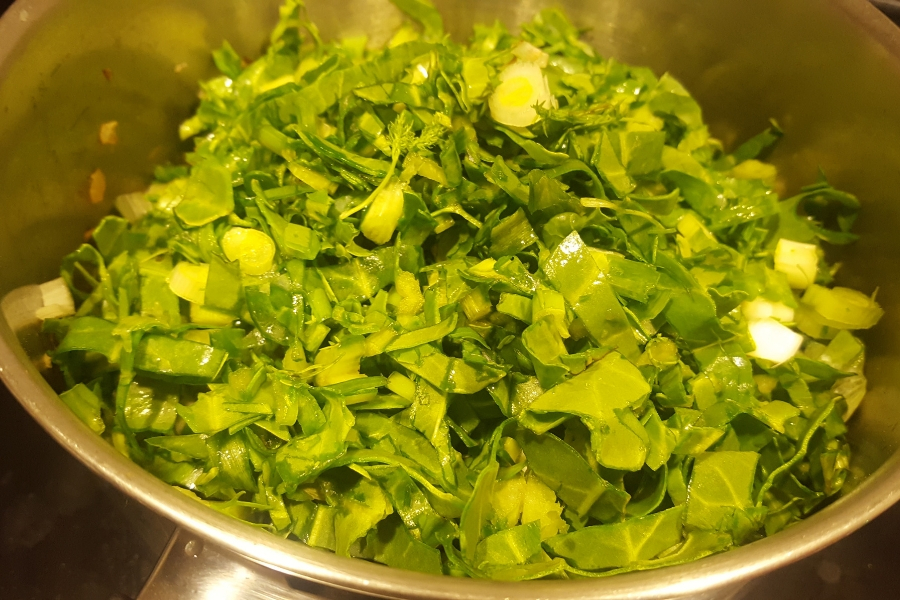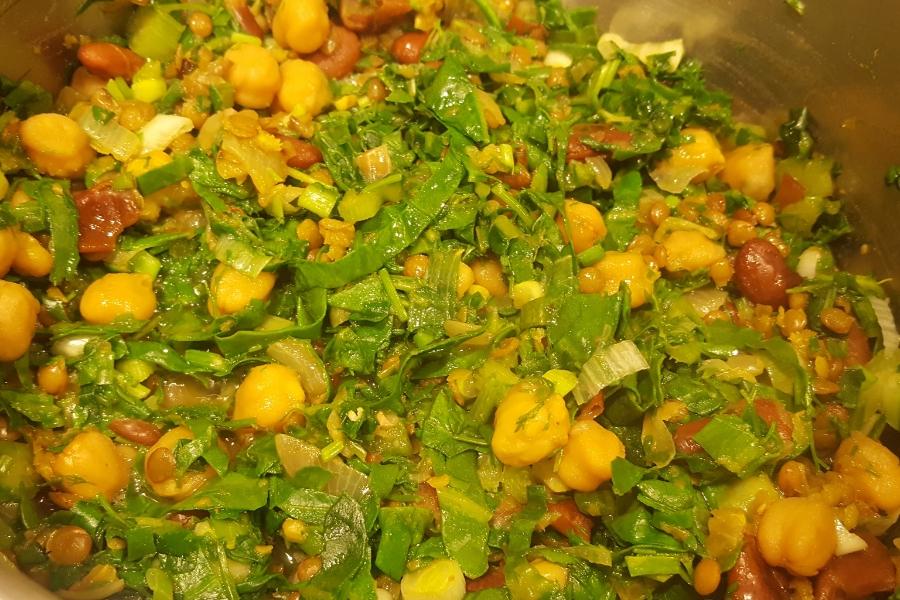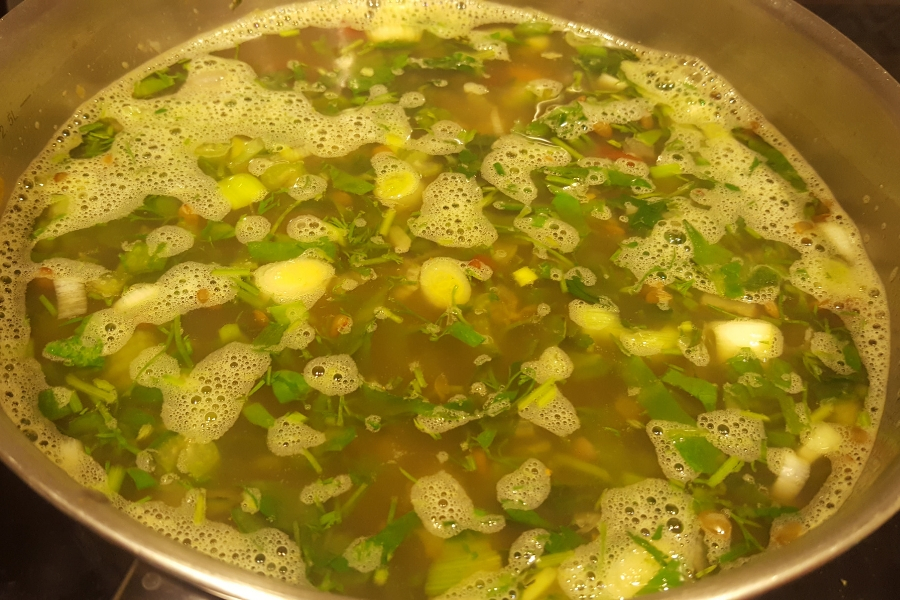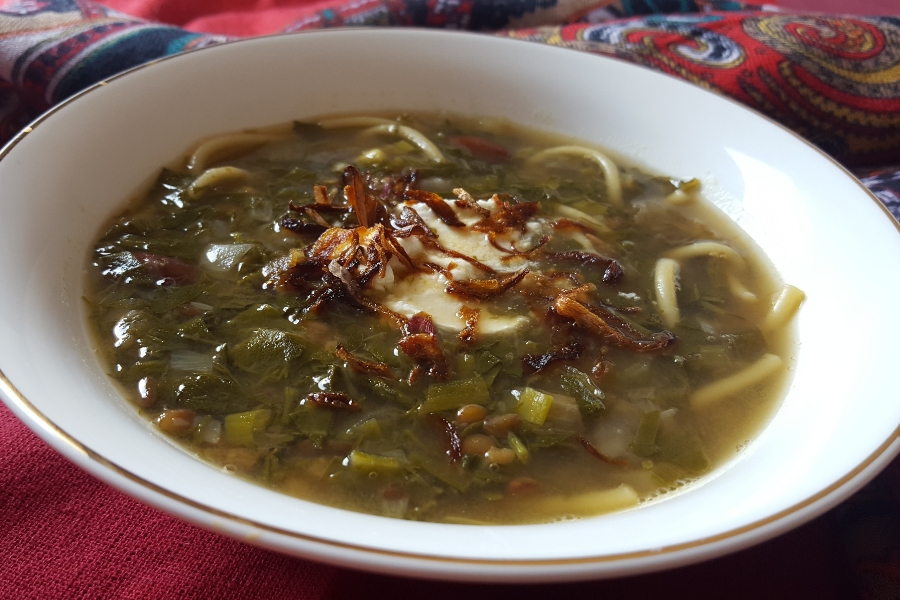 How to make Ash-e-Reshteh?
Recipe:
Preparation time: 15 minutes
Cooking time: 45 minutes
Total time: 1 hour
Serves: 4-5
Ingredients:
Boiled/ canned kidney beans (rajma): ½ a cup
Boiled/ canned Garbanzo beans (chole): ½ a cup
Boiled/ canned brown lentil (sabut masoor): ½ a cup
Chopped onion: 1
Thinly sliced onion: 1
Chopped garlic cloves: 6-7
Chopped spinach: 1 cup
Chopped parsley: ½ a cup
Chopped dill: ½ a cup
Chopped spring onion(green part only): ½ a cup
Reshteh (Persian noodles)/ Spaghetti: 300 gms (broken into halves)
Turmeric powder: ¼ a teaspoon
Olive oil: 2 tablespoons + ½ a cup (for frying the onions)
Boiling vegetable stock/ water: 1.5 ltrs
Salt: As per taste
Kashk/ sour cream/ vegan sour cream: 4-5 tablespoons (optional)
Method :
Heat oil in a pan and add chopped garlic, sauté for around a minute and then add in the onions. Fry onions till they start turning brown.
Add in the boiled beans and lentil and stir fry for around a minute.
Next, add in the chopped herbs, salt, turmeric, and stir fry for 1-2 minutes.
Pour in the boiling vegetable stock or boiling water. Mix everything nicely. Cover the pot and let it simmer for around 20 minutes.
After 20 minutes, add broken Reshteh/ spaghetti to the soup and let it boil for another 10-15 minutes or till the noodles are cooked.
Heat oil in a pan and fry thinly sliced onions till they turn golden brown. Take out on a plate and keep aside.
Take out the soup in a bowl, add a tablespoon of Kashk/ sour cream/ vegan sour cream and garnish with fried onions.