Baozi are delicious, fluffy chinese buns which are steamed not baked. These vegan Chinese buns are stuffed with a delicious mushroom filling.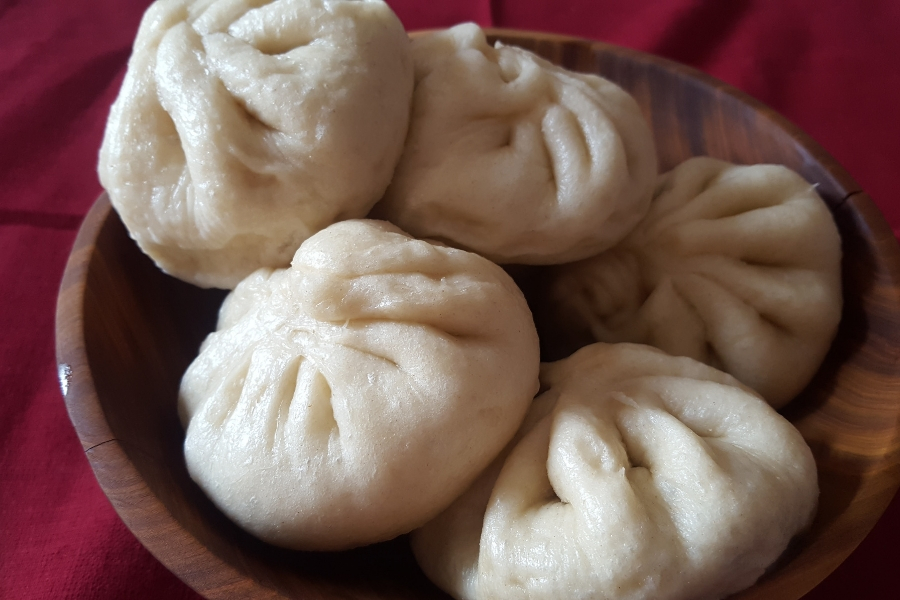 This post contains affiliate links. Please read my full disclosure here. As an Amazon Associate, I earn from qualifying purchases.
When I started learning Mandarin, one of the first few words which I learned was Baozi.
Baozi is a dumpling shaped stuffed bun from China. Unlike normal buns, instead of baking Baozi are steamed which makes it an interesting bun recipe.
As a kid, I was always fascinated by these beautiful fluffy snow white buns which I saw in Chinese movies and shows on Discovery and TLC but never got the chance to eat them as they were not available in the Indian restaurants during that time.
The first time I tried them was after joining a Chinese Bank and making lots of Chinese friends.
I discovered that they not only look amazing but taste great too. The whole experience of taking a bite of soft, fluffy buns and then tasting a delicious filling inside is awesome.
The first time I made Baozi at home, they were just okay but something was missing in them so I searched for all the tips and tricks of making perfect Baozi and tried again. This time they were perfect.
Today I will share not only the recipe of Vegan Baozi but also the tips that helped me in making perfect Baozi at home.
In this recipe, I have used Bok Choy and Mushroom but if you couldn't find Bok Choy, you can also use Spinach.
Another thing that I would like to share is that you get the perfect snow white color of Baozi if you use the special Baozi flour available in the Chinese supermarkets. However, if that's not available to you, use normal all purpose flour. Your Baozi will still taste the same but will appear slightly on off white side. I have also used normal all purpose flour.
Learning how to close the bun after putting in the filling is something that you learn with practice. You just need to keep on pinching the corners starting from one end and then reaching the other end and sealing them together. I am sorry while doing this I got so engrossed that I missed taking the photographs. However there are many tutorials on YouTube which may help you to learn it, it's not very tough.
Tips for making perfect baozi
While preparing the dough, always follow the process – knead-rest-knead-rest. Half of the war is won by kneading a perfect dough.
When you knead for the second time don't get impatient and knead nicely for at least 6-7 minutes. Your aim is to take out as much air bubbles from the dough as possible. This way when you allow it to rest for a second time, more even and smaller bubbles will be formed resulting in perfectly soft and smooth Baozi.
The dough should not be very soft or sticky. Make it like chapatti dough.
Don't roll the dough evenly the way it's done in roti or pizza base. Instead, leave the center slightly thick and stretch the sides. This way the bottom of the buns won't crack or leak on steaming
After filling the stuffing inside the buns, put them inside the steamer and let them rest just like that for 10-15 minutes before you switch on your steamer.
Always put a piece of butter paper under the buns when you put them in the steamer.
Use a cotton kitchen towel and put it under the steamer lid as it will collect the water droplets inside the steamer which may spoil the buns.
Once the steaming process is complete, don't remove the lid immediately. Instead, just switch off the steamer and let it rest like that for around 15 minutes before you remove the lid. If you immediately remove the lid, there will be a sudden drop in temperature which results in soggy buns.
I am sure if you follow these tips, you will get perfect Baozi every time you make them.
Step by step photo instructions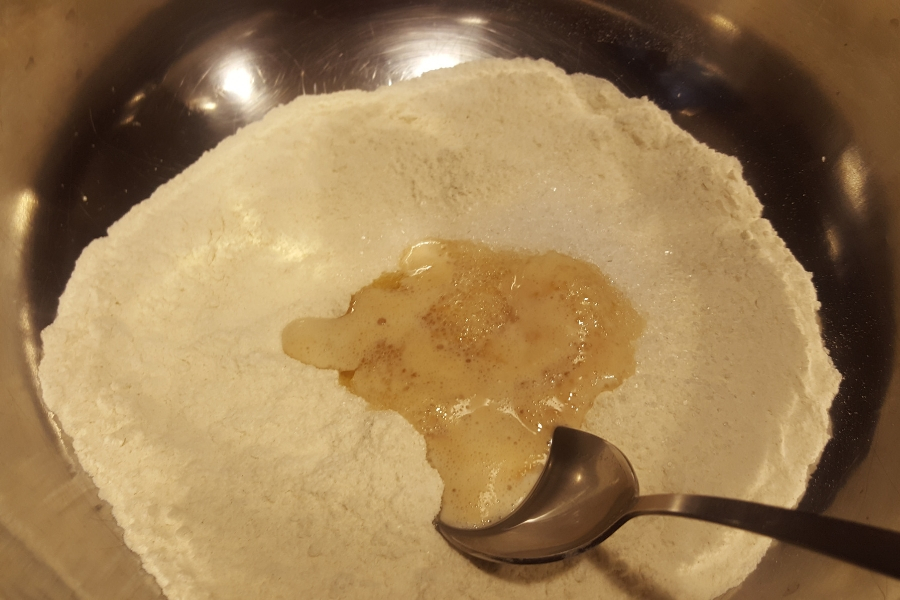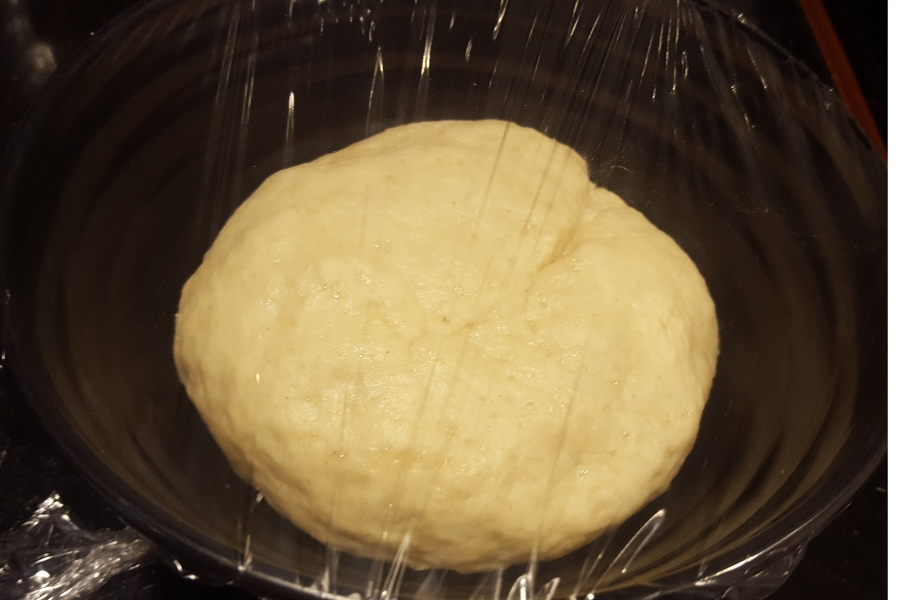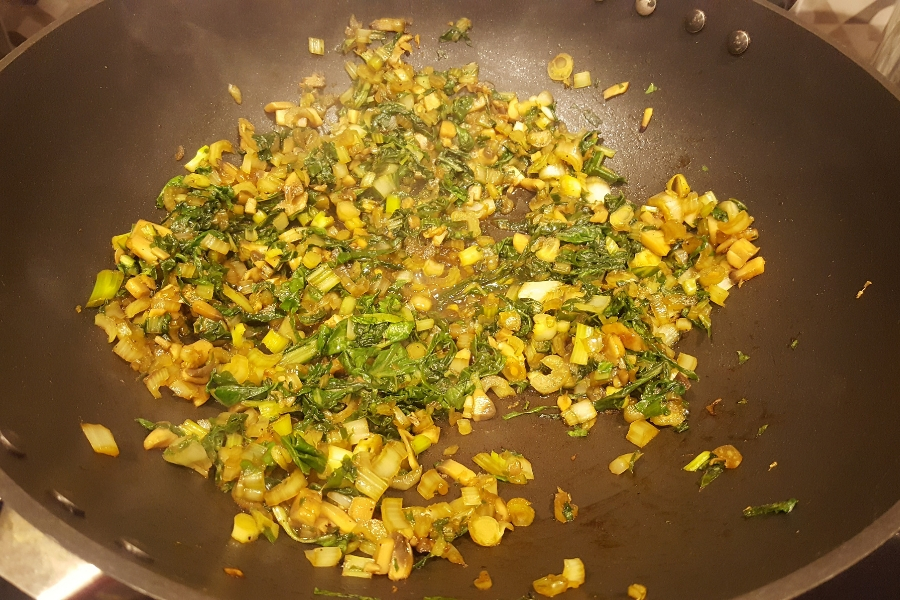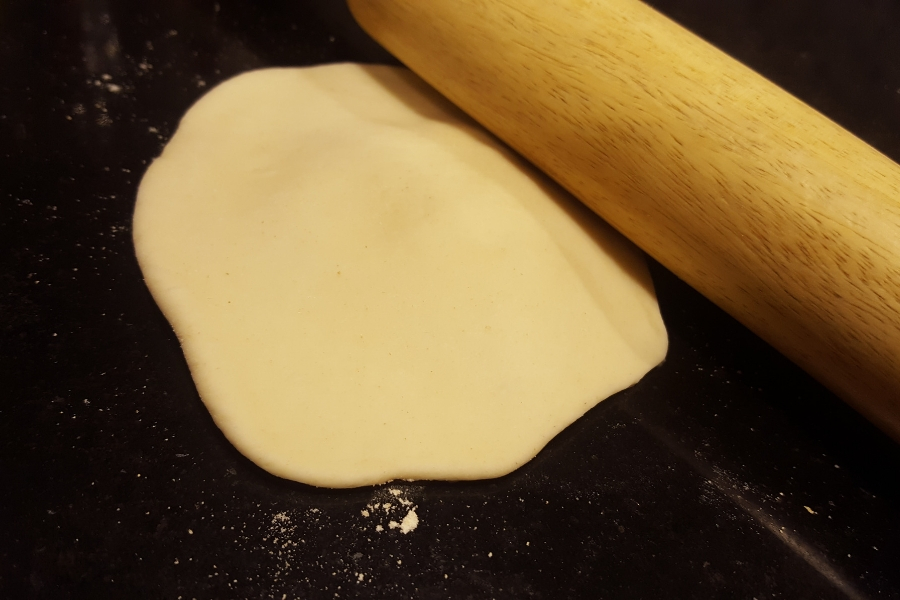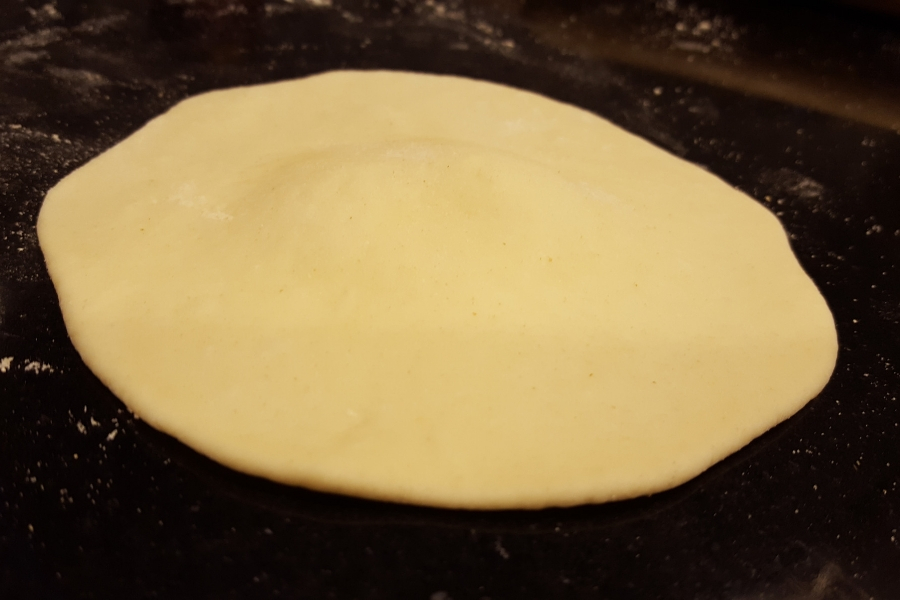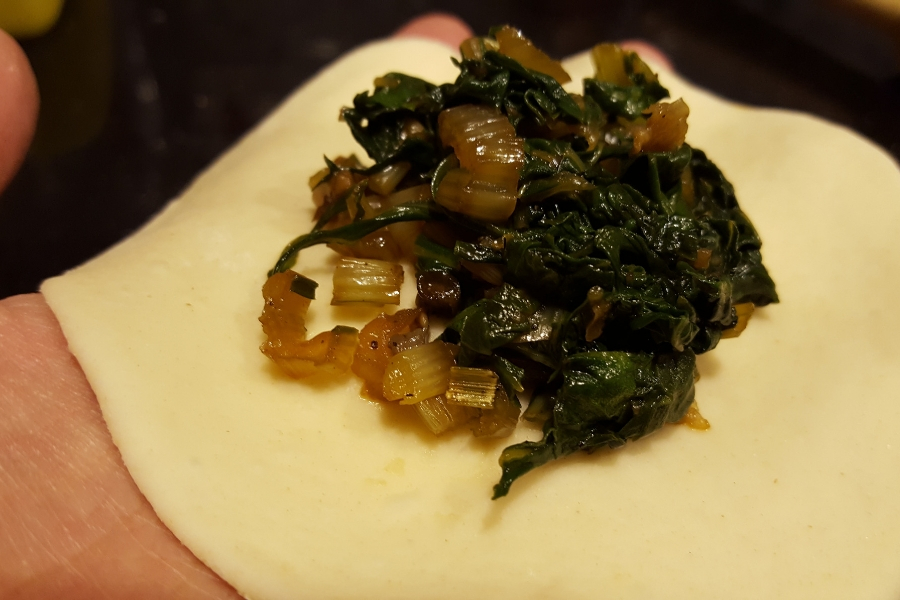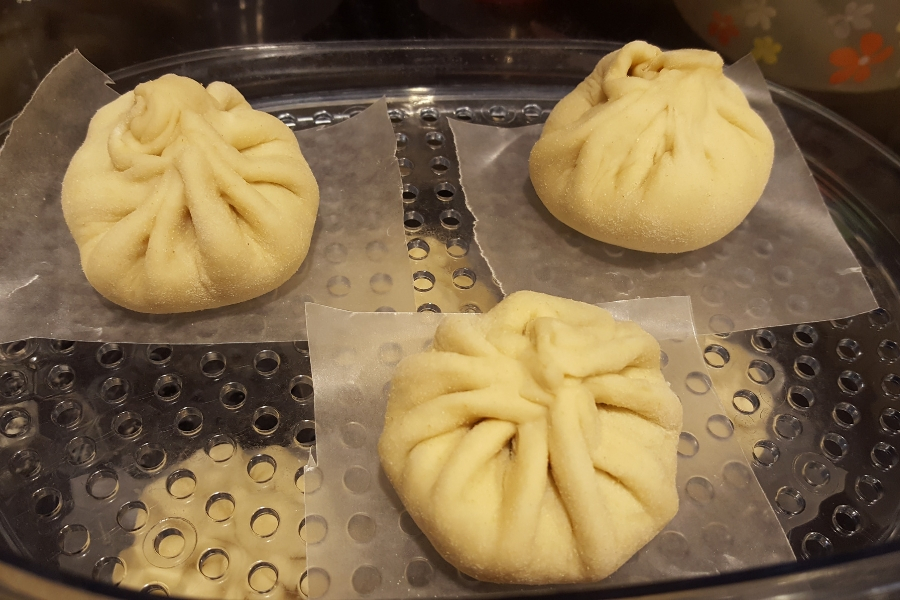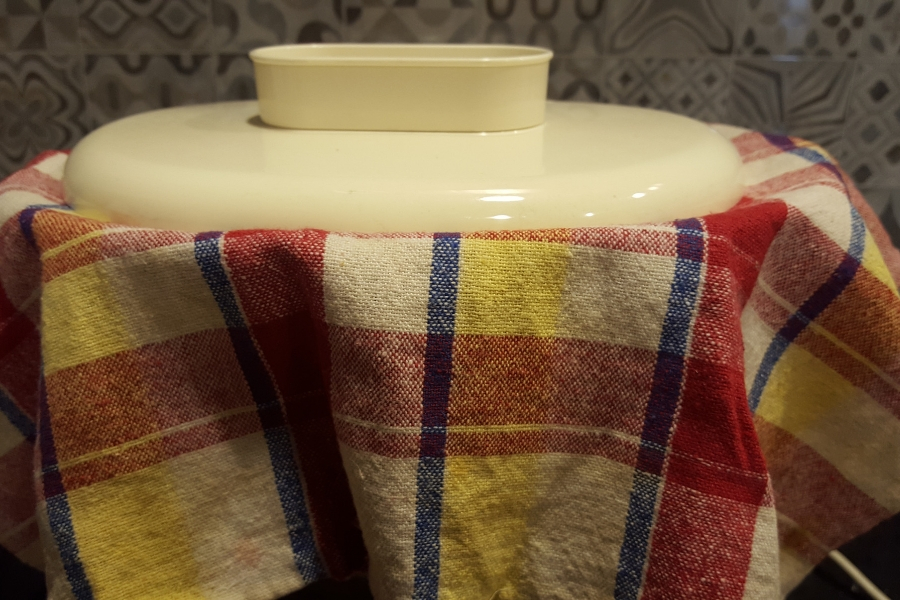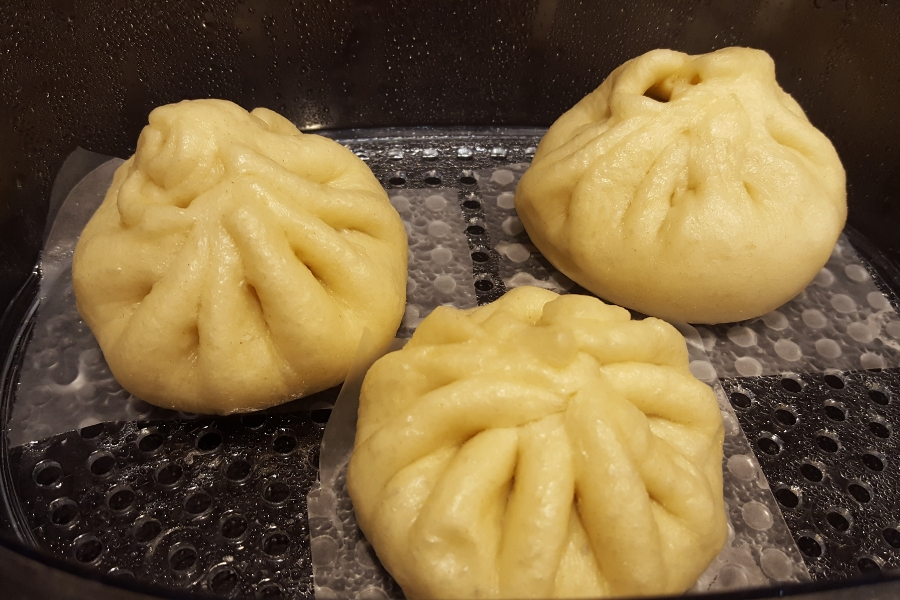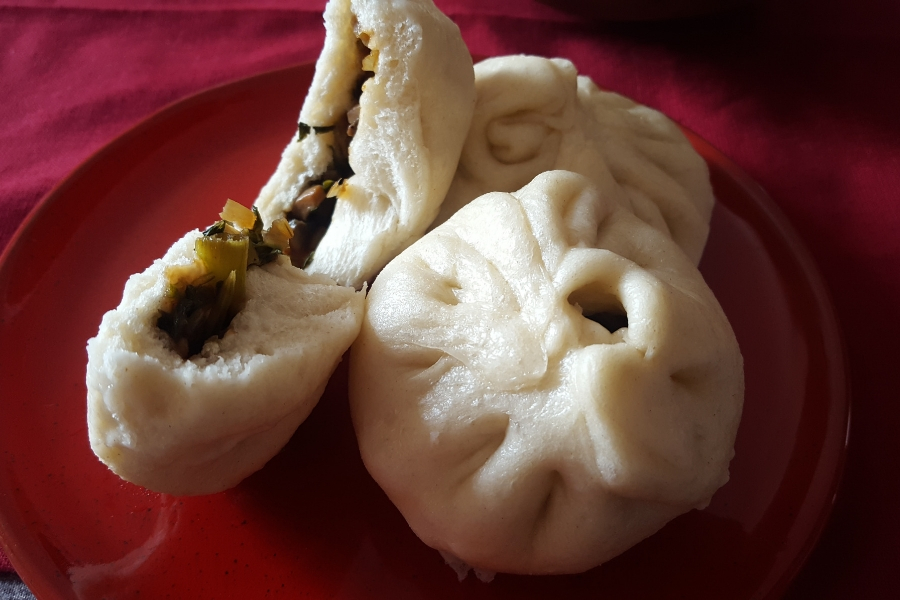 How to make Vegan Baozi?
Recipe:
Preparation time: 25 minutes + dough resting time
Cooking time: 20 minutes
Total time: 45 minutes + dough resting time
Makes around 6 Baozis
Ingredients for the dough:
Baozi flour/ All purpose flour: 1 & ¼ cup
Sugar: 2 teaspoons
Dry yeast: ⅔ teaspoon
Sesame oil: 1 tablespoon
Warm water: Around 100 ml for activating the yeast + around ½ a cup or as required to make the dough.
Ingredients for the filling:
Finely chopped Bok Choy/ Spinach: 2 cups
Finely chopped mushrooms: 1 cup
Grated ginger: 1 tablespoon
Soya sauce: 1 tablespoon
Vegan oyster sauce: 1 tablespoon
Black pepper powder: ½ a teaspoon/ as per taste
Coconut sugar/ brown sugar: 1 tablespoon
A pinch of salt
Sesame oil: 1 tablespoon
Method:
Mix the yeast and sugar in warm water and keep aside for about 10 minutes.
In a bowl take flour and sesame oil, slowly add the activated yeast mixture and start kneading. Add water little by little and knead to make a soft, elastic dough. It should not be sticky.
Cover the dough with a plastic wrap and let it rest for 1.5 hours.
After 1.5 hours, the dough will get double its size. Punch it down and knead it again for at least 6-7 minutes till it becomes smooth and the air bubbles inside it become more even and small.
Cover the dough again and let it rest for another 30 minutes.
In the meanwhile, heat oil in a wok and add grated ginger to it. Saute for few seconds and then add in the mushroom.
Stir fry the mushroom for around a minute and then add in the chopped Bok choy and stir fry for another minute.
Next add in the sauces, salt, and sugar. Mix everything well and let it cook for another 2-3 minutes.
Once done, switch off the gas and allow the filling to reach room temperature.
Give the dough a cylindrical shape by rolling between your hands and then divide it into six equal parts.
Dust a flat surface with dry flour and flatten a dough piece by pressing between your palms and give it a disc-like shape.
Put this flattened disc on the dusted flat surface and further flatten its corner with a rolling pin. Don't flatten the middle of the disc too much as you will be putting the stuffing there. I hope from the picture above it's clear what exactly you need to do.
Now put a spoon of filling at the center and from one end start pinching the edges of the flattened disc, pushing the filling inside with your thumb. Reach the other end of the disc and seal the edges together by pinching at the center. Similarly, make all the other buns.
Cut six small pieces of butter paper and line them in a steamer. Put one bun on top of each butter paper piece. Don't keep the buns too close as their size will increase on steaming
Put a cotton kitchen towel on top of the steamer and the cover it with the lid.
Let the buns rest like this for around 10-15 minutes and then switch on the steamer.
Steam the buns for 20 minutes and then switch off the steamer.
Don't remove the lid immediately and let them rest for another 10- 15 minutes.
After 15 minutes, remove the lid and kitchen towel. Take out the buns, remove the butter paper and enjoy your hot, fluffy vegan Baozi.