Vegetable Jollof rice is a vegan version of the famous Jollof rice from Africa. A delicious one pot rice dish made with tomatoes, peppers, veggies & herbs.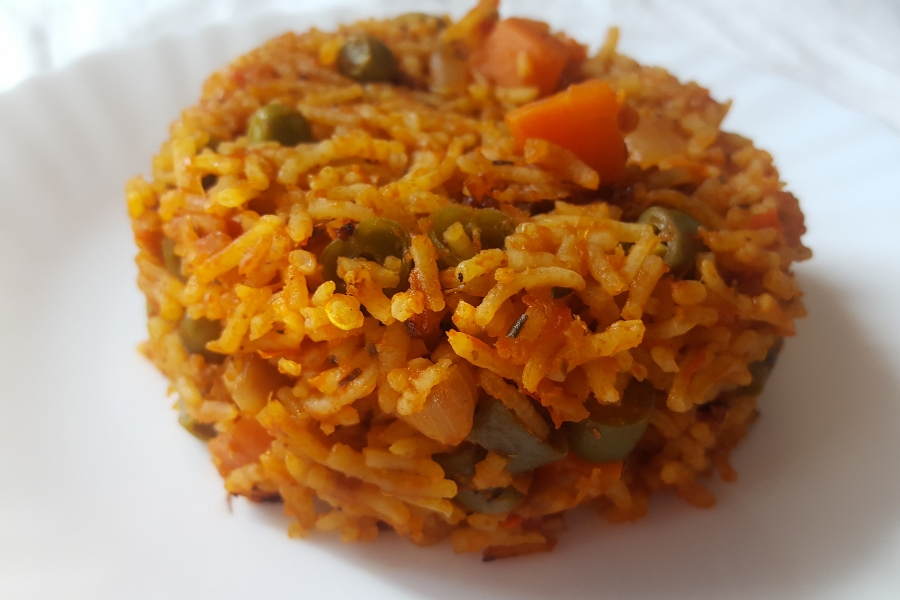 This post contains affiliate links. Please read my full disclosure here. As an Amazon Associate, I earn from qualifying purchases.
One of our favorite places in Dubai is the Global Village. Both Amit and I love spending time there, trying different cuisines, shopping, and experiencing various cultures.
I believe every country has something similar- a global Fête in which different countries participate and give locals an opportunity to try their food and enjoy their culture.
In India, we have World Trade Fair, New Delhi. There must be something similar in other cities also but since I lived in Delhi, I am aware of it. We never missed visiting World Trade Fair when we were in Delhi.
Similarly, after coming to Dubai, we never miss visiting Global Village 2-3 times, every year.
Though I love every pavilion of Global Village, Africa's pavilion has the most energetic vibes and we love visiting it.
The people there are so beautiful and friendly that we always end up buying a few unplanned things from them.
I have never been to any African country but definitely, want to visit someday soon.
Today's dish is from this beautiful continent – Vegetable Jollof rice. This rice dish is eaten in almost every West Africa and though they all have a slight variation the base recipe remains the same.
Traditionally, meat is added to it but I will make it with vegetables.
This amazing, tangy, flavorful vegetable rice dish is very easy to make. You just need to ensure that the rice doesn't get mushy.
In India, when we cook rice, it's always suggested not to disturb the rice when it's getting cooked as it spoils the dish by breaking the grains. However, Jollof rice is required to be stirred nicely after every 12-15 minutes.
Normally when we cook rice the water level is kept slightly above the rice level. In Jollof rice keep the level of rice and water the same and then seal the pot with a kitchen towel or aluminum foil before putting on the lid.
Always use a heavy-bottomed pot for making this recipe. If you have a dutch oven, nothing like that.
In this Vegetable Jollof rice recipe, I have used French beans, carrots, and green peas, you can use any vegetable of your choice.
What's the most famous rice recipe from your country? Please let me know in the comments section below.
Also, let me know if you also have some global Fête like Global village in your country? And, which pavilions do you like to visit the most?
Step by step photo instructions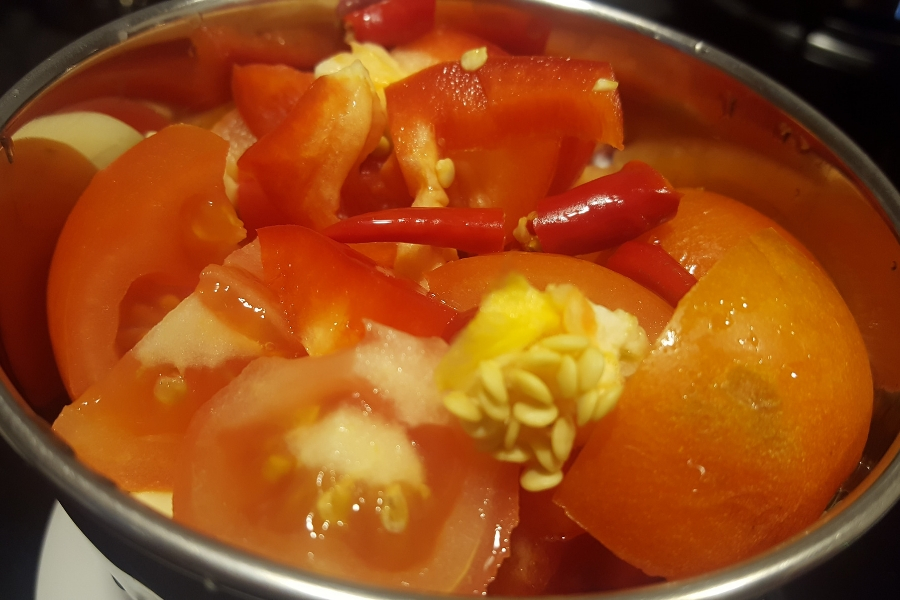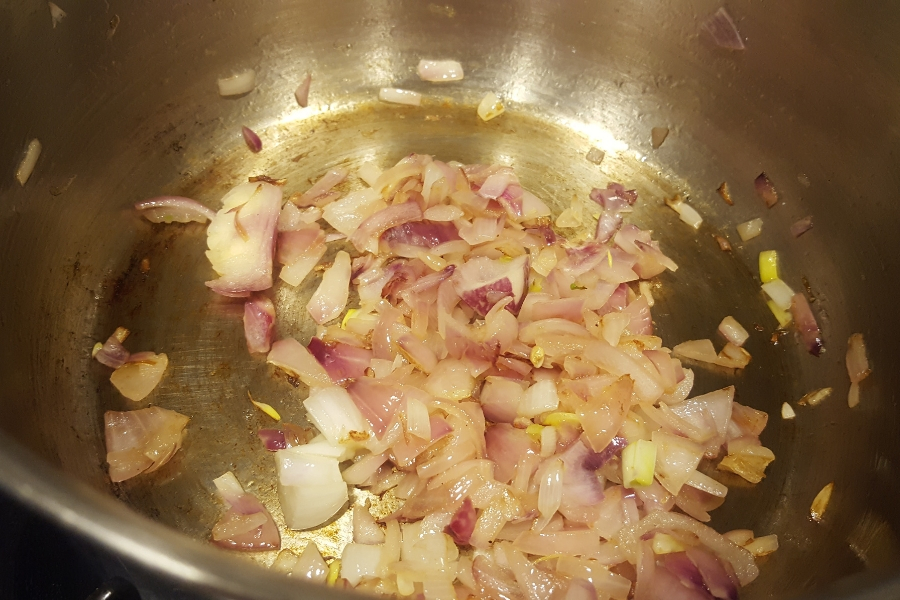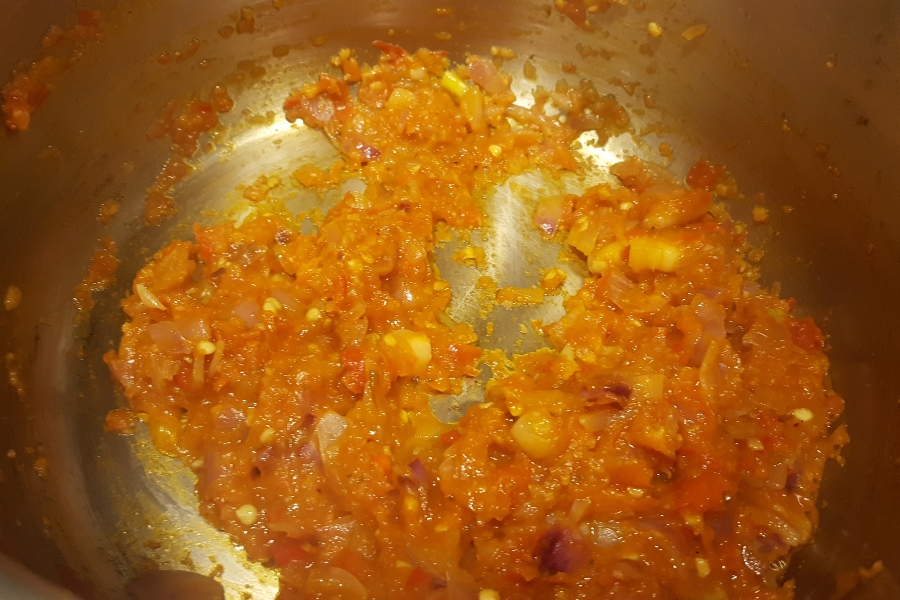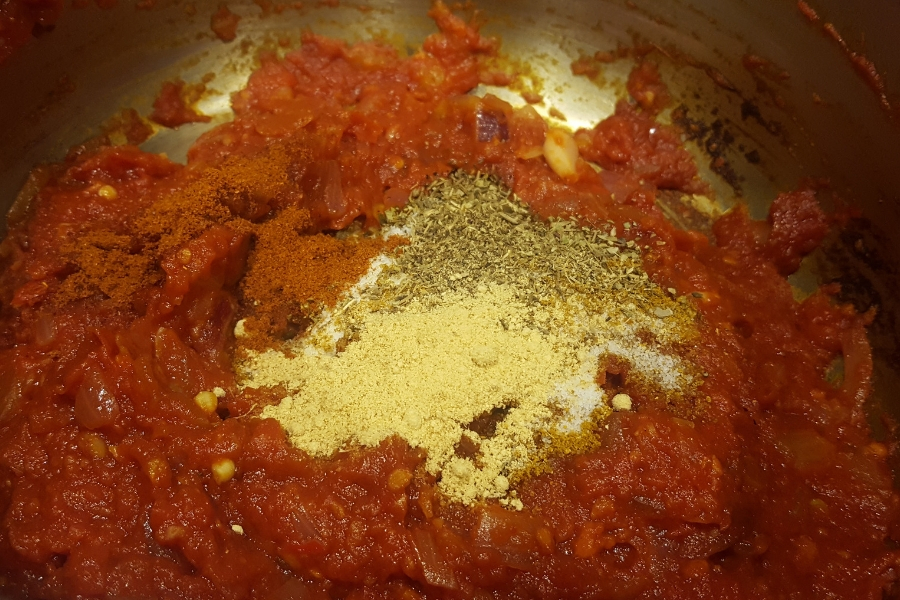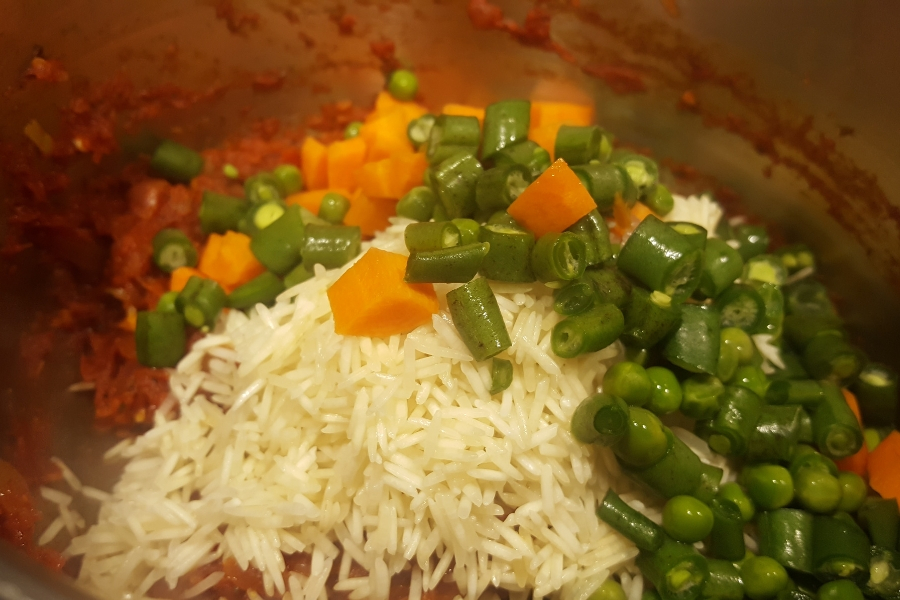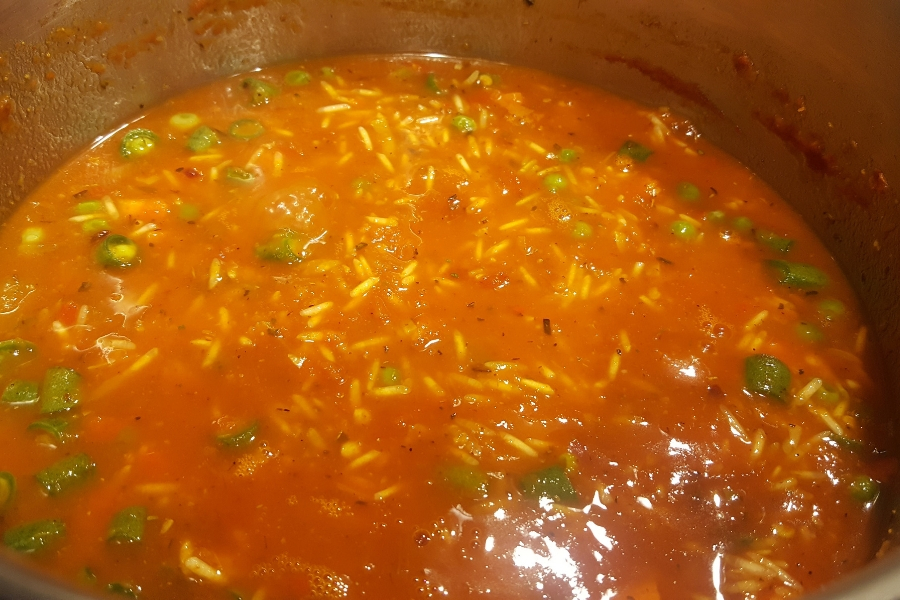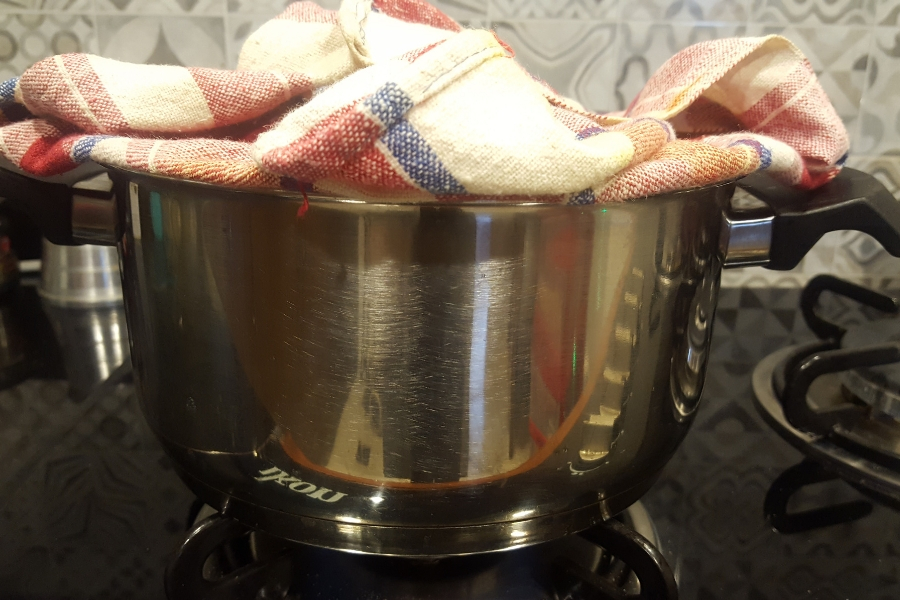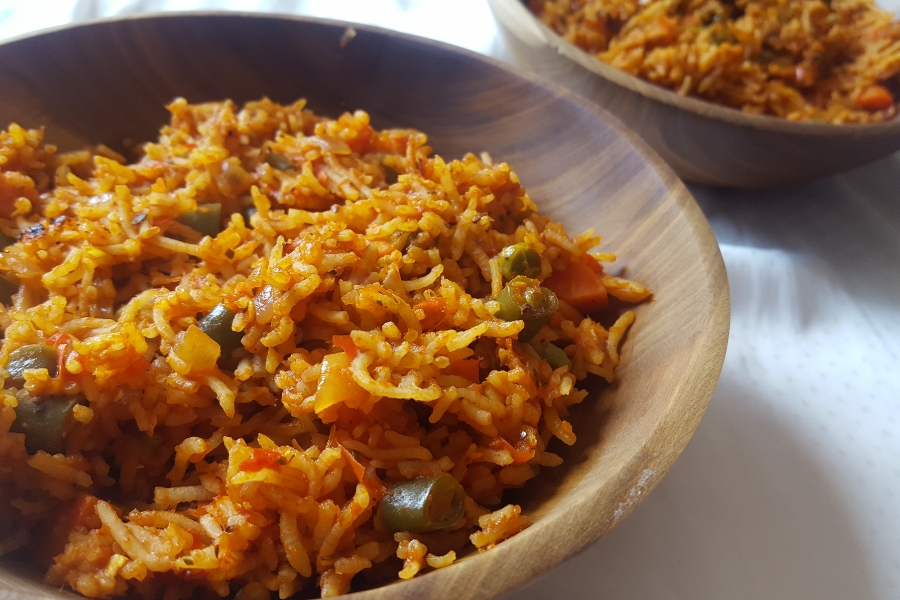 How to make Vegetable Jollof rice?
Recipe:
Preparation time: 15 minutes
Making time: 30 minutes
Total time: 45 minutes
Serves: 4
Ingredients:
Basmati rice: 2 cups
Red onion: 1 large
Tomato: 2 medium
Red bell pepper: 1 large
Garlic cloves: 7-8
Scotch Bonnet chili/ any other chili you have: 2/ as per taste
Chopped carrots: ¼ a cup
Chopped French beans: ¼ cup
Green peas: ¼ cup
Ready-made tomato paste: ¼ cup
Curry powder: 2 teaspoons
Dry oregano: 2 teaspoons
Dry thyme: 2 teaspoons
Ginger powder: 2 teaspoons
Red chili powder: 1 teaspoon/ as per taste
Black pepper powder: ½ a teaspoon
Vegetable stock: 1 cube
Salt: as per taste
Vegetable oil: 2 tablespoons
Water: As required to cook the rice
Method:
In a grinder, add the tomatoes, red bell pepper, chilies, garlic cloves and make a paste.
Finely chop the onion. Heat oil in a pan and cook the onions till they turn translucent.
Add in the tomato, bell pepper paste, and cook for 4-5 minutes.
Next, add in the tomato paste and vegetable stock cube. Press the cube with a spatula to break and fry for 3-4 minutes.
Throw in all the dry spices and salt. Mix well.
Add rinsed rice, chopped vegetables, and water. Mix well. Rice and water level should be the same.
Cover the pan with a cotton kitchen towel or aluminum foil and then put on the lid. This will seal the steam inside.
After around 15 minutes remove the lid and towel. Mix the rice well and cover again for another 10-12 minutes.
Switch off the gas. Let it stay like that for around 10 minutes.
Remove the lid. Fluff rice with a fork.
Serve hot with your favorite curry/ salad or any side dish of your choice.