Baba Ganoush is a very popular Middle Eastern vegan & gluten-free side dish. The smoky flavour of charred eggplants makes it a unique and must try recipe.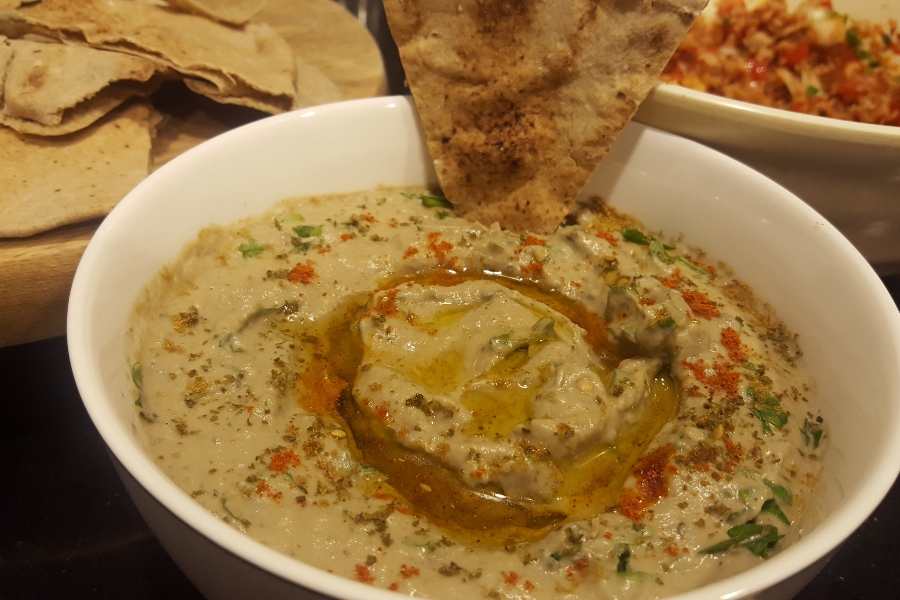 Last week, UAE celebrated its 47th National day we got good four days break which was much needed. As it was UAE's national day, I thought of trying some Arab recipes at home.
I got exposed to Arab food only after shifting to Dubai. Initially, I was a nonvegetarian so loved it as Arab food is a treat for meat lovers. However, once I turned vegetarian I felt that Arab cuisine doesn't have much to offer but I was wrong.
When I started this blog, I read a lot about different cuisines and searched for vegetarian or vegan recipes from around the world. On exploring the meat-free platter of the Arab world, I observed that though their main course is dominated by nonvegetarian dishes, most of the side dishes are vegan or vegetarian and they are extremely delicious and unique to this world. I never miss a proper main course meat-free dish in an Arab dish as I absolutely love enjoying my pita bread with all the yummy vegetarian dips and salads.
My favorite vegan dip from this cuisine is Baba ganoush and I am sharing its recipe with you today. This dish is eaten in almost every Middle Eastern or Arab country. Though each may have a slightly different version from the other country, the basic recipe is almost the same.
Honestly, when I tried it for the first time, my taste buds which grew up on a spicier, cooked, hot and somewhat similar Indian dish Baingan ka bharta (an amazingly delicious Indian dish), couldn't accept it. Though I didn't hate it, I missed Baingan ka bharta in every bite of Baba ganoush so didn't enjoy it much that day.
However, the second time I knew what to expect so had it with an open mind or I should say open taste buds and simply loved it.
So if you also love baingan ka bharta, try this dish without comparing it with Baingan ka bharta as these two are completely different dishes. The only thing in common is grilled eggplant, which is the main ingredient of both the recipes.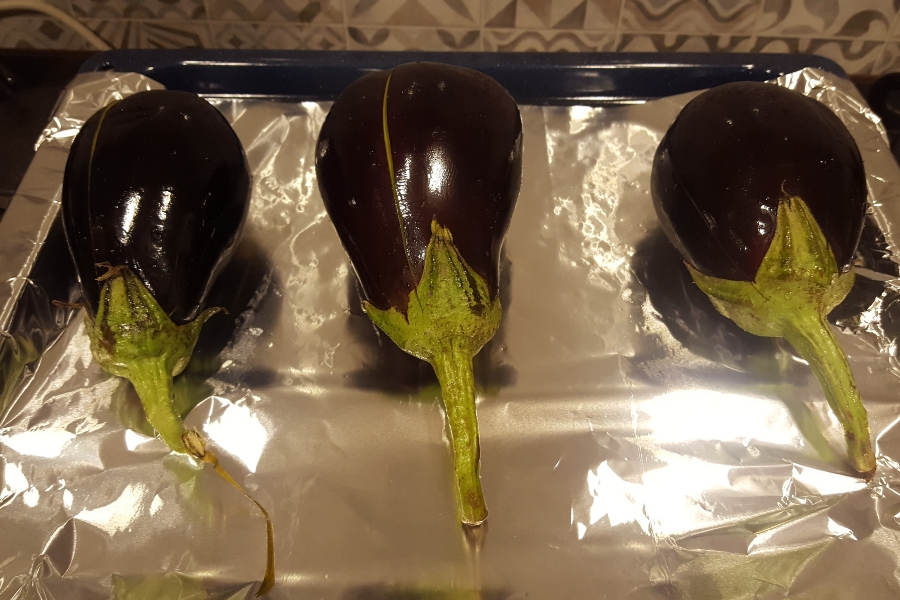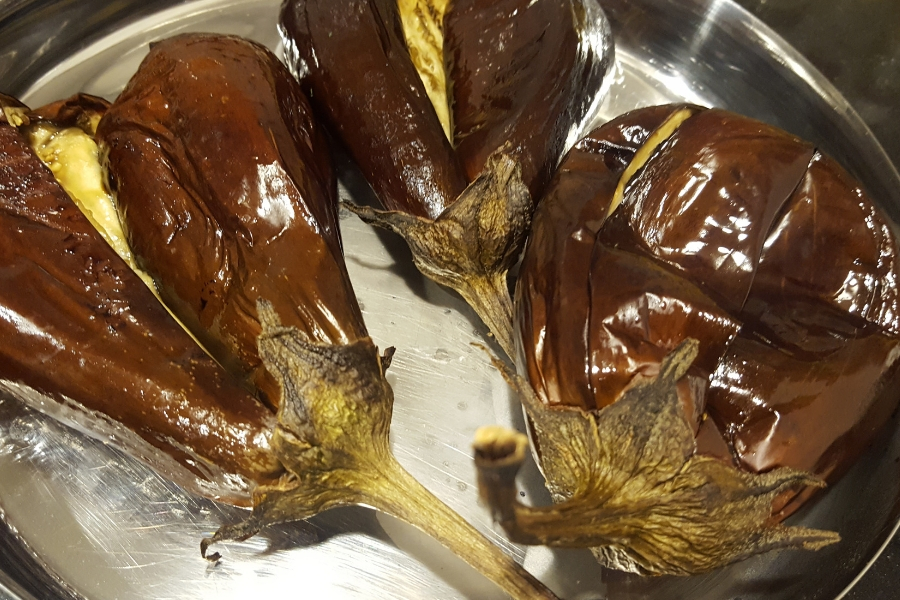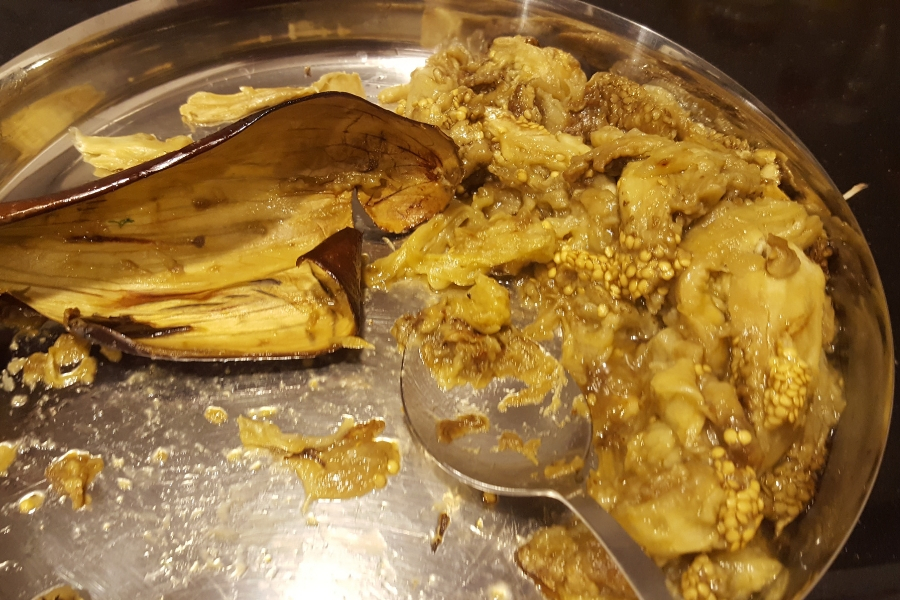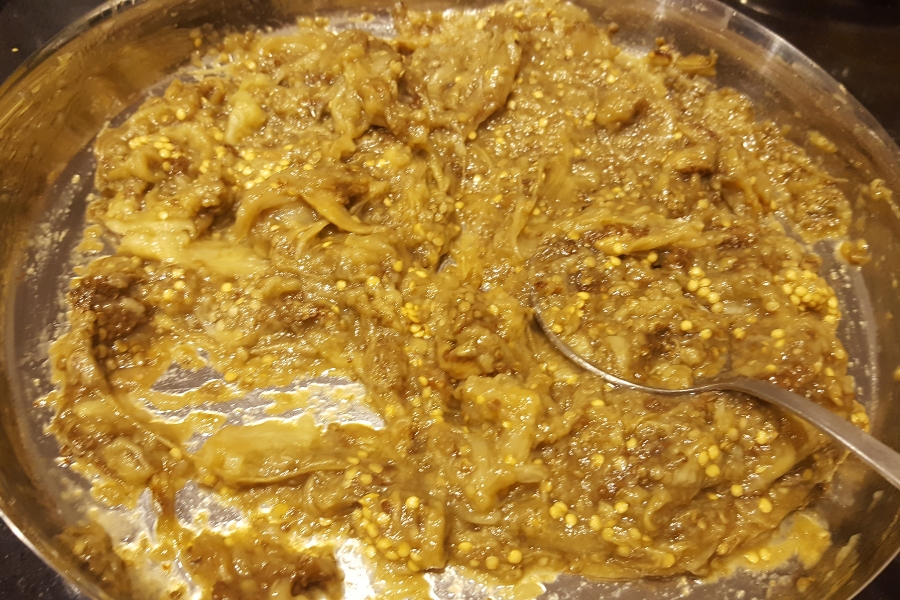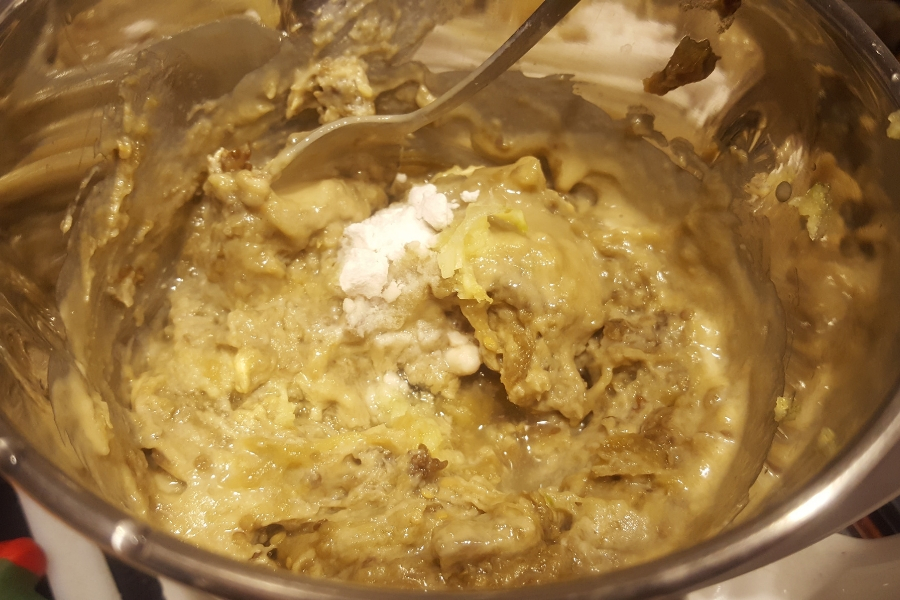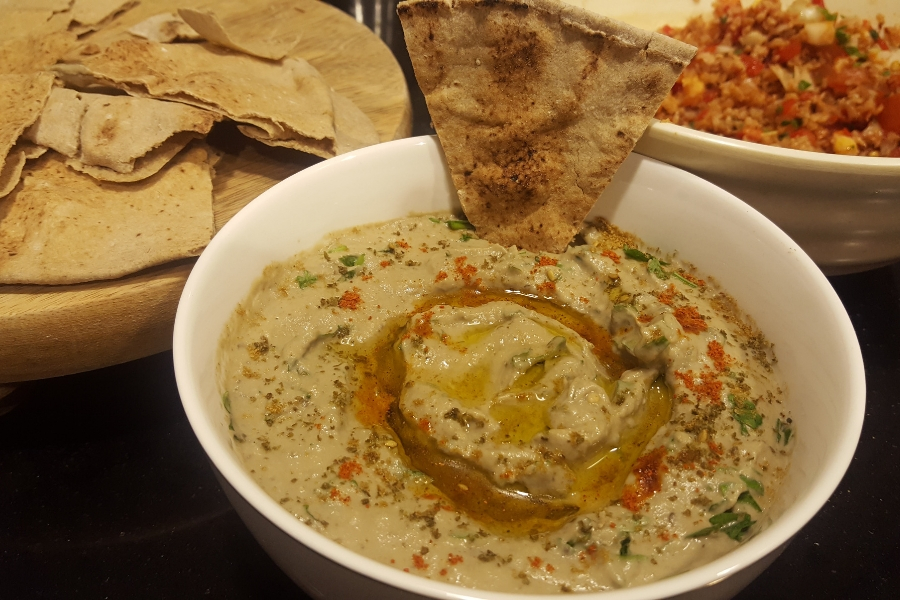 Disclaimer:  Please note that some of the links shared in my blog are affiliate links and I will get benefited if you buy products from them at no extra cost to you. However, I have personally used most of these products hence recommending them to you. You are free to buy them from anywhere also.
How to make Baba Ganoush?
Baba Ganoush
Baba Ganoush is a delicious, vegan, smoky side dish/ dip from the Middle East.

Ingredients
3

large sized eggplants

4-5

garlic cloves

2

tbsp

tahini paste

2

tbsp

olive oil

1

tbsp

lemon juice

1/4

cup

chopped parsley leaves

Salt as per taste
Instructions
Apply some olive oil on eggplants and char them over direct flame. You can also grill them in the oven for around 30 minutes at 200 degree Celsius or till they are perfectly cooked. Using direct flames give a very nice and authentic smoky flavor to the dish.


Once done, scoop out the flesh and keep aside, discard the skin. If cooked nicely the flesh will leave the skin very easily.


Put everything in a blender and make a paste.Take out in a bowl, drizzle some olive oil, cumin powder, paprika, zataar(optional) and enjoy with warm pita bread and Tabouleh