Baingan Bharta is an Indian-style roasted eggplant dish that is loved for its delicious smoky flavor. This Indian eggplant recipe is a must-try even by those who don't like eggplants.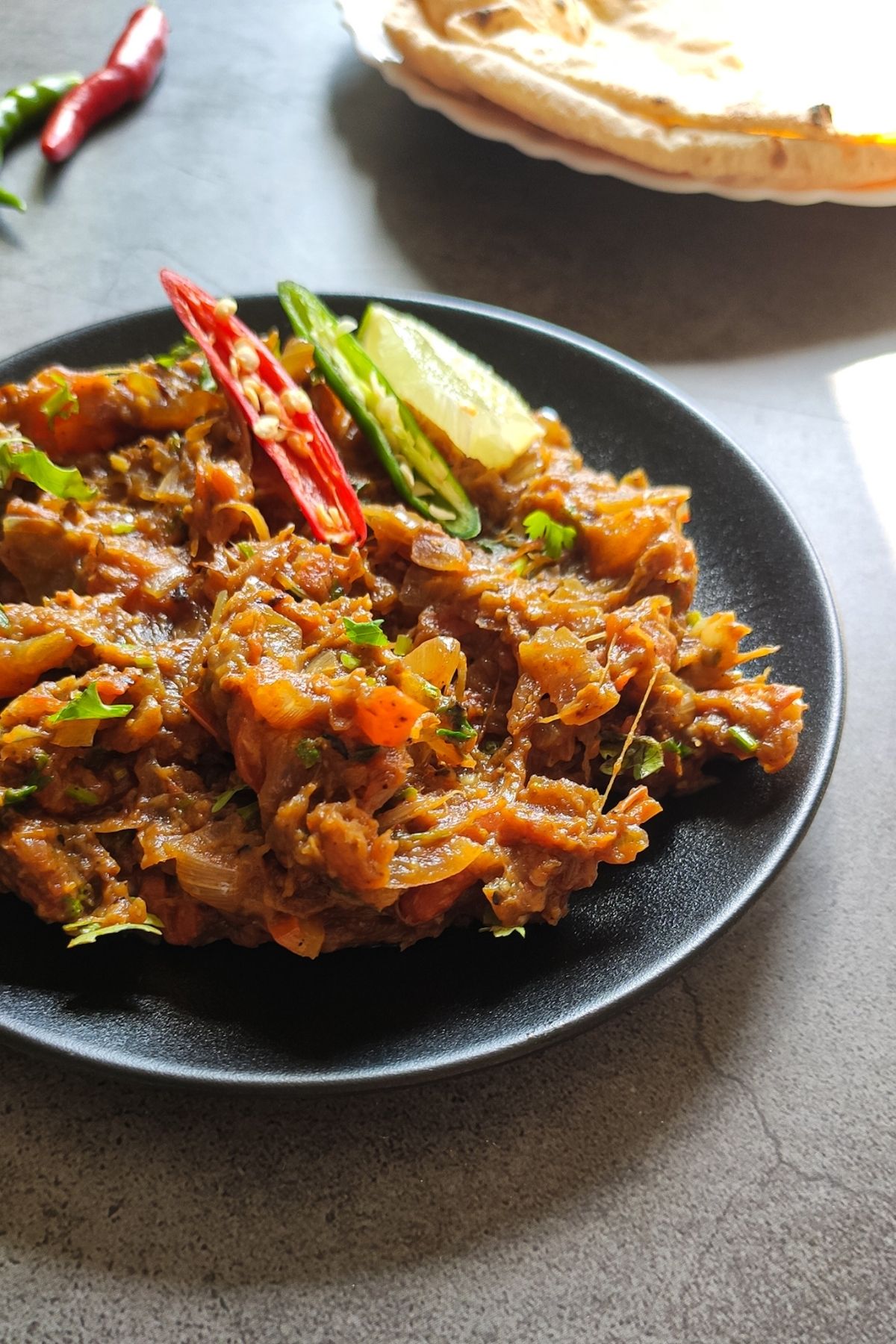 This post contains affiliate links. Please read my full disclosure here. As an Amazon Associate, I earn from qualifying purchases.
At the very beginning of starting this blog, I shared the recipe of a Vegan Arabic side dish-Baba Ganoush. It soon became one of the most popular recipes on my blog.
I have mentioned in that post that when I tasted Baba Ganoush for the first time, I didn't like it much as I grew up eating a similar Indian dish- Baingan Bharta.
Unlike Baba Ganoush, Baingan bharta is served hot, is a lot spicier, and is a main course dish. That's why it took some time for my taste buds to accept baba ganoush which is served cold and is mildly flavored in comparison to Indian eggplant bharta.
Though now I love Baba Ganoush, Baingan ka bharta is still my favorite, and today I will share its recipe with you.
Even if you are an eggplant hater, I would highly recommend you trying this Indian style roasted eggplant dish once.
In India also it's one of the favorite vegetarian recipes of many eggplant haters.
Jump to:
What goes in baingan bharta?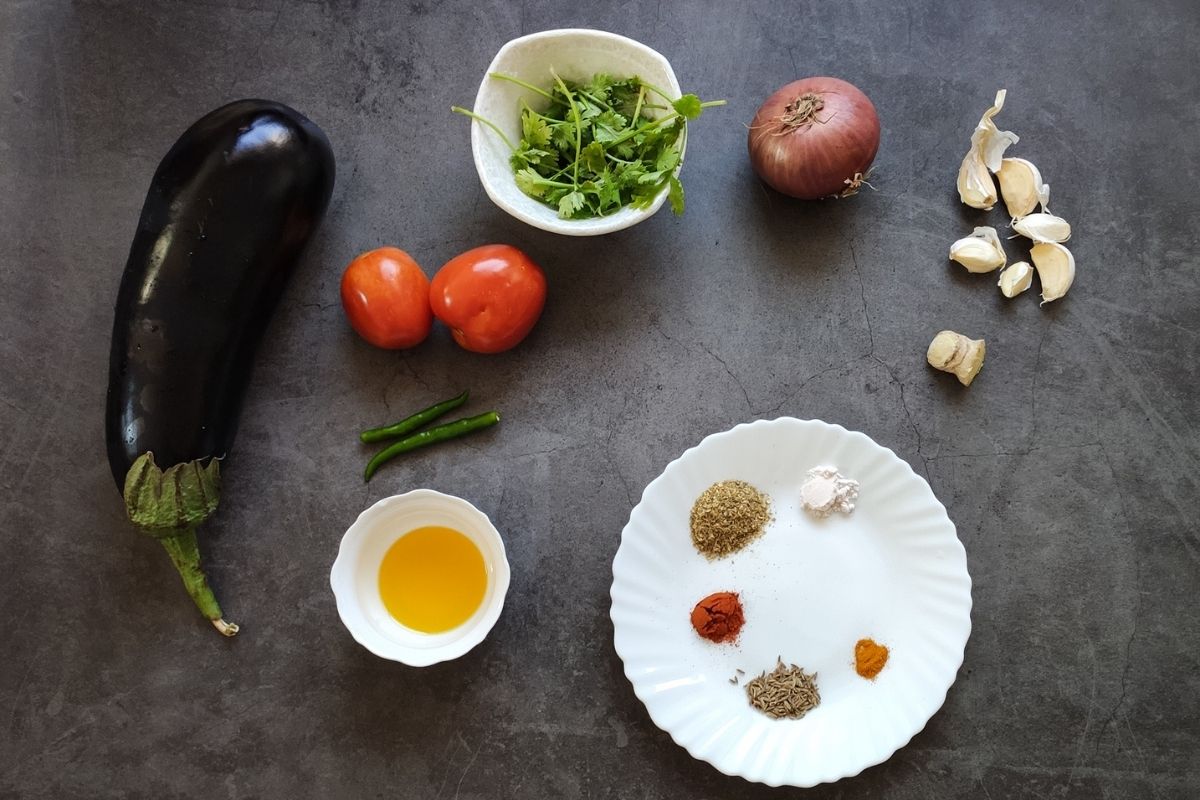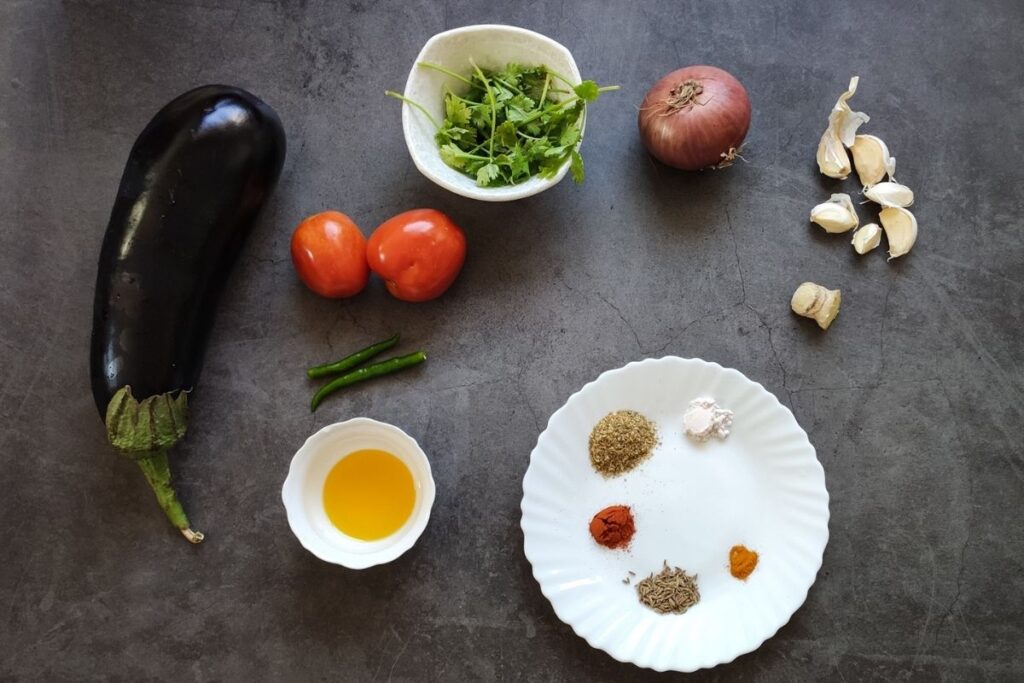 To make Punjabi style baingan ka bharta you will need the following ingredients:
Eggplant
Tomato: Use any juicy red variety
Fresh cilantro
Onion: Prefrably red
Garlic: Generally, a lot of ginger and garlic are added to baingan bharta but you can adjust the quantity depending upon your taste.
Ginger
Mustard oil/ any other cooking like olive or canola oil. Don't use coconut oil in bharta.
Seasoning: Cumin seeds, red chili powder, coriander powder, salt, turmeric powder.
Type of eggplant to use
To make bharta use globe eggplant or Italian eggplant. Make sure that the eggplant doesn't have too many seeds.
How to roast eggplant in an oven for bharta?
Though the best smoky taste of baingan ka bharta comes only if you roast the eggplant over direct flame. However, if you don't want to do that the eggplant can also be roasted in the oven.
To do that cut the eggplant in half lengthwise. Apply some oil on all sides of the eggplant.
Line a baking tray with a baking sheet or aluminum foil. Place the eggplant pieces on it- pulp side down. Bake in a pre-heated oven at 200°C (around 400°F) for 30 minutes or until the skin gets charred and pulp starts leaving the skin.
You can also roast garlic along with the eggplant in the oven.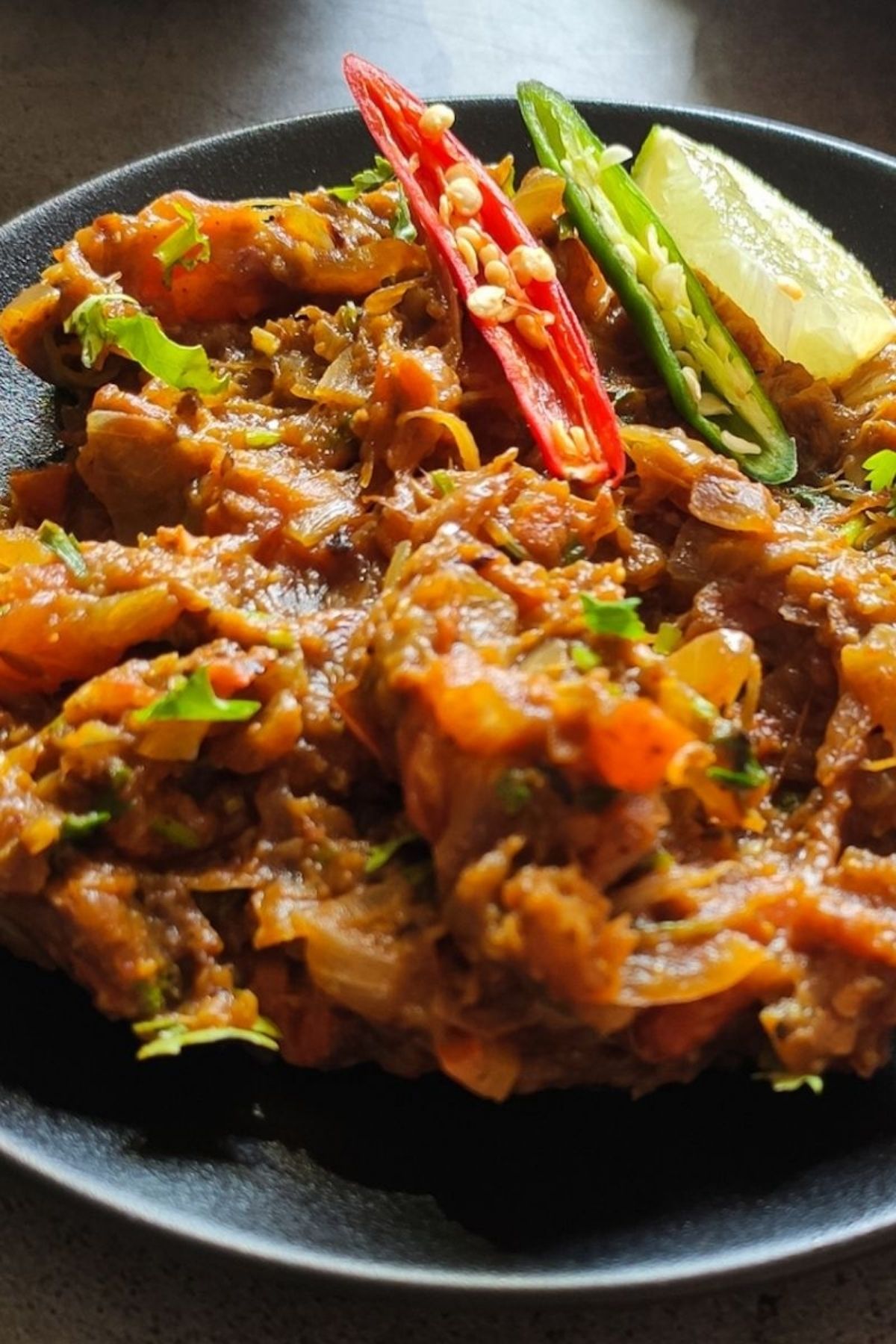 Recipe tips & tricks
Select the eggplant with lesser seeds. To do that hold the eggplant in your hands and choose the lighter ones. The heavy eggplants will have more seeds in them.
Make 4-5 slits at different places on the eggplant with a knife. It will help the heat to reach inside and cook the eggplant more evenly. It also helps to check if the eggplant is clean inside.
Have patience while roasting the eggplants. It will take around 10-12 minutes to roast them completely over direct flame. They should be cooked nicely to the core. Once the skin of the eggplant gets completely charred and starts falling off from the flesh, it means the eggplant is ready for bharta.
Some people wash the eggplant after roasting it to get rid of the charred skin but I would suggest not doing that as it takes away the smoky flavor for which bharta is loved.
Another great tip from my mother to get that extra smoky flavor is to also roast the tomatoes and ginger. Though optional, it's worth trying.
Roasting eggplants over direct flame may turn into a messy process because of the liquid that gets released from the eggplant on roasting. To avoid that cover the stove with an aluminum sheet. You can check the recipe video to get an idea.
Generally, people cook tomatoes before adding them to the eggplant but I saute the eggplants with onion and spices for a few minutes and then add tomatoes. I make a layer of chopped tomatoes over eggplant, cover the pan and cook them without mixing until the tomatoes turn soft. Then mix tomatoes with eggplant and cook for a few more minutes. I learned this tip from the cookery book of an Indian celebrity chef Neeta Mehta. I would highly recommend following this tip as it gives a very nice taste and color to the dish.
Use mustard oil to cook Baingan bharta. It gives an extra sharp taste to the dish.
If cooking in mustard oil, first heat the oil till the smoking point and then switch off the gas. Allow reaching room temperature before adding cumin seeds.
More easy vegan/ vegetarian eggplant recipes
If you like eggplant and looking for more easy eggplant recipes then don't miss to try the following links:
More vegan Indian recipe
Looking for more easy Indian style vegetable dishes? Do try the following recipes:
Step by step photo instructions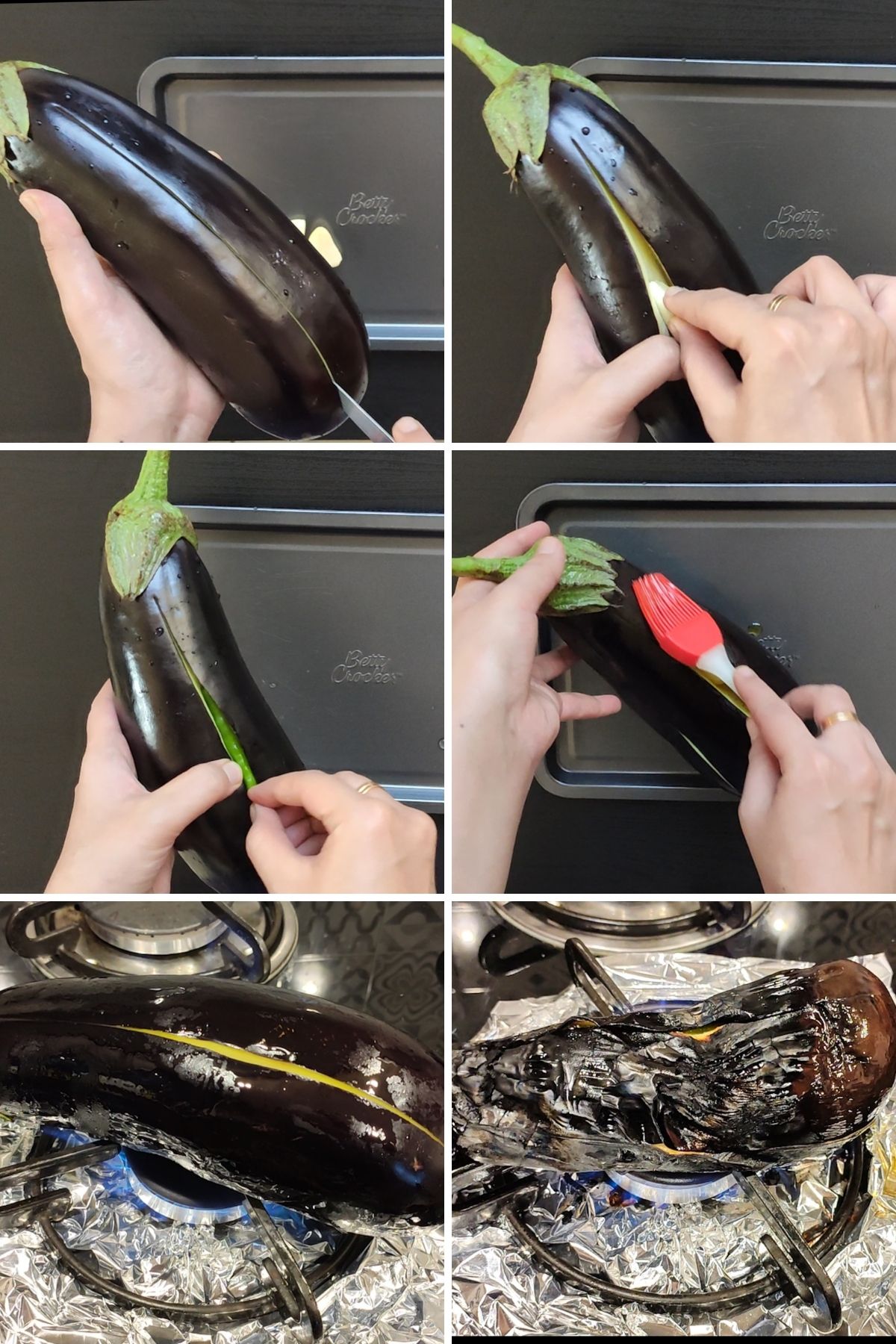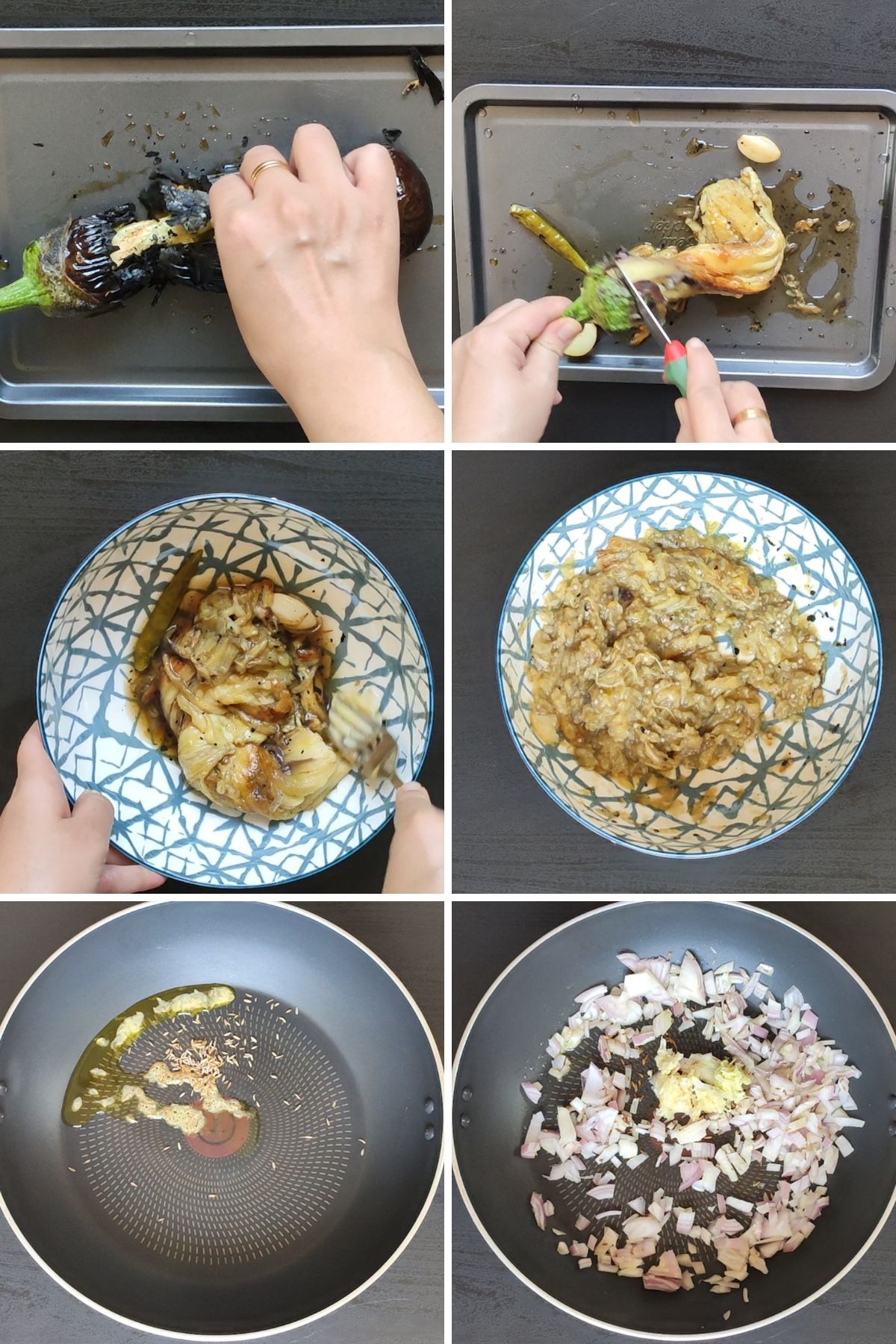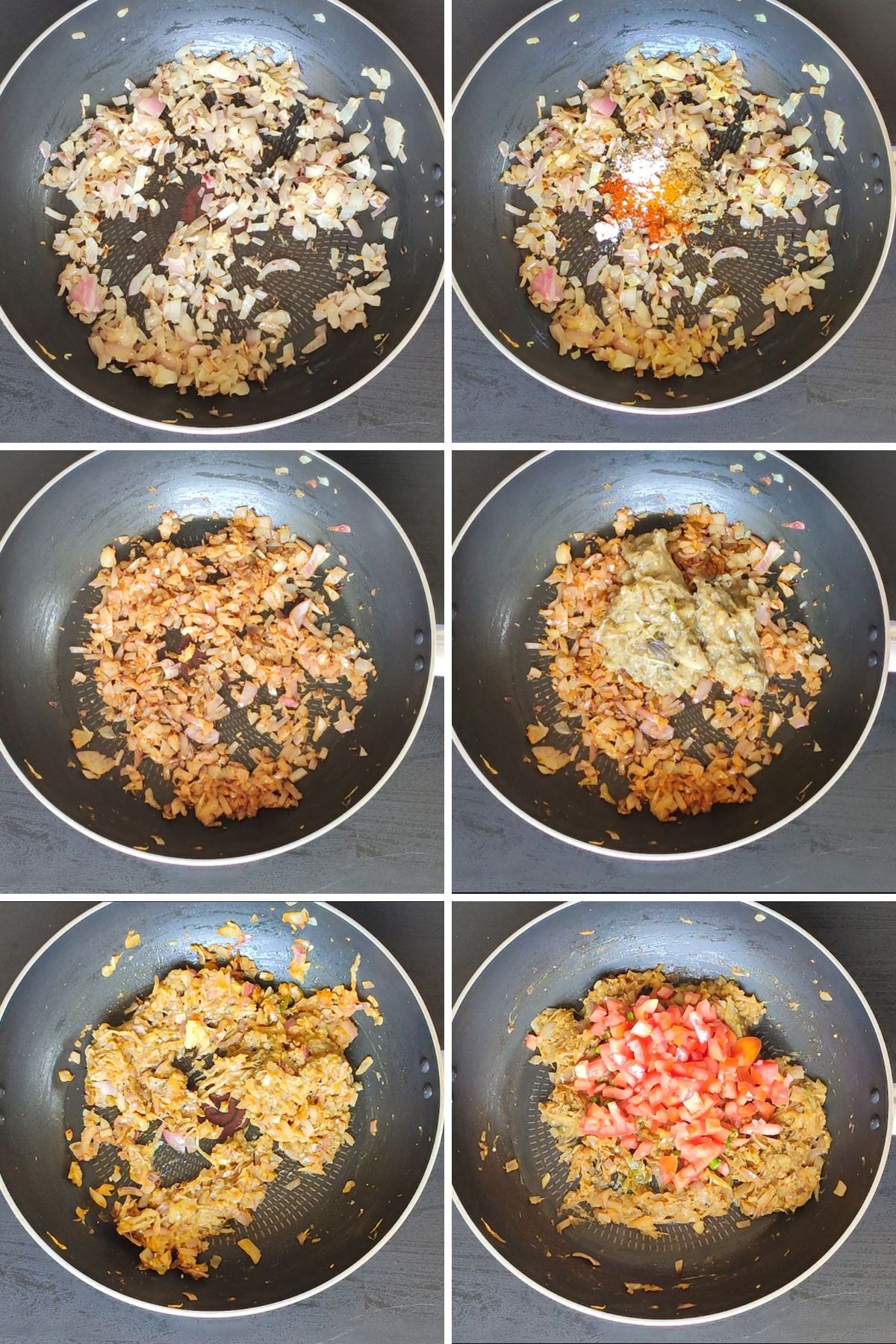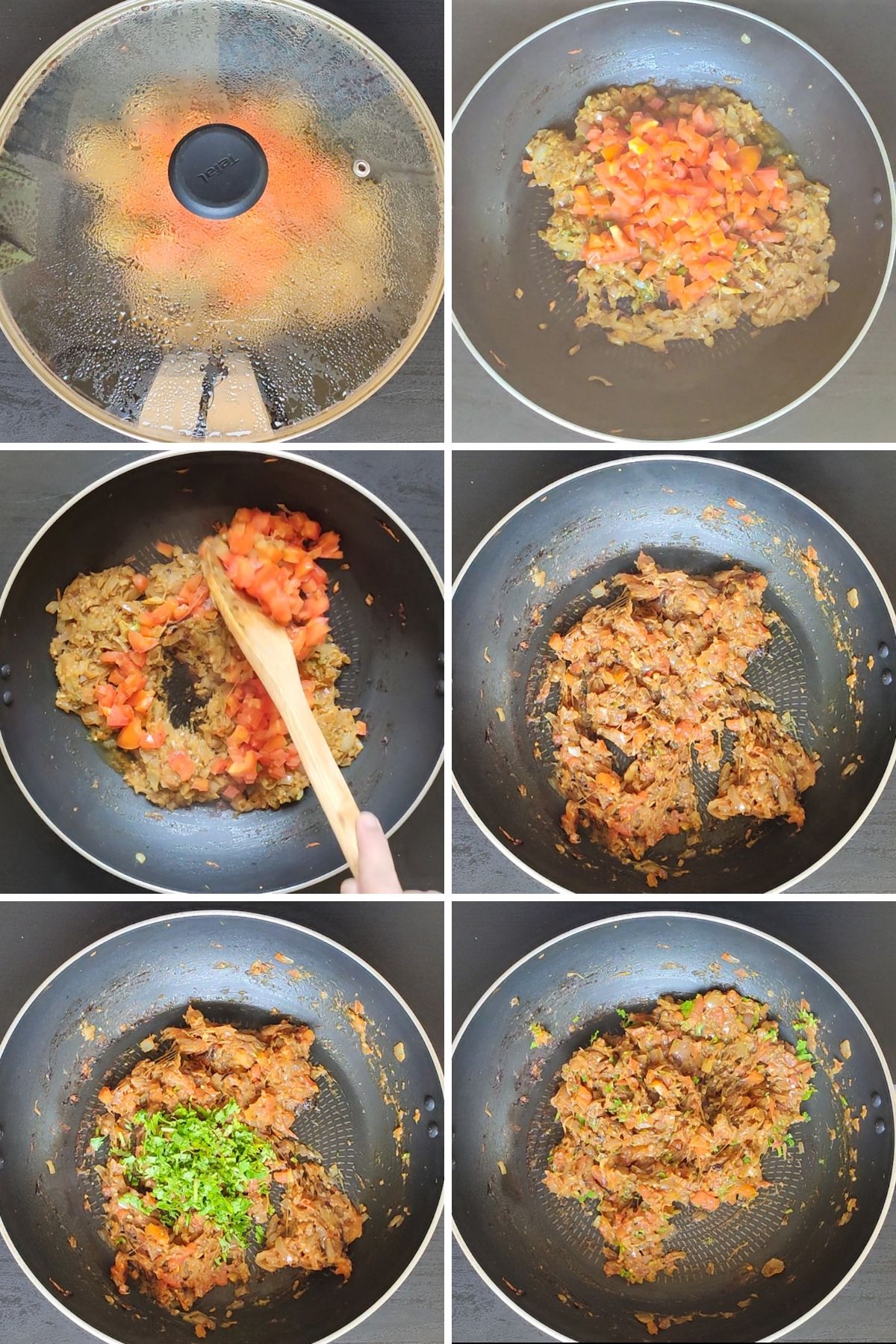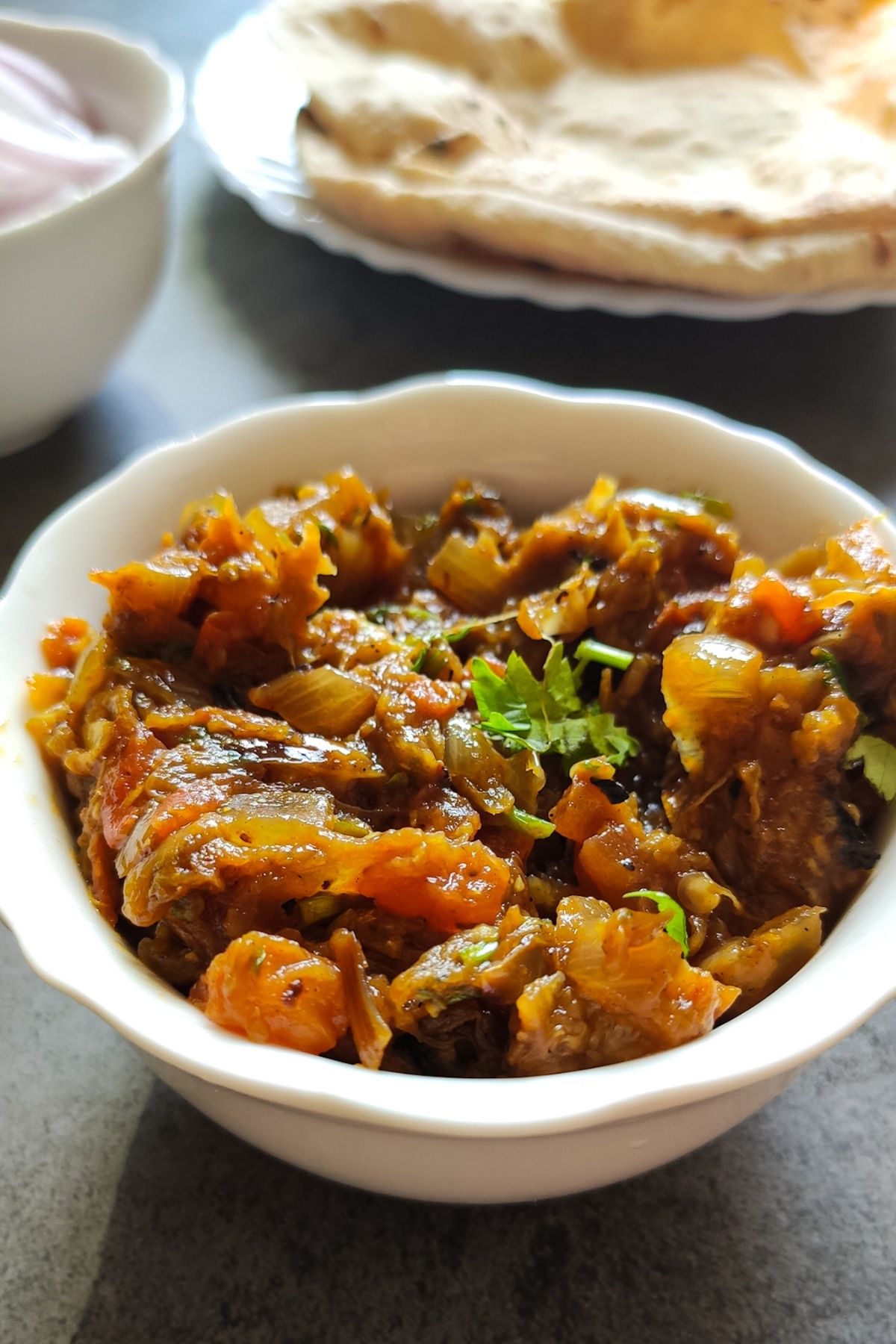 Recipe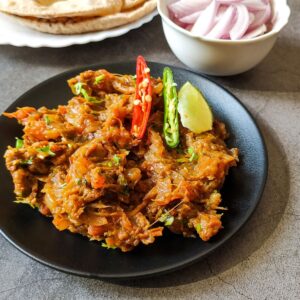 Baingan Bharta
Baingan Bharta is an Indian-style roasted eggplant dish that is loved for its delicious smoky flavor. This Indian eggplant recipe is a must-try even by those who don't like eggplants.
Print
Pin
Rate
Ingredients
Ingredients to roast the eggplant
1

large eggplant

globe eggplant variety

½

teaspoon

mustard oil/any other cooking oil of your choice

2

garlic cloves

1

green chili

adjust as per taste
Instructions
Wash and pat dry the eggplant. Make 3-4 slits on it. Insert garlic cloves and green chili in the slits.

Apply some oil all over the eggplant and also inside the slits.

Put the eggplant over direct flame and roast. Keep on rotating until it gets evenly cooked from every side. Once the skin of eggplant gets completely charred and the flesh gets nicely cooked remove it from the flame and put on a plate. Allow reaching room temperature.

Once the eggplant cools down, remove the charred skin. If the eggplant is nicely cooked the skin will come out very easily. Discard the skin. Cut the stem and discard it too.

Put the roasted garlic, chili, and eggplant pulp in a bowl and mash with a fork or potato masher. Keep aside.

Heat oil in a pan and add cumin seeds. When the seeds start spluttering add chopped onion, ginger, and garlic. Saute until the onion becomes translucent.

Add all the spice powders and salt. Saute for around 30 seconds.

Add mashed eggplant and cook for around 3-4 minutes.

Spread a layer of tomatoes and chopped green chili over the eggplant. Don't mix. Cover the pot with a lid. Cook for around 6-7 minutes.

Remove the lid and mix the tomatoes with eggplant. Cook for another 2-3 minutes and then switch off the gas.

Garnish with chopped coriander leaves and serve hot with roti, paratha, naan, or rice.
Notes
Use globe or Italian eggplant to make baingan ka bharta.
Use a variety with fewer seeds
Roast the eggplant with patience. The skin will start leaving pulp once it's perfectly cooked.
Don't wash the roasted eggplants.
I have given more recipe tips and tricks inside the post, please follow them to make the most delicious bharta.
Nutrition
Calories:
138
kcal
|
Carbohydrates:
20
g
|
Protein:
3
g
|
Fat:
6
g
|
Saturated Fat:
1
g
|
Sodium:
117
mg
|
Potassium:
659
mg
|
Fiber:
8
g
|
Sugar:
10
g
|
Vitamin A:
912
IU
|
Vitamin C:
23
mg
|
Calcium:
50
mg
|
Iron:
1
mg
Tried this recipe?
Tag me on instagram #greenbowl2soul