Vegan hot tofu bites is an addictive and easy to make, baked vegan snack. A perfect party food or movie time snack. If you enjoy hot snacks, do try it once.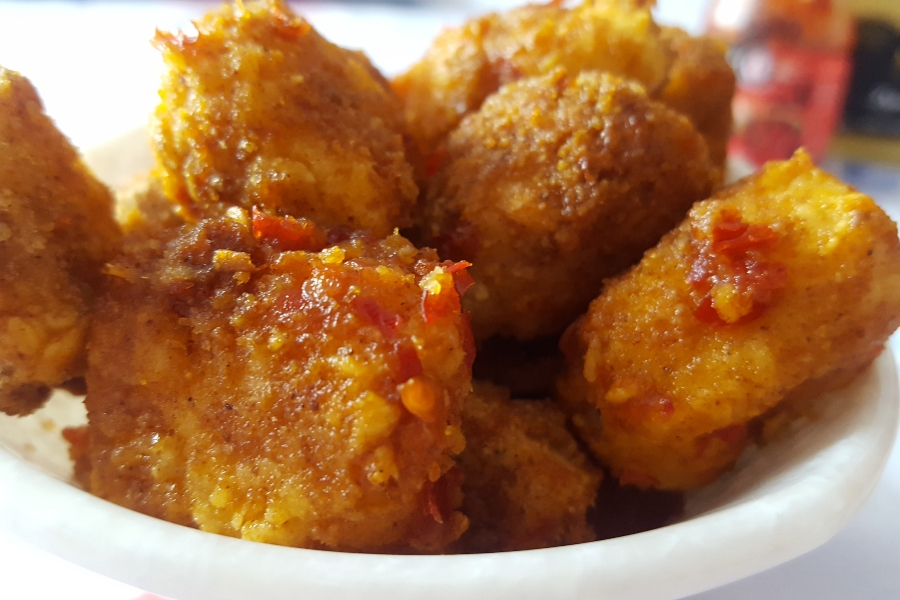 This post contains affiliate links. Please read my full disclosure here. As an Amazon Associate, I earn from qualifying purchases.
I have noticed that people either love tofu or hate it. I have never met anyone who falls in between. I fall in the first category i.e. I love tofu but it was not always the same. My first experience with Tofu was very bad. I disliked it so much that I had to throw away the whole pot of dish. I am a person who is strictly against wasting food so if I did that you can imagine how bad tofu tasted in that dish.
After that, I never dared to try tofu again until a Chinese friend of mine cooked and brought a delicious tofu dish for me. Chinese people really know how to make the best tofu recipes, this is what I discovered that day. I loved that dish and asked her for the secret of making tofu taste great. Today I am also sharing those secrets with you.
Secret No. 1: Always press the tofu to take out the liquid from it. I didn't know before that a Tofu press exists in this world and is very popular too. If you don't have a tofu press just put the tofu block on a plate and press it with a heavy object for at least 30 minutes and then throw away the water.
This will clear out tofu pores and will help the marinade or broth to enter the tofu and fill it with flavors.
Secret No. 2: Cook your tofu, don't eat it raw. It tastes great if you fry (deep or shallow) or bake it. My favorite way was shallow frying until I discovered the baked tofu. It tastes equally good as fried tofu but is a lot healthier.
Secret No. 3: Add extra flavors to the marinade or broth in which you are cooking Tofu as it doesn't have any flavor of its own. If you make a bland marinade or broth, Tofu will taste like a sponge.
Secret No. 4: Don't expect it to taste like chicken as it's not chicken but it's a unique ingredient which if cooked properly tastes amazing.
So now that you know the Chinese secret of making Tofu taste great, I will share a very easy tofu recipe with you - Vegan Hot Tofu Bites. It's very easy to make and tastes great. A perfect movie time snack.
Step by step photo instructions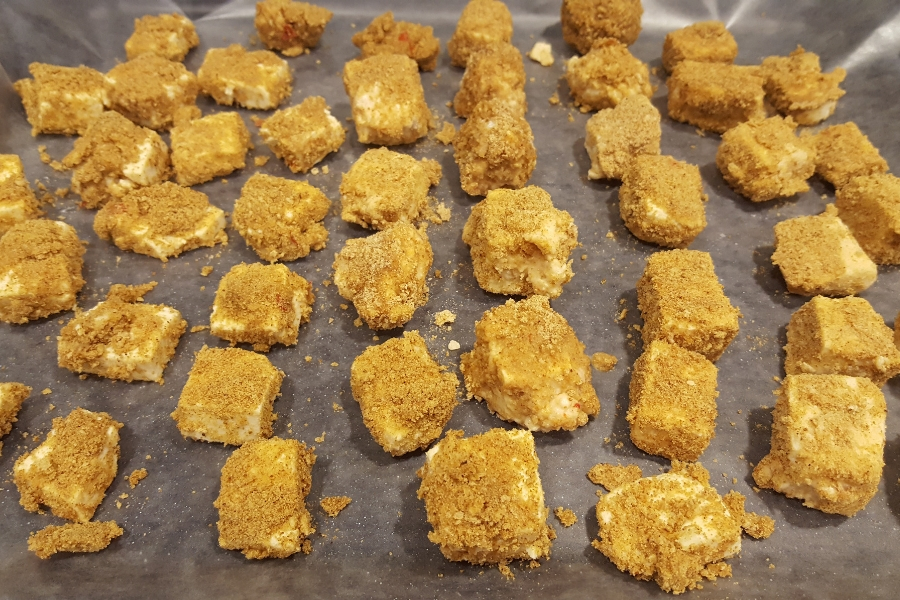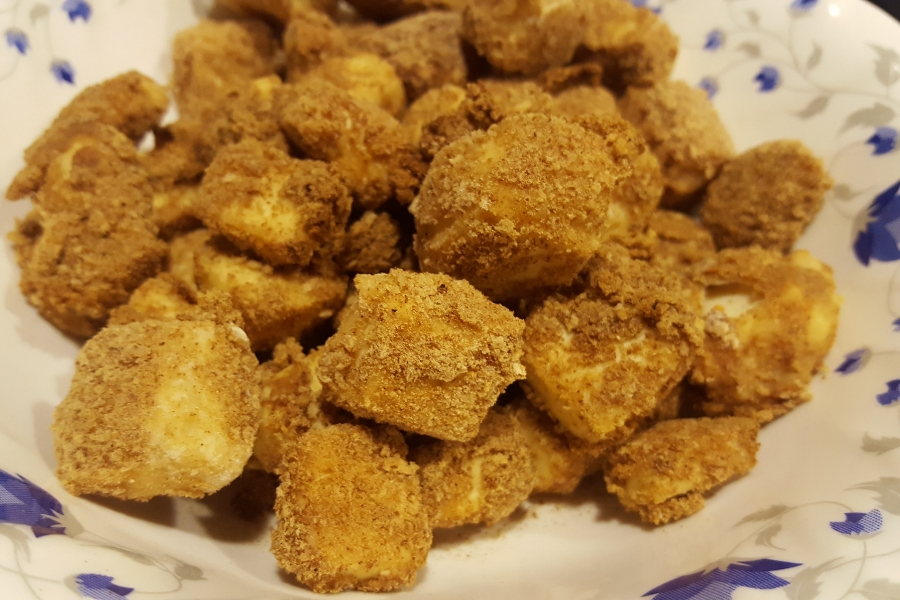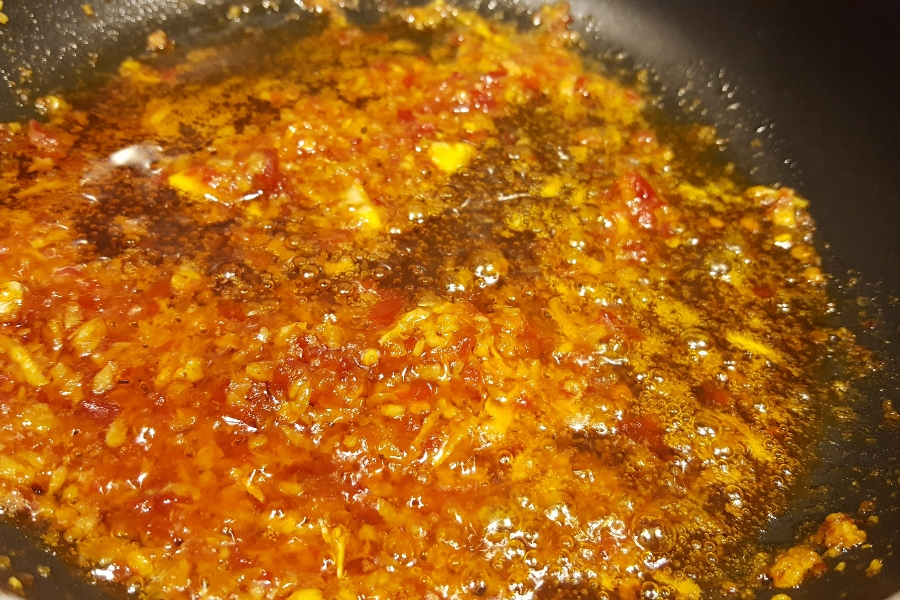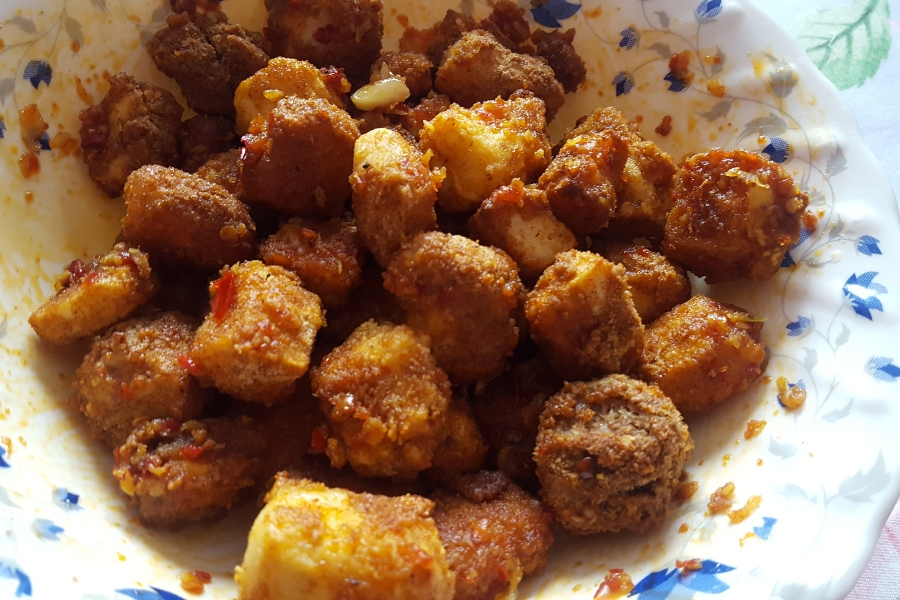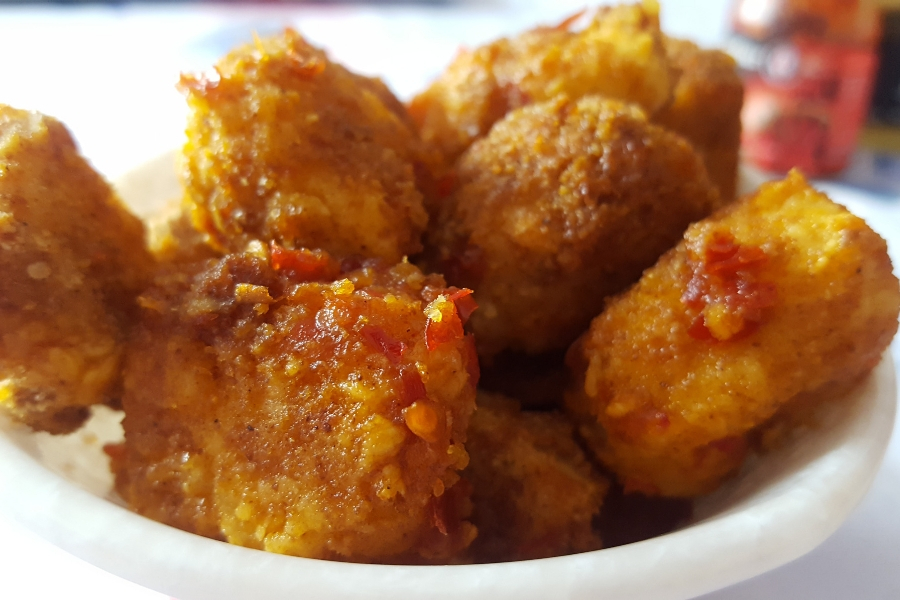 How to make Vegan Hot Tofu bites?
Recipe:
Preparation time: 5 minutes
Cooking time: 25 minutes
Total time: 30 minutes
Serves: 2-3
Ingredients:
Firm tofu: 1 block
Non-dairy milk: 1 cup (You can also use normal milk, if not vegan)
Apple cider vinegar: 1 teaspoon (If you don't have apple cider vinegar, you can use white vinegar also)
Any hot sauce: 2 tablespoons + 2 tablespoon
All-purpose flour: ¾ a cup
Bread crumbs: 2 cups
Vegan butter/ normal butter: 1 & ½ tablespoons
Olive oil: 3 tablespoons
Agave syrup: 2 tablespoons (If you are not a vegan you can also use honey)
Paprika: 1 teaspoon
Garlic powder: ½ teaspoon/ Crushed garlic: 1 teaspoon
Salt: As per taste
Method :
Press the tofu block for at least 30 minutes to release the water. After 30 minutes, cut it into small bite-sized cubes.
In a bowl mix milk, apple cider vinegar and 2 tablespoons of hot sauce. Keep aside.
In another bowl mix flour and some salt. Keep it aside too.
Spread bread crumbs on a plate.
Take a few tofu cubes and put them in the milk mixture, let them soak some milk and then add them to the flour mixture. Dust off extra flour and put them back in the milk mixture and then back to the flour. Then roll them over bread crumbs and cover nicely with bread crumbs. Repeat this step with all the tofu cubes.
Pre-heat the oven and bake your tofu cubes for around 25 minutes at 180 degrees Celsius. Don't forget to turn them over after 10-12 minutes.
In a pan heat butter and olive oil. Add in the remaining hot sauce, garlic, paprika, salt, and agave syrup. Mix well and switch off the gas.
Spread the sauce over baked tofu and mix well.
Enjoy with your choice of sauce and drinks!