Vegan Nasi Goreng is a rice dish from Indonesia. The creaminess of tofu and crunchiness of broccoli and other vegetables, combined with red hot chilies and coconut sugar makes it a very flavorful and colorful dish. It's considered the National dish of Indonesia.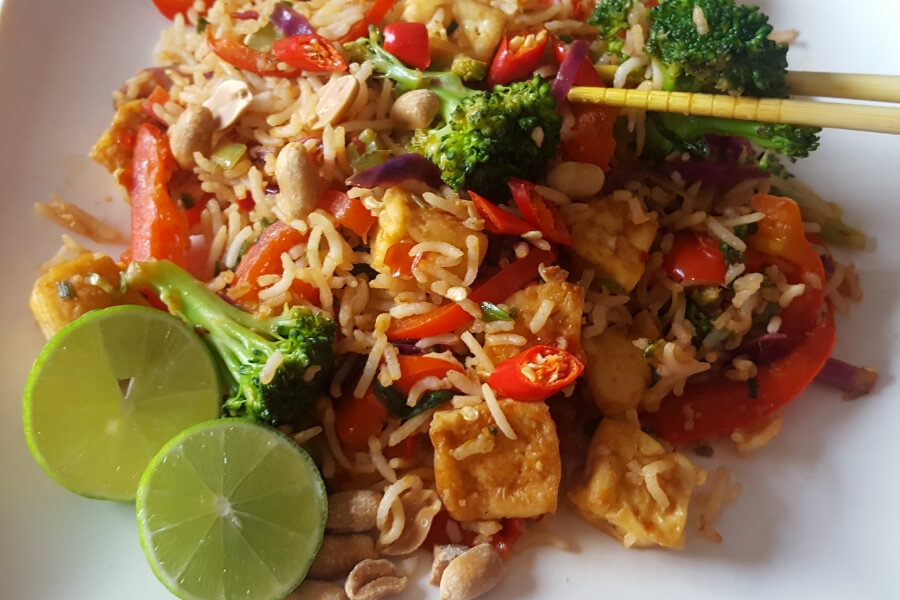 This post contains affiliate links. Please read my full disclosure here. As an Amazon Associate, I earn from qualifying purchases.
I believe in the saying that- food is eaten with eyes first. However, it's also true that no matter how appealing your dish looks, if it doesn't taste good, nothing matters. Today's dish is one such dish which is not only a pleasure for eyes but for taste buds too.
This colorful and flavorful dish is Nasi Goreng from Indonesia. It's the national dish of Indonesia. In 2011, this dish was ranked no. 2 in the list of the world's 50 most delicious foods published by CNN international through an online poll.
I was introduced to this dish by a very sweet and absolute foodie Malaysian friend of mine who took me for a Malaysian treat on my birthday a few years back. Since I had no idea of Malay food till that time, she suggested me to try Nasi Goreng. So, I was of an opinion that it's a Malaysian dish until recently when I discovered that Nasi Goreng is originally from Indonesia but is eaten in other South Asian countries too.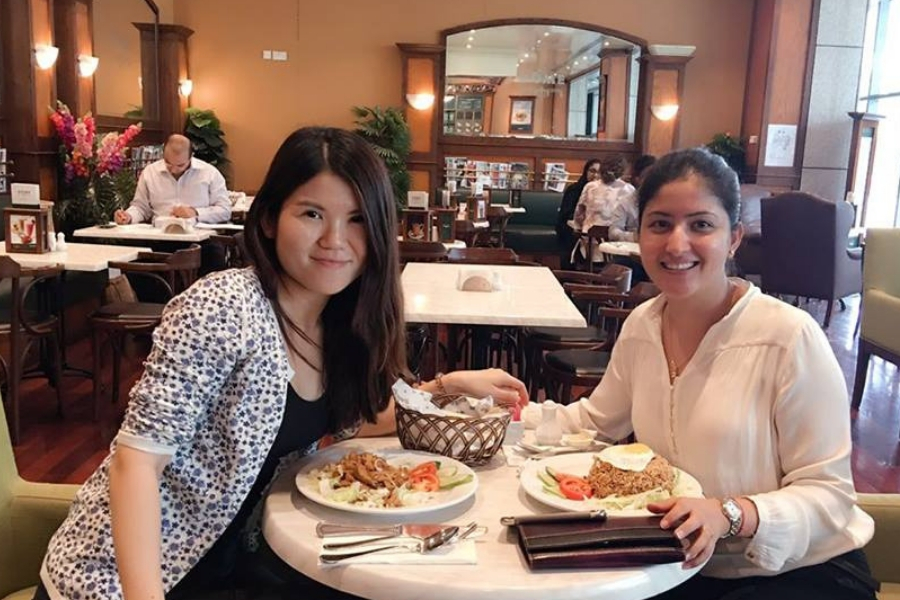 The above photo was clicked on the day when I tried Nasi Goreng for the first time and since I was a non-vegetarian during that time, you will see a fried egg on my plate as that's the original way this dish is presented.
So if you eat eggs, don't miss to make a sunny side up egg and put it on top of your Nasi Goreng. It tastes great. Don't worry if you don't eat eggs, this dish is so full of flavors that it tastes amazing even without the egg.
The heat of red chilies balanced with the sweetness of coconut sugar and sourness of lime, the creamy tofu soaked in flavors and the crunchiness of broccoli, roasted peanuts, and other veggies make this dish an absolute delight.
Just a tip – this recipe is originally prepared with leftover rice so to get that perfect result, whenever you plan to prepare Nasi Goreng, always cook the rice in advance and keep it in the refrigerator. In fact, leftover rice is best for making any kind of stir-fried rice.
Also, I don't know why but while preparing Nasi Goreng this time, I didn't add onion to it. However I will strongly suggest adding chopped onions to it, it tastes better that way.
This dish was our dinner yesterday and as a perfect combination, we enjoyed it while watching the movie - Crazy Rich Asians!
More vegan/ vegetarian rice recipes from around the world
If you try any of my recipes then please don't miss to share your feedback and rate the recipe in the comments section below.
You can also follow me on Facebook, Pinterest, and Instagram.
Step by step photo instructions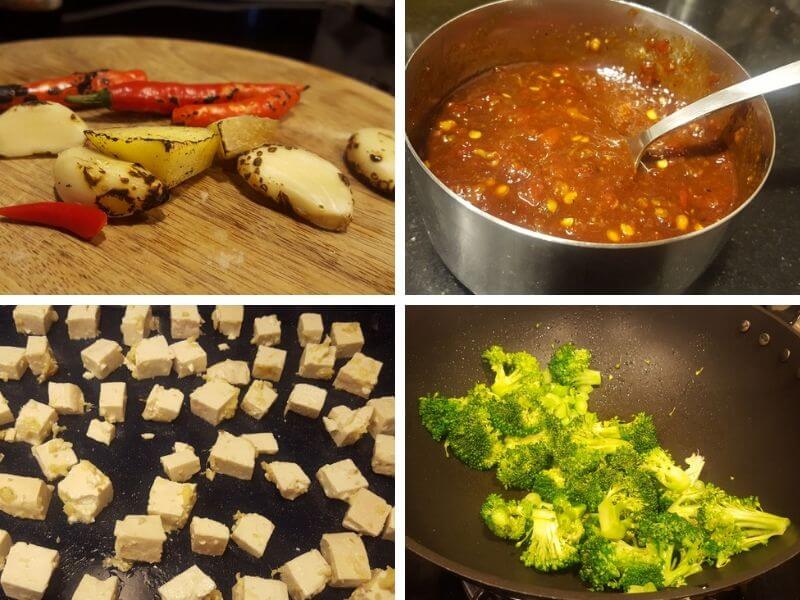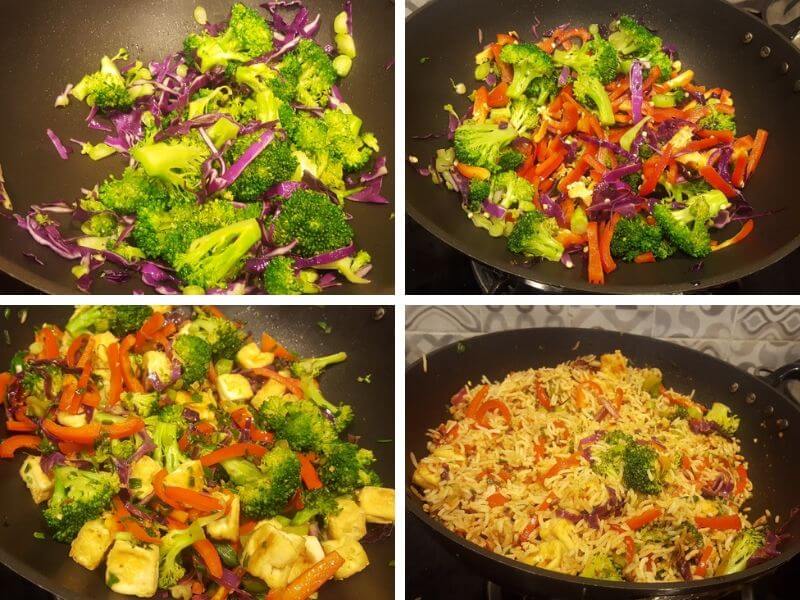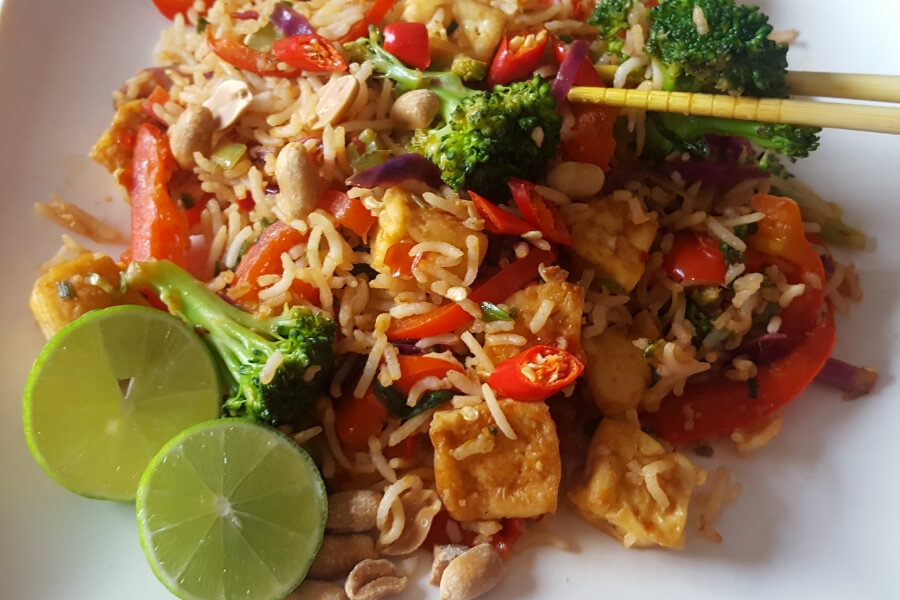 How to make Vegan Nasi Goreng?
Recipe:
Preparation time: 30 minutes
Making time: 10 minutes
Total time: 40 minutes
Serves: 3-4
Ingredients:
Plain steamed rice (use leftover rice): 2.5 cups
Red chilies: 4-5 (preferably bird's eye chili)
Finely chopped onion: 1 cup
Broccoli florets: 2 cups
Shredded purple cabbage: 1 cup (If you don't have purple, use green one)
Thinly diced red bell pepper: 1
Chopped spring onions: 1 cup
Firm tofu cubes: 1& ½ cups
Garlic cloves: 5
Ginger: 2-inch piece + 2 tablespoons- grated
Lime juice: 2 teaspoons
Coconut sugar/ brown sugar: 2 tablespoons
Soy sauce: 3 tablespoons
Vegan sambal oelek / hot red chili paste : 3 tsp / as per taste
Roasted peanuts: ¼ cup
Sesame oil: 1 tablespoon
Peanut oil: 2 tablespoons
Salt: as per taste
Method:
Dry roast the garlic cloves, ginger piece and red chilies over direct flame and keep aside. Slit the chilies halfway from the middle before roasting to avoid bursting
Put the roasted garlic, ginger, chilies, coconut sugar, soy sauce, lime juice and some salt in a grinder and make a smooth paste
Take out the paste in a bowl and add the red chili paste. Since soy sauce and some red chili paste also have salt in them, be careful while adding salt to this sauce
Mix everything well and keep the sauce aside
In a bowl mix the tofu, grated ginger, salt and 1 tablespoon of sesame oil
Preheat the oven and bake the tofu cubes at 180 degrees for around 25 minutes or till they become golden brown
In a large wok, heat around 2 tablespoons of peanut oil. Add in the chopped onions and fry till they become translucent
Now throw in the broccoli and stir fry for around 2 minutes and next add the cabbage
Stir fry the cabbage for few seconds and then add the red bell pepper
After stir frying the bell pepper for 1-2 minutes add the spring onions and stir fry for few more seconds. Then goes the tofu
Now add the rice and sauce and mix everything well
Garnish with roasted peanuts, chopped red chilies and lime wedges
Enjoy your delicious Vegan Nasi Goreng!