Sambhar also known as Sambar/ Sambaar is a tasty vegan & gluten-free lentil based vegetable stew from South India. This easy and healthy recipe tastes best with steamed rice/ idli/ dosa or any South Indian snack.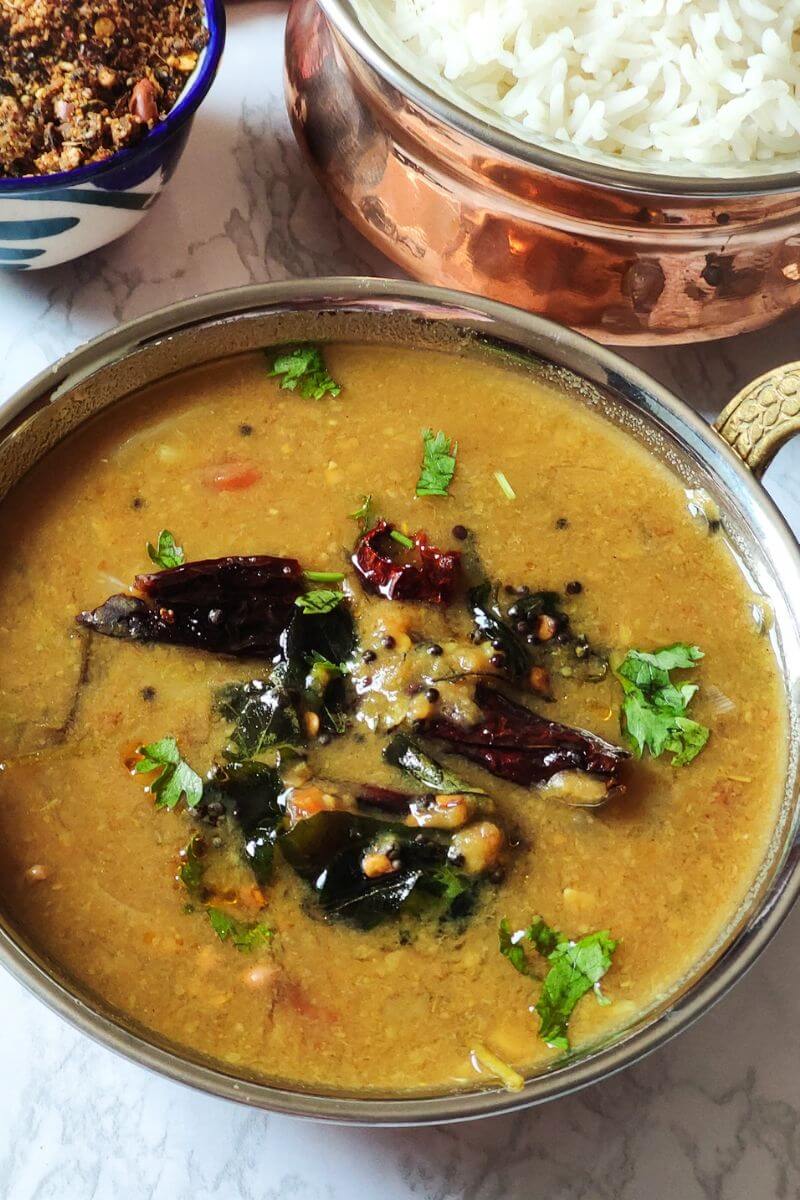 This post contains affiliate links. Please read my full disclosure here. As an Amazon Associate, I earn from qualifying purchases.
Most of you would have eaten the South Indian dish – Masala Dosa or at least would have heard about it when its name came in the list of top 10 dishes to try before you die. No, I am not sharing the recipe of Masala Dosa in this post but of its best companion – Sambhar also spelled as Sambar or Sambaar.
If you have ever tried Masala dosa or any other South Indian dishes like Idli or Vada then, other than a variety of chutneys, you must have been served a delicious lentil stew with it, that stew is called Sambhar. It's one of my favorite dishes.
Sambhar is basically a vegan lentil-based vegetable stew from South India and is also eaten in Sri Lanka.
It is said that this dish was accidentally invented by the Maratha ruler Sambhaji who added tamarind while making lentil soup when his head chef was away. Not sure if the story is true as Sambhaji must be would have a lot of other helpers in the palace to cook for him in the absence of his head chef (otherwise whom the head chef was heading?) but it definitely is an interesting story and who knows maybe Sambhaji also loved cooking and experimenting, just like us :). Who says great warriors can't cook?
There are different ways of making Sambhar and it tastes different in every home and every restaurant. Since I love South Indian food plus for me, it's a safe, tried, and tested vegan option while eating out, I end up ordering a South Indian dish quite often.
Even after having Sambhar at so many different places, I never tasted anything that could beat my mother's Sambhar recipe. The best thing is it's simpler than a lot of other Sambhar recipes I came across.
Which Vegetables to add
There are no fixed rules regarding which vegetables to add to Sambhar and which not. It can be made with just one vegetable or a combination of many. I love to add as many vegetables as I can, it makes Sambhar tastier and healthier.
Some of the most commonly used vegetables in Sambhar are:
1. Drumsticks
2. Potatoes
3. Eggplant
4. Pumpkin
5. French beans
6. Carrots
7. Green banana (raw banana)
How to serve
Sambhar can be served with lemon rice, idli, dosa, vada, uttapam, or any South Indian snack.
If you can't make any of the above, just enjoy with steamed rice, that's my favorite way of having it.
More easy South Indian recipes
Looking for more easy South Indian recipes to try at home? Don't miss to check the following recipes:
Let's start making the recipe invented by a great warrior!
Step by step photo instructions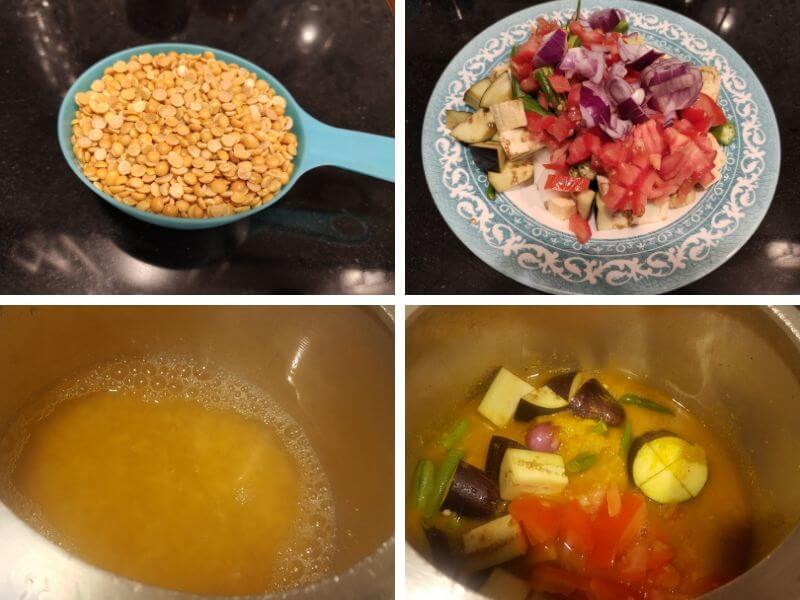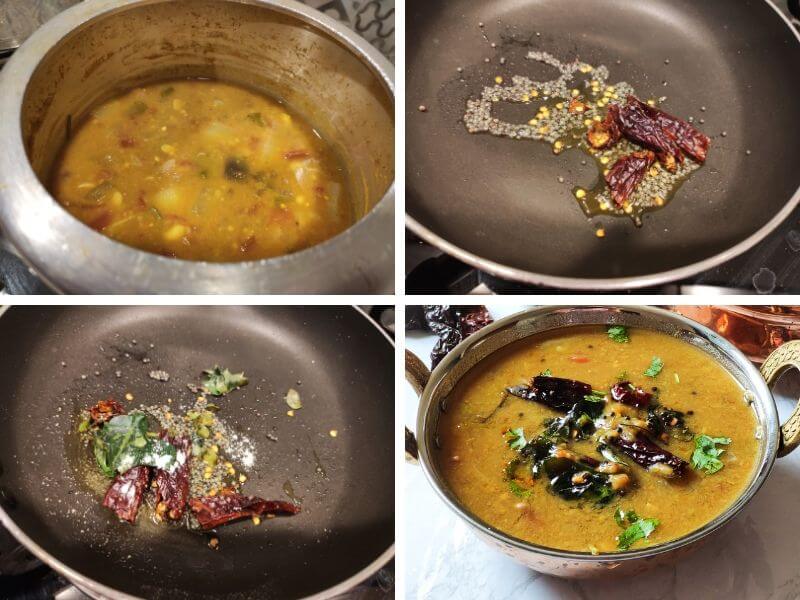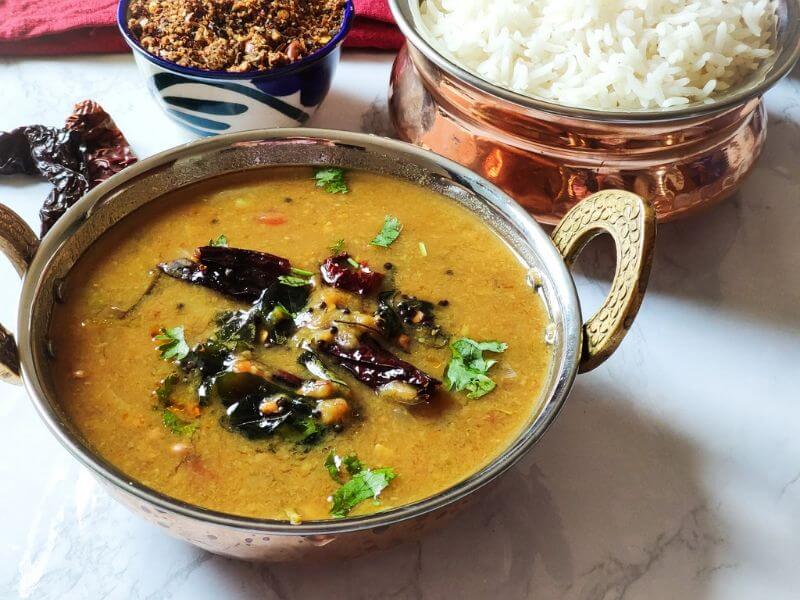 How to make Sambhar?
Recipe:
Preparation time: 10 minutes
Cooking time: 20 minutes
Serves: 4
Ingredients:
Brinjal: 1
Potato: 1
Carrot: ½
French beans: 4-5
Shallots: 5-6
Tomato: 1
Green chilies: 2-3 / as per taste
Tamarind paste: 1.5 tablespoons/ as per taste (I like my Sambhar to be sour and spicy)
Curry leaves: 1 sprig
Dry red chilies whole: 3-4 / as per taste
Black mustard seeds: 1 teaspoon
Sambhar powder: 2 tablespoon
Coriander powder: 1 tablespoon
Red chili powder: 1 teaspoon
Asafoetida: 1 pinch
Turmeric powder: ½ teaspoon
Salt as per taste
Cooking oil: 1 tablespoon
Water: 4 cups /as required to get the right consistency
Method:
Wash the lentil nicely and put it in a pressure cooker. Add 4 cups water, salt, turmeric powder, red chili powder, coriander powder and Sambhar powder to it. Put on the lid and cook the lentil till 3 whistles.
Now chop the vegetables to make medium-sized pieces, split the green chilies in half. Shallots can be kept whole.
Once the lentil is cooked, open the pressure cooker and add all the chopped vegetables. Give 2 more whistles to cook the vegetables. (Vegetables are added at a later stage to the lentil as we don't want them to get completely mashed).
Now switch off the gas and let the stew cool.
Open the pressure cooker and add tamarind paste. Mix well.
In a tadka pan or any small pan, heat oil. Add in dry whole red chilies.
Once the chilies start to turn dark add in the mustard seeds, asafoetida, and mustard leaves. Sauté for 10-15 seconds, don't let them burn, cook only till you start getting the aroma of spices.
Turn it over the Sambhar, mix well.
Serve hot with steamed rice/ coconut rice/ dosa/ idli/ vada or
Note: I have added the vegetables which were available in my fridge, you can also add other vegetables like drumsticks, radish, okra, raw banana, etc.