Bánh Bột Lọc Chay- clear vegan dumplings from Vietnam. These transparent dumplings are made with tapioca flour and mung bean. They are delicious, chewy, fresh, and very light.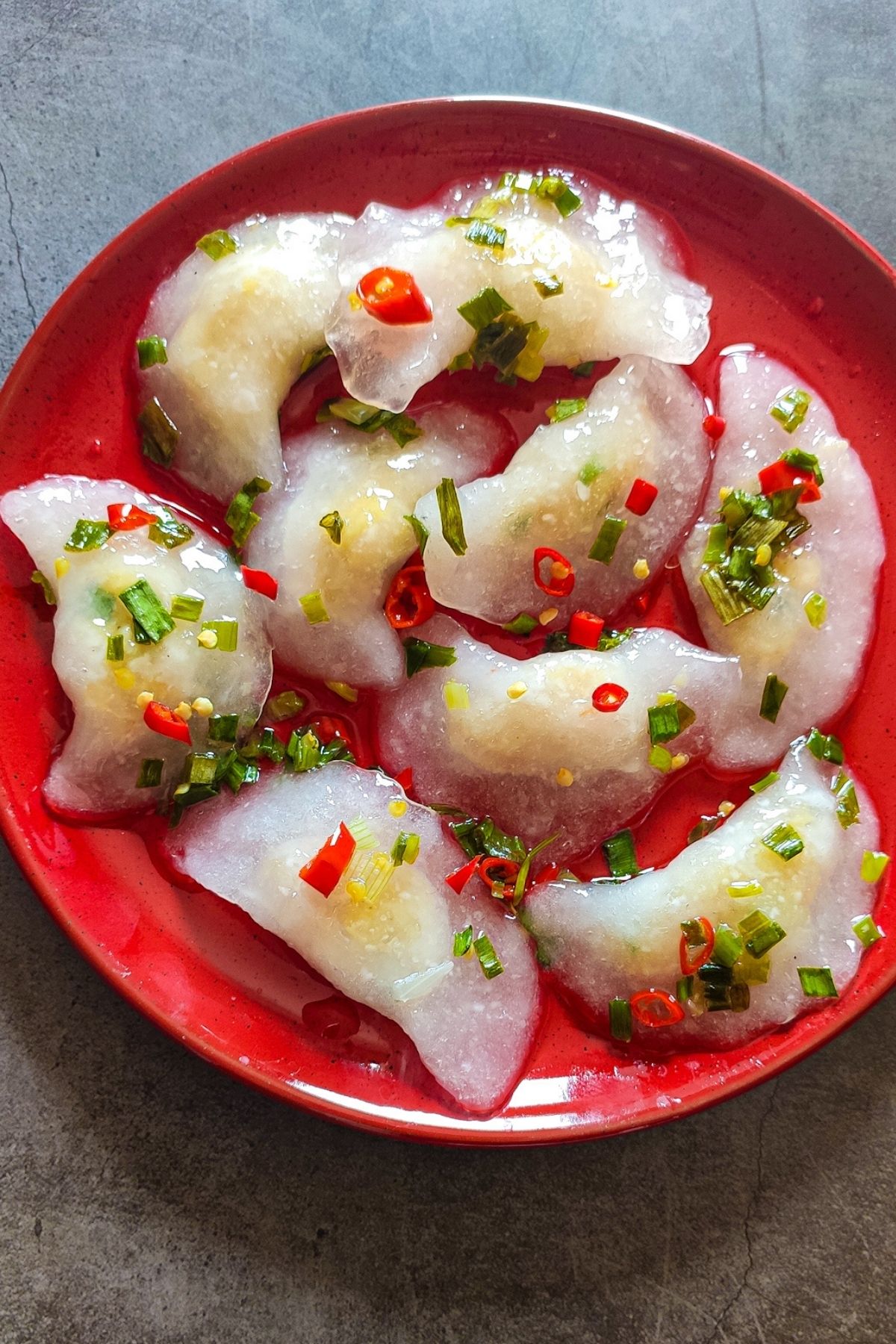 This post contains affiliate links. Please read my full disclosure here. As an Amazon associate, I earn from qualifying purchases without any extra cost to you.
Amit is a great fan of dumplings which encourages me to keep on searching for new dumpling recipes.
A few years ago this search lead me to a very interesting vegan dumpling recipe from Vietnam called Bánh Bột Lọc Chay.
These dumplings look very unique and that inspired me to try them immediately. Their taste is also very unique and good. I am really pleased to find this recipe and now make them quite frequently.
Jump to:
What is Bánh Bột Lọc Chay?
Bánh Bột Lọc Chay is a vegan Vietnamese dumpling which is made with tapioca flour and mung bean.
Chay means vegetarian in Vietnamese language. This word helped us a lot in our vegetarian food hunting during our Vietnam trip.
Generally, these clear mung bean dumplings are made during the full moon and new moon day in Vietnam when most Buddhist monks eat only vegetarian food. They sometimes don't even use garlic and onion but in this recipe, I have used shallots.
Vietnamese cuisine is considered to be one of the healthiest cuisines in the world. It has very fresh flavors and is generally very light and delicious.
What goes in these dumplings?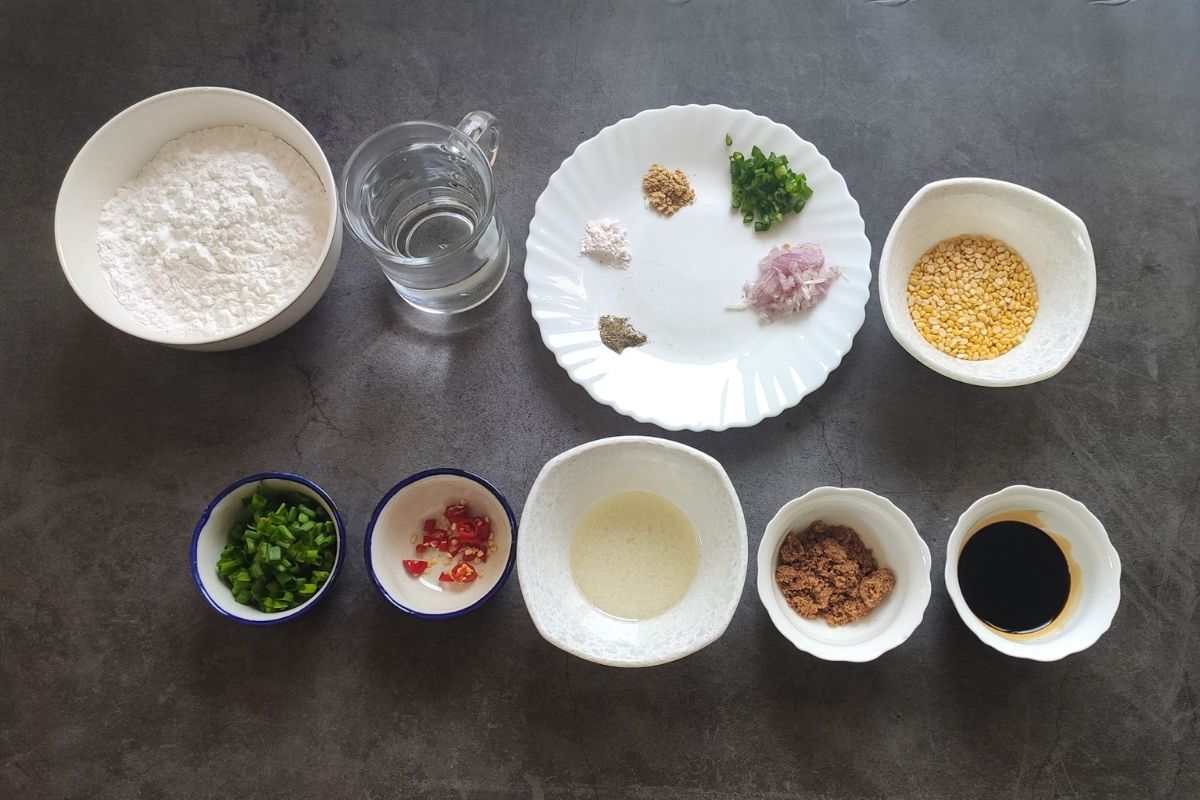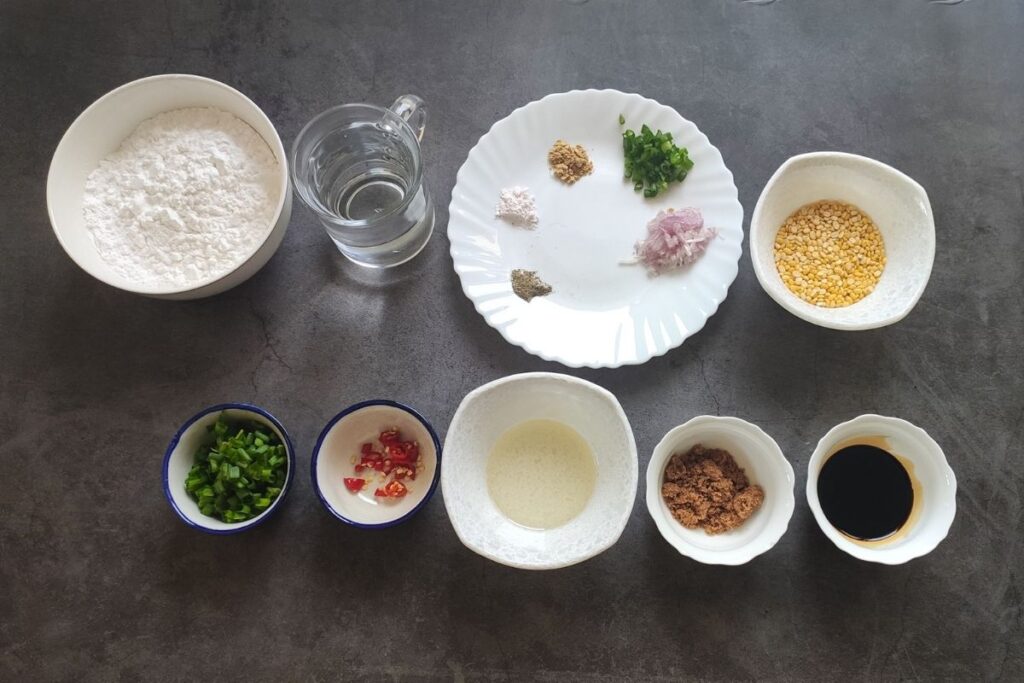 To make these clear dumplings, the following ingredients are needed:
Tapioca starch
Water: To make the dough, boiling the dumplings, making the sauce, and in ice-cold water.
Salt
Ground black pepper
Ginger powder: You can also use minced ginger
Spring onion greens (for stuffing as chili oil)
Shallot: You can also use red onion
Mung bean (yellow variety)
Red chili peppers- Thai or any hot variety.
Cooking oil- Vegetable/ canola oil
Brown sugar
Soy sauce/ Tamari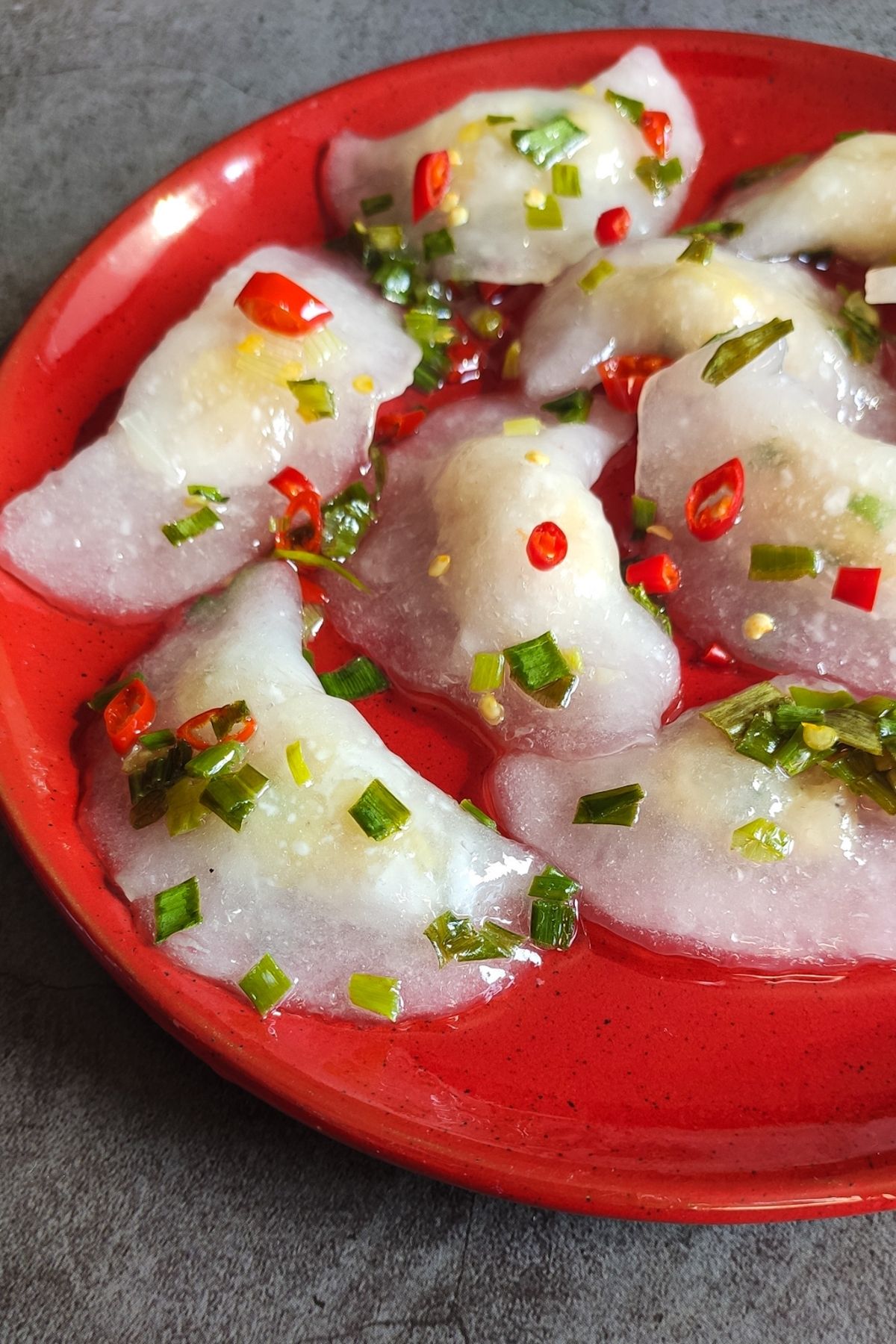 Is it mandatory to soak mung beans?
Yellow mung bean gets cooked very fast so you don't need to soak it. But if you soak it before cooking, the cooking process will be even faster.
Is there a substitute for tapioca flour?
Unfortunately no, not in this recipe. These dumplings cannot be made with any other flour. The transparent and chewy skin can be made only with tapioca starch.
You will find this flour in Asian stores or can buy online too.
Serving suggestions
These clear dumplings are kept in ice-cold water for a few minutes after boiling which makes them translucent. So, they are served cold. You don't need to heat them after taking them out of the ice water.
Bánh Bột Lọc Chay has very subtle flavors and it's served with a light and basic but tasty sweet sauce which enhances its flavor and goes really well with these chewy dumplings.
So, if you make Banh Bot Loc Chay don't miss making the sauce, the recipe of which I have shared in the recipe card.
Recipe tips and tricks
Making the tapioca flour dough is very tricky. When I first tried this recipe, I wasted around 1 kg tapioca flour. Even cleaning the dishes with sticky tapioca flour was a big headache and I was really irritated after the initial few failed attempts.
But slowly I learned to make the dough and now make perfect dumplings every time.
I am sharing some tips and tricks which I learned with my experience, don't miss to follow them otherwise making this dough will become very challenging.
Use boiling hot water to make the tapioca flour dough. By boiling hot water, I mean extremely hot- bubbling hot. If you add cold, lukewarm, or even normal hot water the flour won't come together and become a sticky lump.
What I do is that I keep a pot of water on the stove, boil it until it starts vigorously boiling, and I don't switch off the gas until the dough is ready so that the water doesn't start getting cold.
Don't add water to the whole flour in one go. Add it to some portion of it, start mixing, and when the flour starts coming together keep on adding more boiling water and flour until you get a smooth, elastic dough.
Since we are using extremely hot water, use a spoon to start mixing flour and water. Once the dough starts coming together use hands, the temperature will be more manageable by that time. You can also wear kitchen gloves to make the dough.
Tapioca dough becomes dry very easily and doesn't need resting time. So don't make it in advance. Keep the filling, chili oil, and sauce ready, and then make the dough. Keep it covered with plastic wrap even while making the dumplings.
Don't make the dumpling wraps very thick otherwise, the dumplings will become very chewy and hard to swallow.
Don't make the wraps very thin either else the stuffing will come out when you boil them.
Since these dumplings are chewy, keep their size small. Eating big chewy dumplings won't be very convenient.
Once you take out the dumplings from ice-cold water, immediately pour the chili oil and some sauce on them. Make sure the oil and sauce evenly coat the dumplings. If you don't do this the dumplings will stick to each other and the container and it will be very difficult to manage them.
You can try these vegan dumplings with different fillings like mushrooms, vegetables, sprouts, tofu, etc.
More easy vegan Asian recipes
If you also love Asian food like me and looking for vegan options, then don't miss to check the following recipes:
More vegan dumpling recipes
Looking for more vegan dumpling ideas? Do try the following recipes:
If you try any of my recipes, please rate ⭐⭐⭐⭐⭐ it on the recipe card and also leave your feedback in the comments section below. You can also follow me on Facebook, Pinterest, Instagram, and subscribe to my youtube channel.
Step by step photo instructions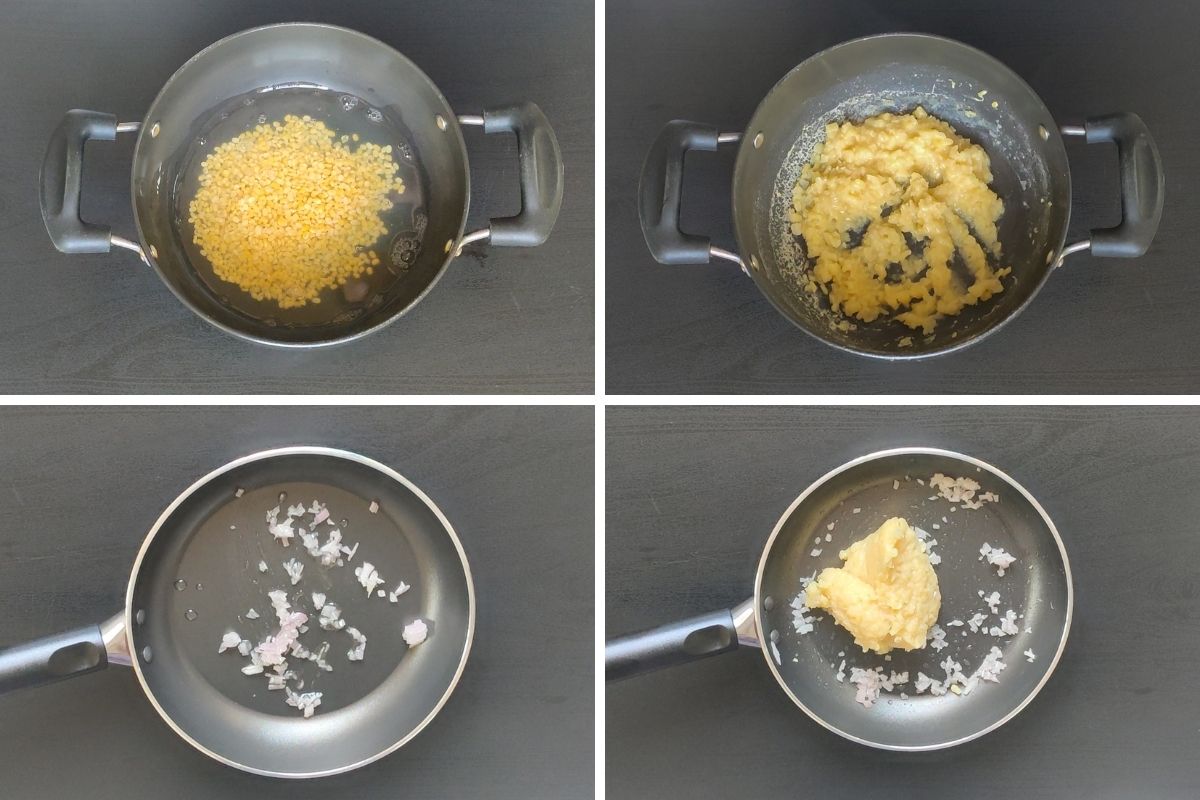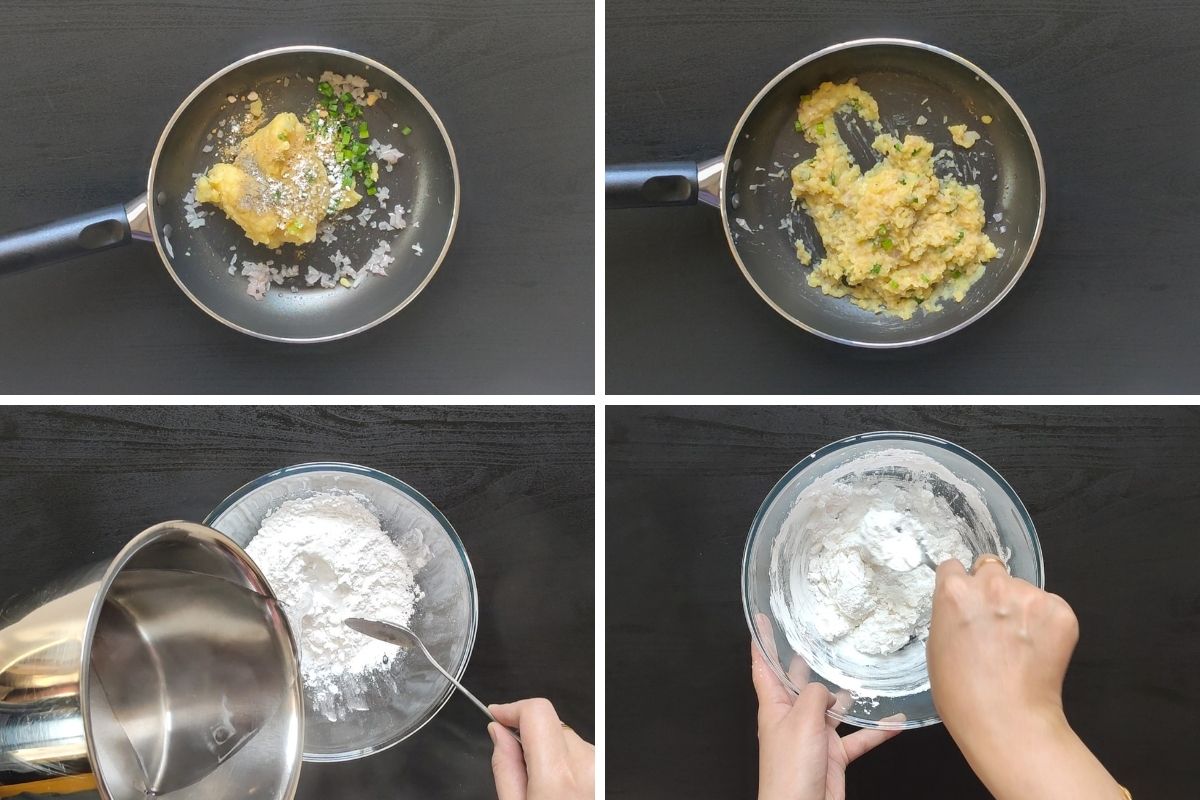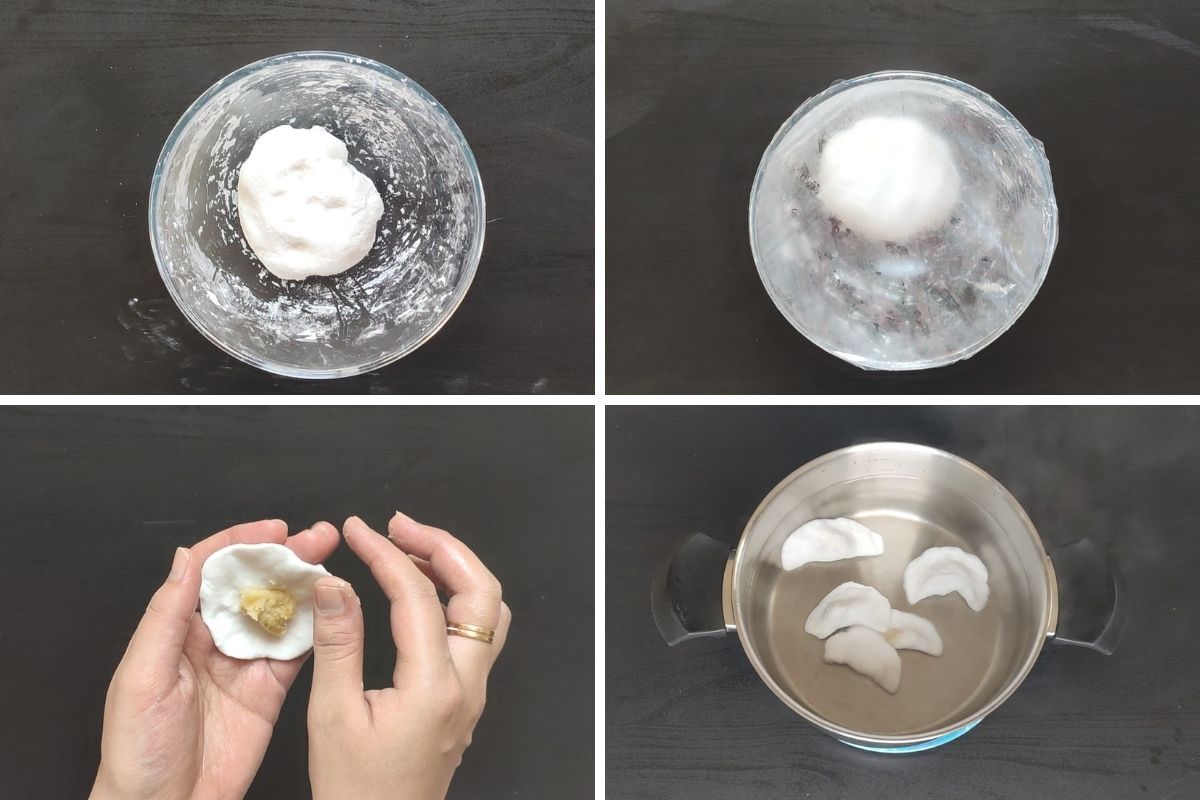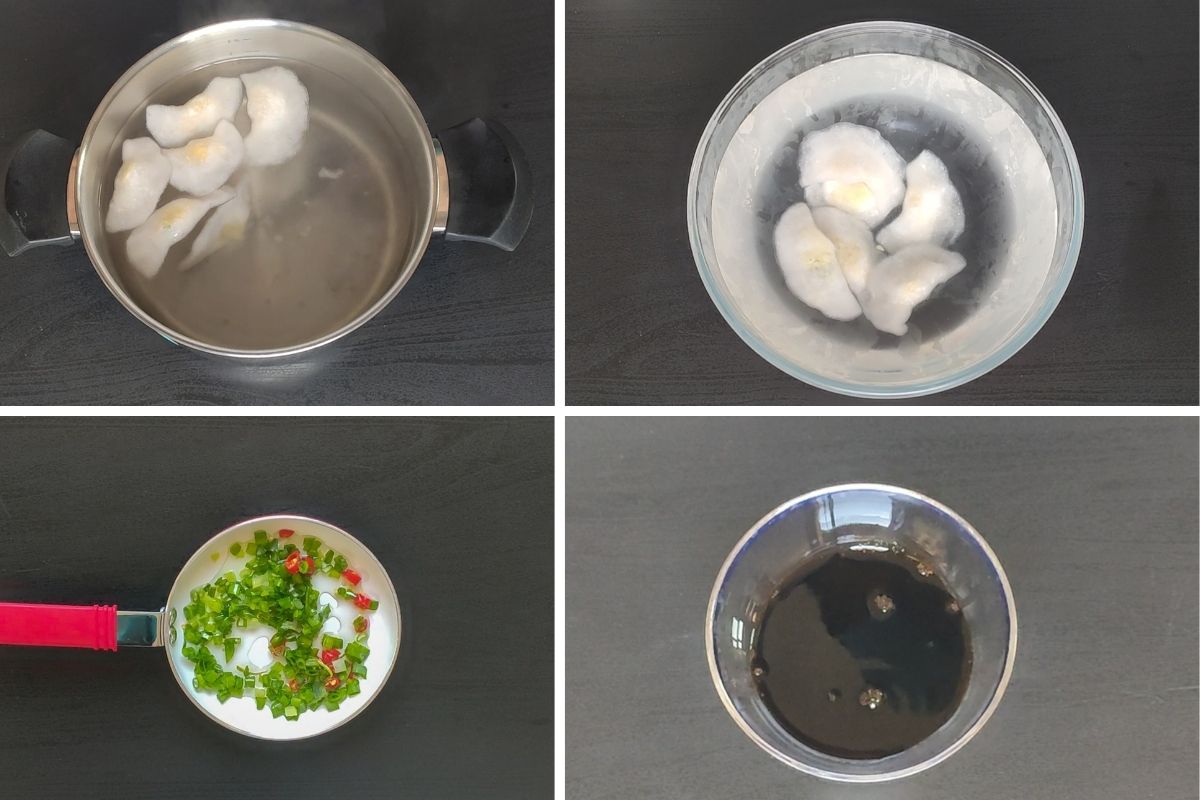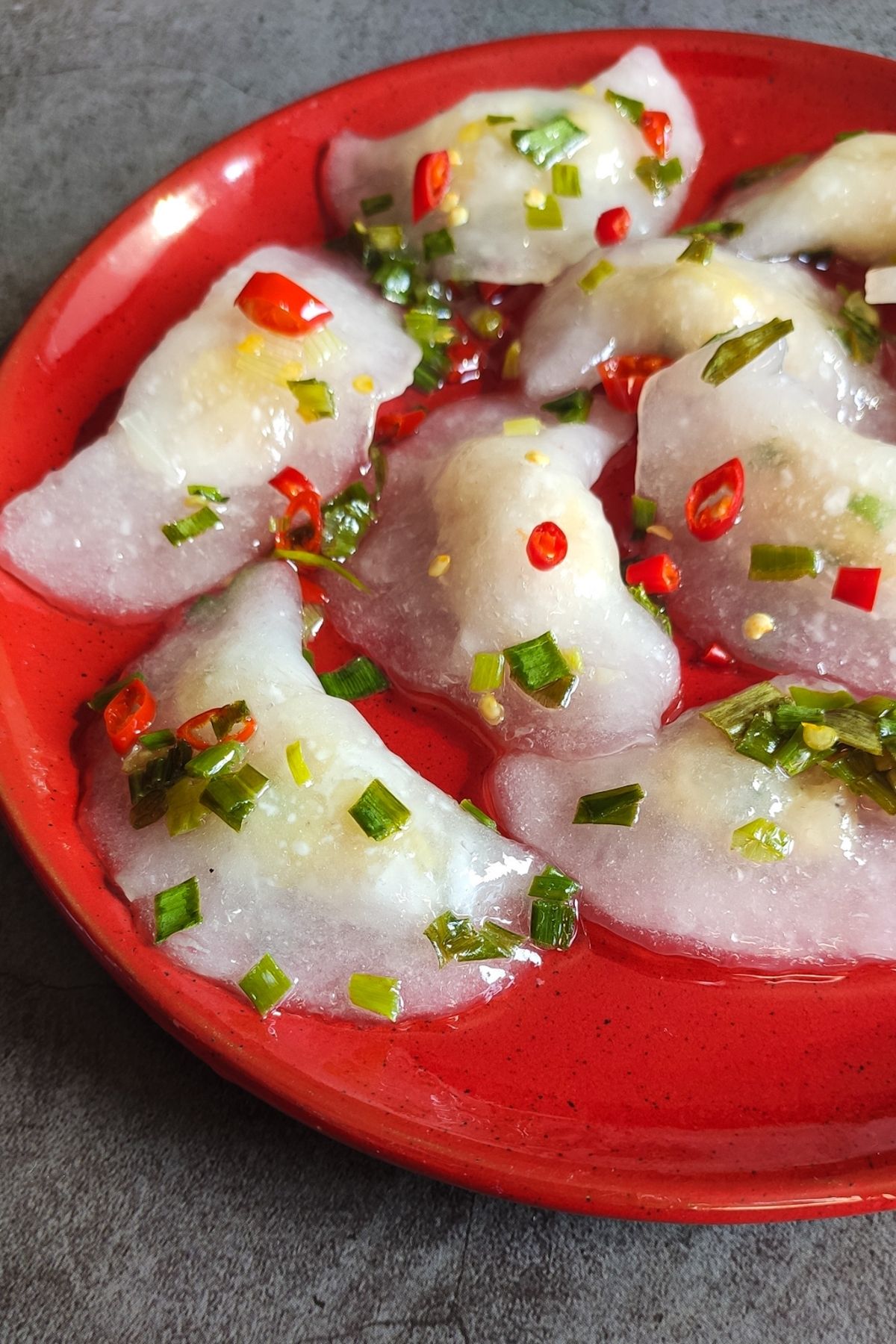 Recipe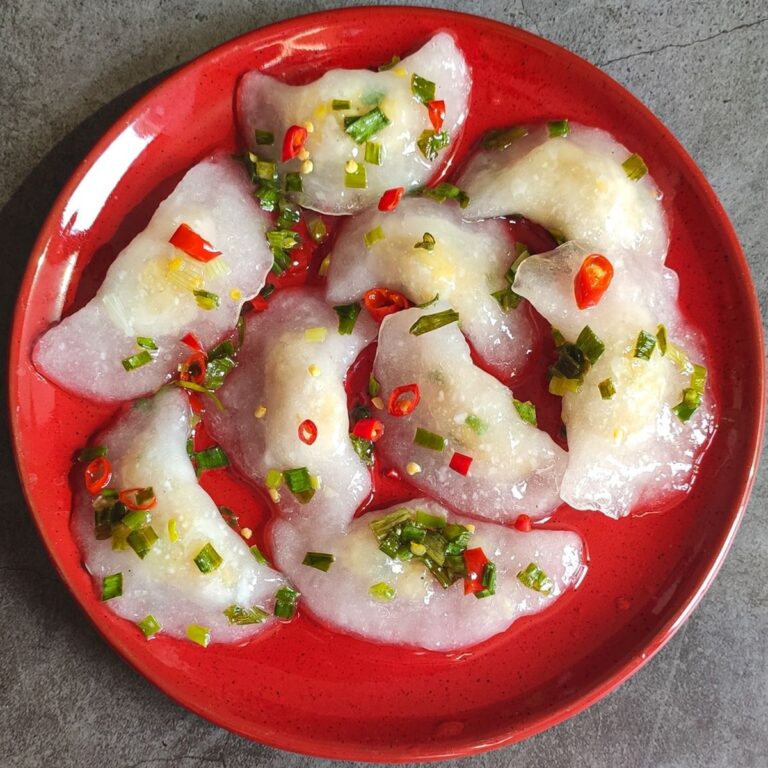 Vegan Vietnamese dumplings- bánh bột lọc chay
Bánh Bột Lọc Chay- clear vegan dumplings from Vietnam. These transparent dumplings are made with tapioca flour and mung bean. They are delicious, chewy, fresh, and very light.
Print
Pin
Rate
Ingredients
Ingredients for the dough
1.25

cups

tapioca flour

1

cup

boiling water

or as required to make a smooth dough
Ingredients for the filling
¼

cup

split mung bean

1

shallot

finely chopped

1

tablespoon

finely chopped spring onion greens

¼

teaspoon

ginger powder

Salt as per taste

Ground black pepper as per taste

2

cups

water

1

teaspoon

vegetable oil/ any other cooking oil
Ingredients for chili oil
3

tablespoons

vegetable oil/ canola oil

1

Thai red chili

finely chopped

¼

cup

finely chopped spring onion greens
Other ingredients
1

ltr

ice-cold water

Water for boiling the dumplings
Instructions
Making the filling
Wash mung bean and soak in boiling water for around 30 minutes.

Put the soaked beans in a pot with around 2 cups of water. Cover the pan and cook until the mung beans turn mushy and the water completely dries. Once cooked, mash the bean with a spoon to make a smooth paste.

Heat 1 teaspoon oil in a pan. Add chopped shallots and saute for a minute. Add mung bean paste, salt, pepper, ginger powder, and spring onion greens. Mix well. Cook for a minute and then switch off the gas. Let the mixture reach room temperature.
Making chili oil
Heat 3 tablespoons of oil in a pan. Add chopped chili pepper and spring onion greens. Saute for a minute and then switch off the gas. Keep it aside.
Making the sauce
In a bowl mix soy sauce/ tamari, sugar, and water. Mix until the sugar gets dissolved.
Making the dough
Put around ½ cup of tapioca flour in a bowl and add around ¼ cup of boiling hot water to it. Mix with a spoon. Once the dough starts coming together slowly start adding more flour and boiling water until you get a smooth elastic dough. Cover the dough with a plastic wrap.
Making dumplings
Boil some water and salt in a large pot.

Divide the dough into small equal-sized balls. Grease your hands. Take one ball and flatten it by pressing between your palms to make a small disc.

Put a small portion of mung bean filling at the center of the disc. Lift one side of the disc and bring it over the filling to reach the other side. Pin the edges to seal the dumpling. Cover the dumpling with plastic wrap. Similarly, make all the other dumplings.

Put the dumplings in boiling water and cook until they start floating on the surface.

Pour ice-cold water into a large bowl. Transfer the cooked dumplings to this bowl and let them stay in it for about a minute or until they become translucent.

Take the dumplings out of water with a strainer and put on a serving plate. Pour chil

Pour chili oil and sauce on top. Gently mix to make sure the dumplings get evenly coated in oil and sauce. Serve immediately.
Notes
Use very hot boiling water to make make the dough otherwise, it will not be possible to make a dough with tapioca flour.
Seal the edges of the dumplings nicely. If you don't do that the filling will come out when you boil them.
Keep the size of dumplings very small as these dumplings are very chewy and eating large chewy dumplings will be very difficult.
Make sure that the chili oil is ready before you take out the dumplings on the plate and pour the oil immediately. Otherwise, the dumplings will stick to each other and the plate.
The detailed recipe tips and tricks are given in the post above. Please follow them to make this recipe.
Nutrition
Calories:
66
kcal
|
Carbohydrates:
10
g
|
Protein:
1
g
|
Fat:
3
g
|
Saturated Fat:
2
g
|
Sodium:
87
mg
|
Potassium:
17
mg
|
Fiber:
1
g
|
Sugar:
1
g
|
Vitamin A:
25
IU
|
Vitamin C:
1
mg
|
Calcium:
5
mg
|
Iron:
1
mg
Tried this recipe?
Tag me on instagram #greenbowl2soul