Bikaneri bhujia paratha is a very interesting vegan recipe from Bikaner. All the paratha lovers must try this awesome and unique recipe once.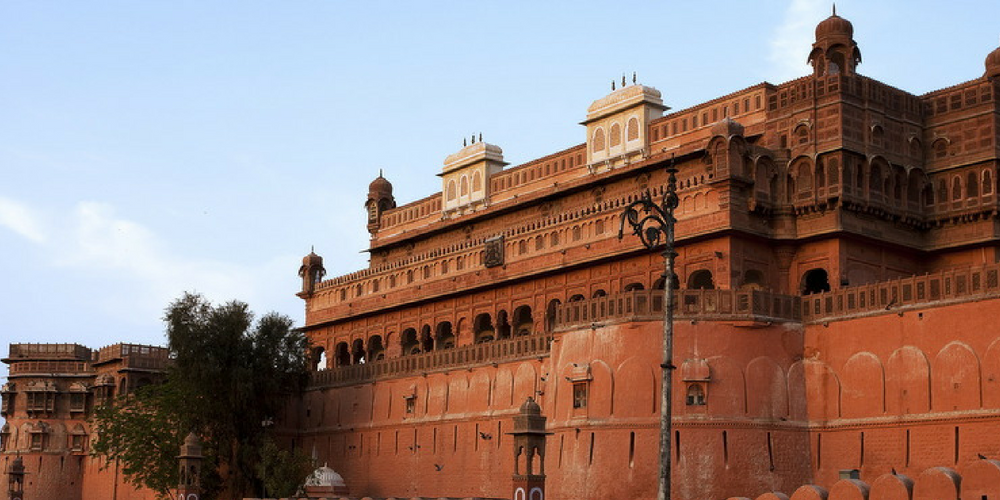 This post contains affiliate links. Please read my full disclosure here. As an Amazon Associate, I earn from qualifying purchases.
My sister and I, had an amazingly beautiful childhood…just out of a fairy tale. My father was associated with BRO (Border Roads Organization) and had a transferable job.
In every 2-4 years my mother was on her toes to pack everything and move to a new exotic location with my father, building a new paradise for another 3 years.
Those were the best days of our lives which gave us a great opportunity to make a lot of new friends, explore new places and culture.
Somehow that entire process of building a new home in every 3 years, at a new far of place, leaving old friends behind, away from close relatives and familiar faces (sometimes even without a single neighbour), drew us(me, my sister and parents) very close, emotionally. We still share that strong emotional bond and I am sure that it will remain intact forever.
One such beautiful place was in the royal state (Rajasthan) of India-Bikaner. If you have never visited Rajasthan, you must plan a trip soon. It's a completely different experience which you cannot find anywhere else in the world.
Here, I am sharing images of some of the places where I spent my childhood. Aren't they amazing!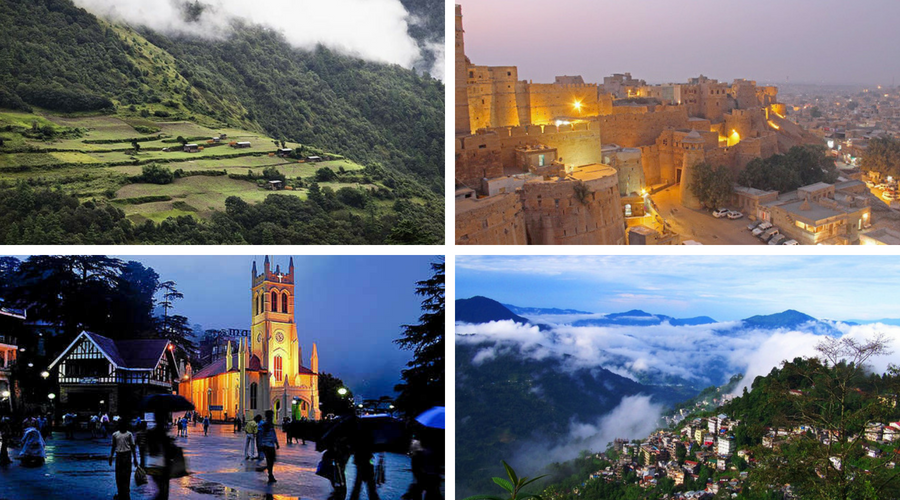 I have done my graduation from Bikaner and one of my batch mates, used to carry her lunch from home whenever we had extra classes. I have still not forgotten one particular dish which our entire class used to love and finish within seconds of opening the box.
That was a time when I had no cooking experience but I still asked her for the recipe and tried making it at home, failed badly and never bothered to try it again.
Last year, i.e. around 10 years after that failed attempt, I suddenly got the craving to eat that dish and searched for a recipe online. Surprisingly, there was not a single post on it. Maybe it was my friend's mum's invention.
Since now I have a better cooking experience, I tried to recreate that dish with whatever I remembered from my friend's recipe, avoiding mistakes I did last time and voila! it tasted exactly the way it tasted in that snatched bite from my dear friend's lunch box J. Everyone for whom I have prepared it so far, loved it and every time I serve it, I ask people to guess the secret ingredient and nobody has succeeded so far.
That special recipe of mine is a stuffed Paratha and that secret ingredient is Bikaneri Bhujia!
Those who don't know what a Bikaneri bhujia is, I will explain that it's a readymade savoury Indian snack which looks like tiny crispy noodles but are made of moth bean, gram flour and spices. It's a specialty of Bikaner city but can be easily bought from any Indian grocery store.
It's the easiest stuffed paratha recipe which I prepare whenever I feel like eating a stuffed paratha but don't feel like getting involved in all the effort that goes into making a stuffed paratha.
I have only tried Haldiram's bikaneri bhujia for this recipe. If you can't find it you can try any other bikaneri bhujia also but I am not sure if it will taste the same. Also, please don't mix bikaneri bhujia with alu bhujia. You may invent your own recipe using alu bhujia but for this recipe use bikaneri bhujia only, it tastes completely different.
Step by step photo instructions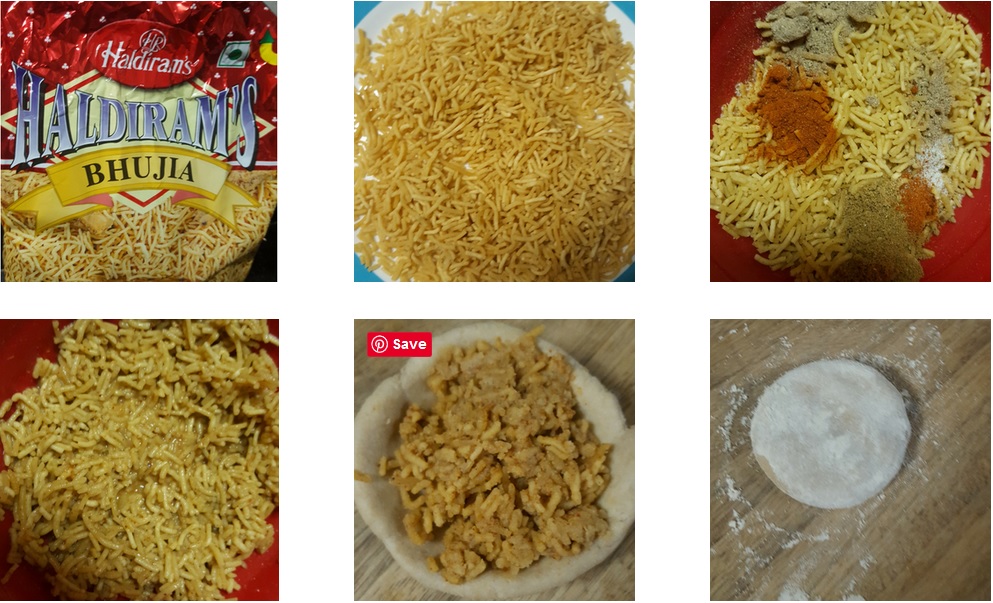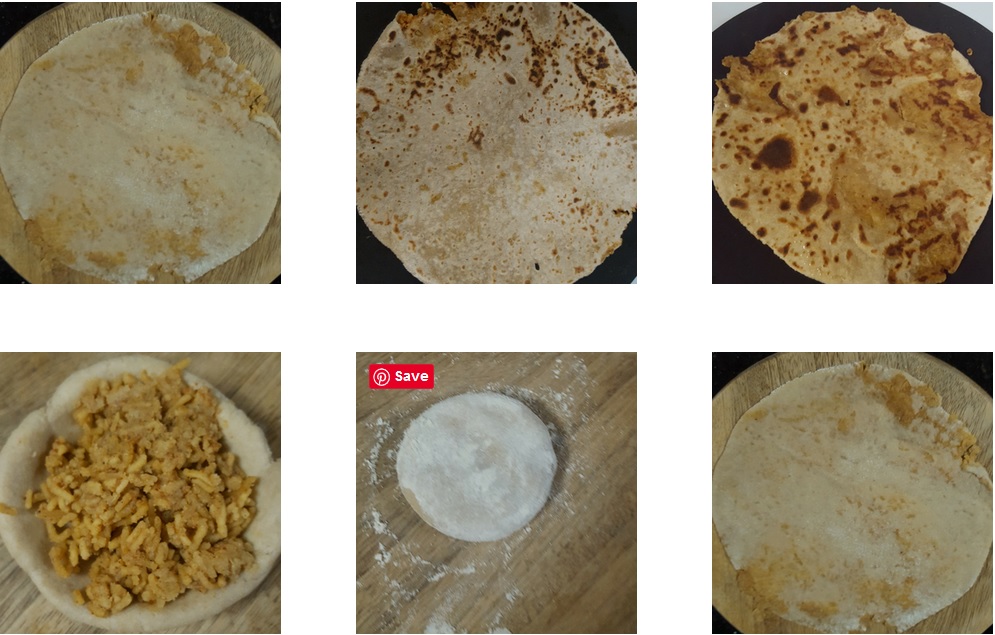 You just need to open the pack of a Bikaneri bhujia , mix in some spices (don't add too much spices as the bhujia will also have a lot of spices in it) and little water to make it slightly soft and your stuffing is ready!
Try it once and I am sure it will become a regular breakfast recipe for all the Paratha lovers


.
Serves : 2
Preparation time : 5 minutes
Cooking time: 2-3 minutes per paratha
Recipe:
Ingredients:
For dough:
For stuffing:
Bikaneri Bhujia: 2 tablespoons per paratha
Red chili powder: ½ teaspoon
Coriander powder: ½ teaspoon
Dry mango powder: 1 teaspoon
Salt: ½ teaspoon ( As the bhujia is already salty, add very less salt to it.)
Ghee/ Oil/butter – 1 tablespoon (I use very less oil, you may increase the quantity as per your liking).
Water: ½ tablespoon
Method:
In a bowl mix wheat and water and knead to make dough for paratha. Cover and keep aside.
In another bowl mix bikaneri bhujia and all the spices.
Add ½ tablespoon water and mix well. Don't add too much water as it will make the stuffing too soft to be handled properly. Try to make the bhujia soft with as little water as possible.
Keep the stuffing aside for 2 minutes to allow the bhujia soak water and get slightly softer.
In the meanwhile heat a plain griddle (tawa) on medium flame.
Take a lemon size ball of the dough and press it with your hands to make a small bowl-like shape.
Fill the stuffing in that dough bowl and pull the corners together and seal them. Roll the ball between your palms to give it a ball-like shape.
Now slightly flatten the ball between your hands and dust it properly with wheat flour.
Roll it properly with the help of a rolling pin.
Once done, place the paratha on a hot griddle.
Once you see slight bubbles on the upper side, turn it around and apply ghee on the cooked side.
Turn it around again and apply ghee to the other side also.
Roast from both sides and serve hot with tea/ curd and pickle.
Enjoy!