Kulfi Falooda is a refreshing and delicious summer dessert from India. Try it once and get mesmerized by the layers of goodies in your glass.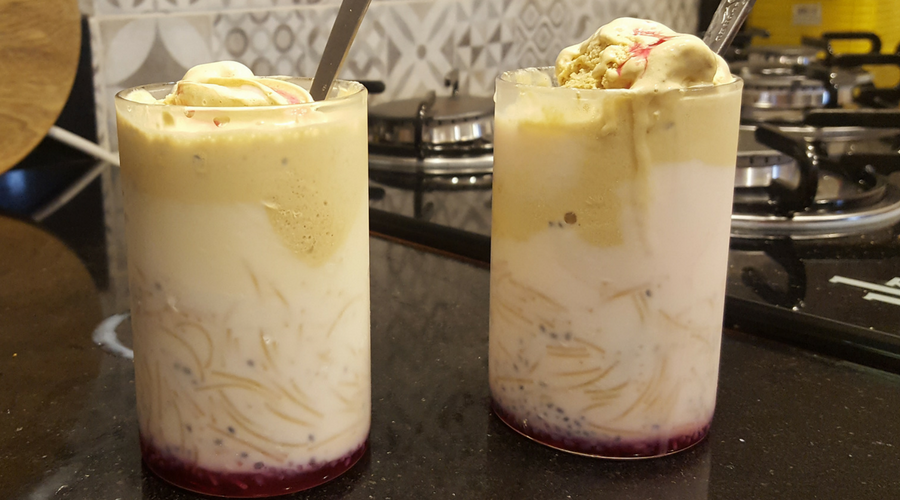 This post contains affiliate links. Please read my full disclosure here. As an Amazon Associate, I earn from qualifying purchases.
The recipe which I am sharing today is of an Indian dessert-Kulfi falooda, which was introduced to me by my adorable father, my papa. I remember, there was a fete in our camp that day and I couldn't go because my exams were on. I was studying at home when my father came back from the fete, holding a huge glass of Kulfi falooda, covered with extra cups and tissues to avoid it from melting. He gave falooda to me and left again, just asking, "padhai theek chal rahi hai beta (how is the preparation going on, my child)?" Papa is one of the nicest souls on this earth, very cute, simple, extremely hard working and a great human being with a very high integrity level. My parents were always very popular among my friends and they all loved and respected my parents a lot. One of the best and very innocent compliments that I got about my father was from a school friend of mine. After meeting papa for the first time during a PT meet, she looked at me and said, "Vandana, your father is so adorable, more than my own father J". That made me very happy and proud about papa. He is a self made man, who along with my mother, made a lot of sacrifices in their lives, to make the life of their daughters comfortable. Just thinking about how beautiful they made our childhood, makes me smile as well as sad, as that time will never come back.
Coming back to the Kulfi falooda, from the look itself I knew it will be something delicious and was mesmerized by the layers of flavors in that glass. Every layer had something different to offer; it was very soothing and satisfying in that scorching heat of Rajasthan, when I had it for the first time. Thanks, Papa!
I had it many times since then and enjoyed it every time but the taste of that first cup is still fresh in my mind.
Kulfi falooda is a cold dessert that is very popular in the Indian subcontinent. It has layers of all the ingredients like sweet basil seeds, rose syrup, chilled milk, kulfi, etc, which are very good for summer.
This Friday, I tried making it at home for the first time. I already had ready-made Kulfi at home so didn't make it at home but if you want, you can even make kulfi at home. I will share the recipe in some other post.

Recipe :
Preparation time: 30 minutes (including basil seeds soaking time)
Making time: 5 minutes
Serves: 2
Ingredients:
Method :
Soak the basil seeds in 2 tablespoon milk and keep it in the fridge to chill for around 30 minutes.
Boil the vermicelli for around 5 minutes till it becomes soft, drain and put in cold water, covered, in the fridge.
Add sugar in the remaining ¾ cup milk, mix well till sugar gets dissolved and keep it in the fridge.
Before serving, take out all the ingredients kept in the fridge and drain out the water of the vermicelli. By this time the basil seeds should become translucent and greyish in colour.
Mix the basil seeds in the milk with sugar and mix well. Divide equally in both the glasses.
Put one tablespoon of vermicelli in each glass.
In next layer, divide the rose syrup, equally, in both the glasses.
Put a scoop of kulfi on the top layer of each glass.
You can also garnish it with small pieces of pistachios / almonds and crushed rose petals.
Add a spoon and a straw. Enjoy the summers!