Soya chunks curry is a very tasty vegan and gluten-free Indian curry recipe made with soya chunks also called nutrela in India, and potatoes. A great meat substitute soya chunks are made with a by product of soyabean oil. They taste delicious and are healthy too.
One of my favorite Indian curries is soya chunks curry. It's also called Aloo Soya or Aloo Nutrela. It's very popular in the Indian subcontinent however, a lot of people from the other regions are not aware of it.
I was introduced to a similar product by my Chinese friends which they call Malaysian tofu.
Though I don't crave meat anymore in my initial days of turning a vegetarian, soya chunks curry helped me a lot in dealing with the meat cravings. It's still my favorite substitute for meat.
What are Soya chunks or Nutrela made of?
Soya chunks are made using a by-product of the Soya bean oil i.e. the fibrous soya bean part which is left behind while extracting oil from soya bean.
That makes soya chunks a very rich source of plant protein and also low in saturated fat.
Other soya products used in India as a meat replacement.
In India, a lot of different Soya products are used as a meat replacement. The most common are Soya chunks.
If you want to create a meat-free version of a dish that uses minced meat, you can use Soya granules. They are similar to soya chunks in taste and texture but are in granular form.
In many Indian cities like Delhi and Noida, you will find some restaurants or street vendors selling the vegan or vegetarian versions of all the popular non-vegetarian dishes. They use another soya product called chaap to make it. If nobody tells you that it's vegan or vegetarian, you will never be able to guess that you are not eating meat.
How to use Soya chunks in a dish?
Both Soya chunks and granules are sold in dry form so they are very easy to store. To prepare them for using in a dish just wash and soak them in hot water for around 15 minutes then squeeze out the water. You can also boil them for around 8-10 minutes and then squeeze out the water.
Use these soaked or boiled soya chunks/ granules just like raw meat. For e.g. if a non-vegetarian dish asks to marinate the meat for 30 minutes and then bake. Marinate the soaked or boiled soya chunks for 30 minutes and then bake.
If the recipe asks to fry the minced meat with onions, fry the soaked or boiled soya granules with onions.
In which recipes can soya chunks be used?
You can use soya chunks to make curries, stir-fries or create a vegan/ vegetarian version of any non-vegetarian recipe in which meat chunks are used.
Add a handful of soaked nutrela with vegetables in your pulao or veg biryani. It will make the dish tastier and healthier.
Where to buy Soya Chunks or granules from?
You can easily find them in any Indian store and online too. Just make sure to buy a good quality product.
What to serve with Aloo Soya Chunks curry?
Generally, it's eaten with Indian bread like Roti or Paratha. If you want, you can also enjoy it with rice.
More protein-rich vegan recipes
Finding tasty protein-rich recipe ideas is one of the biggest challenges faced by Vegans and vegetarians. If you also want to add a variety to your meat-free protein-rich dishes, don't miss to check the following recipes:
Vegan Curry recipes
For me there is nothing more comforting than a bowl of curry with some rice or roti. If you like curries too and looking for vegan ideas then you will definitely like the following recipes:
If you try any of my recipes then please don't miss to rate it in the comments section below.
You can also follow me on Facebook, Pinterest, and Instagram.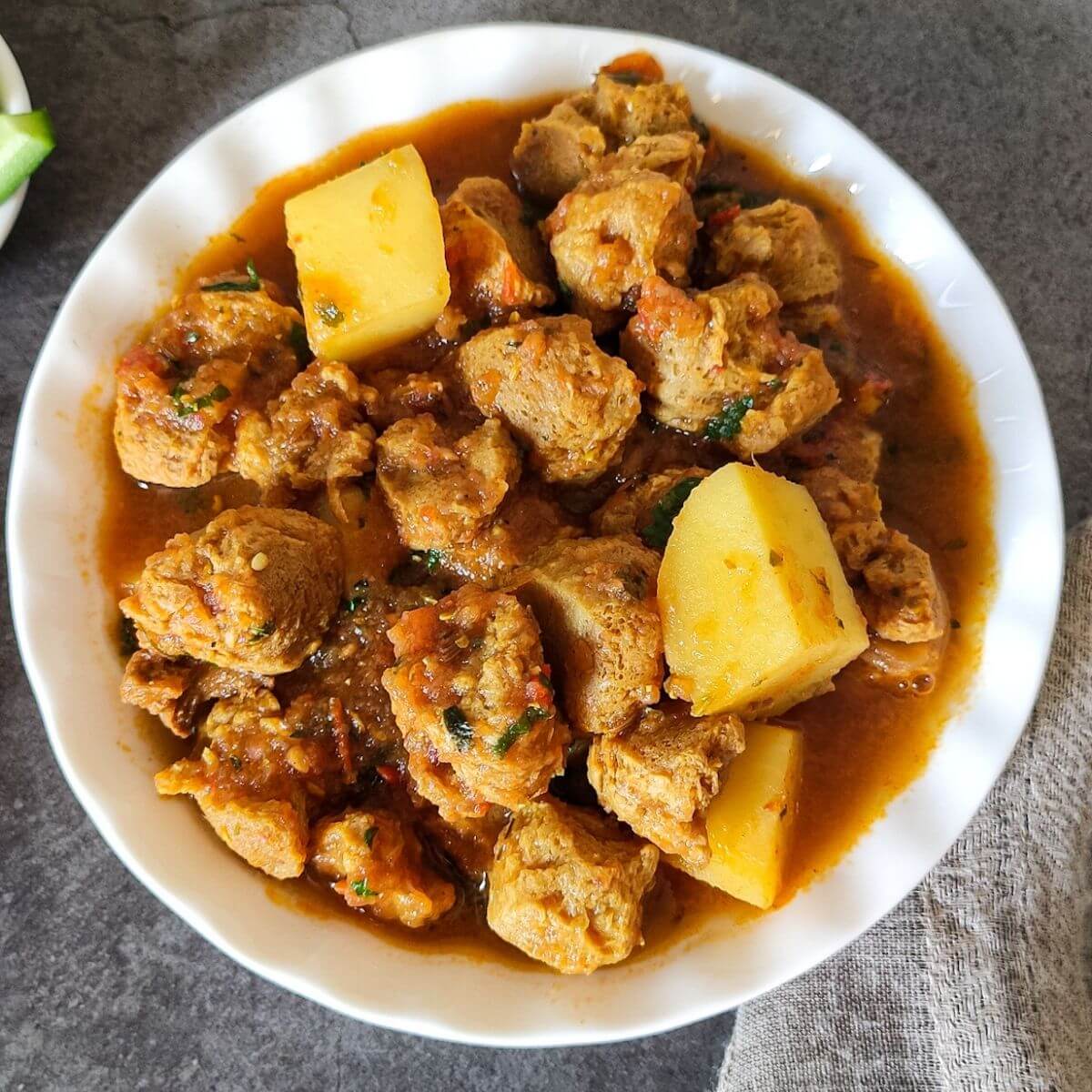 Disclaimer:  Please note that some of the links shared in my blog are affiliate links and I will get benefited if you buy products from them at no extra cost to you. However, I have personally used most of these products hence recommending them to you. You are free to buy them from anywhere also.
How to make Soya Chunks Curry?
Soya Chunks Curry
Soya chunks curry is a very tasty vegan and gluten-free Indian curry recipe made with soya chunks also called nutrela in India, and potatoes. A great meat substitute soya chunks are made with a by product of soyabean oil. They taste delicious and are healthy too.
Print
Pin
Rate
Ingredients
1.5

cups

soya chunks

2

medium-sized potatoes

cut into bite-size cubes

1

large onion

roughly chopped

5

cloves of garlic

1

teaspoon

roughly chopped ginger

1

large tomato

roughly chopped

1-2

green chilies

1/4

cup

chopped coriander leaves

optional

1

tbsp

tomato paste

optional

2-3

black peppercorns

2

cloves

1

bay leaf

1/2

teaspoon

cumin seeds

1/2

tbsp

coriander powder

1/4

teaspoon

garam masala

1/4

teaspoon

turmeric powder

Salt as per taste

1

tbsp

mustard oil/ any cooking oil of your choice

3

cups

water

adjust to get the desired consistency
Instructions
Wash the soya chunks and soak in boiling water for around 10-15 minutes. After 15 minutes squeeze out all the water from the chunks and keep aside.

In a grinder make a paste of onion, ginger, and garlic. Take out the paste. Keep aside. In the same jar make a paste of tomato and green chilies. Keep that aside too.

Heat oil in a pot and add cumin seeds, bay leaf, peppercorns, and cloves. Saute for a few seconds till the spices become fragrant.

Add the onion paste and fry till it turns golden brown. In between if the paste starts sticking to the bottom of the pot, add around 2 tablespoons of water and continue cooking.

Add turmeric powder, salt, and coriander powder and about 2 tablespoons of water. Stir fry for about a minute and then add the tomatoes. Cook the tomatoes nicely till they change color and turn mushy.

Next, add the tomato paste, and cook for about 1-2 minutes.

Add potato cubes, soya chunks, and coriander leaves. Mix everything. Cook for about 2 minutes without water.

Add water, mix and cover the pot. Cook till potatoes are done.

Finally, add garam masala, mix and simmer for around 2 minutes. Switch off the gas.

Garnish with some chopped coriander leaves and serve with roti/ paratha/ rice.
Nutrition
Calories:
242
kcal
|
Carbohydrates:
32
g
|
Protein:
20
g
|
Fat:
4
g
|
Saturated Fat:
1
g
|
Sodium:
91
mg
|
Potassium:
526
mg
|
Fiber:
9
g
|
Sugar:
8
g
|
Vitamin A:
385
IU
|
Vitamin C:
27
mg
|
Calcium:
148
mg
|
Iron:
5
mg
Tried this recipe?
Tag me on instagram #greenbowl2soul