Brown lentil curry, also known as sabut masoor ki dal is a very comforting and delicious dal recipe from India. This Indian dal is vegan and gluten-free. You can enjoy it with rice as well as any Indian bread like roti or naan.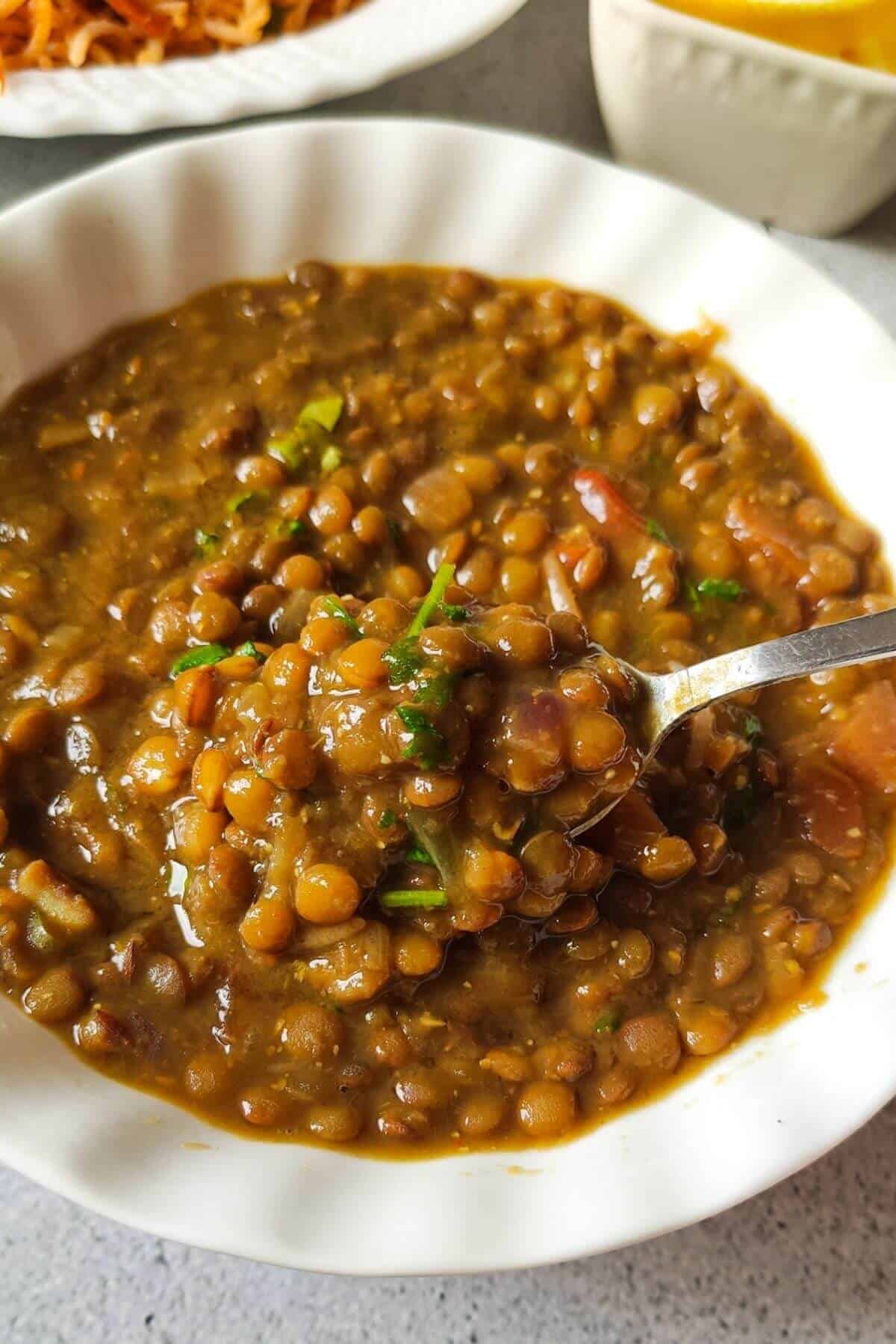 This post contains affiliate links. Please read my full disclosure here. As an Amazon associate, I earn from qualifying purchases without any extra cost to you.
Before sharing today's recipe- brown lentil curry which is known as Sabut Masoor ki dal in India, I will share a story that my mother shared with me when I was a kid.
This story is one of the reasons why I love brown lentil curry.
Jump to:
The story
I come from a beautiful Himalayan state of India-Uttarakhand.
In Uttarakhand, there was a community of female monks called Mai (Mai means mother in Hindi). I used 'was' in my last sentence as I am not sure if that community still exists.
I could not visit my hometown for the last 14 years and even in my childhood days, I never saw any young Mai. Most of the Mais were of my grandmother's age or even older.
This means that the practice of becoming a Mai had started shrinking long back which is a good thing considering that most of the Mais were widows from poor families or women with a tragic past and no other place to go.
Now the women are independent and educated so they are in a better position to start fresh even after falling in life. But the women were more vulnerable in the older years.
So many years back (I am not sure when but maybe 6-7 generations back) such abandoned, lonely women formed a group and started living together in different Ashrams which they formed near the Shivalayas(temples of Lord Shiva).
Living with other women who were either rejected by the society or those who rejected the society, soothed the pain of their struggles to a certain extent.
My mother tells us that when she was a kid there were many young Mais. She specifically remembers one Mai who was very pretty and even as a child my mother used to feel awful seeing that beautiful young lady living a sad and lonely life.
On becoming a Mai these women were given a new name mostly of holy places or Hindu Goddesses. They used to shave their heads and wore only plain peach-colored sarees without any makeup and accessories.
They had the routine of traveling (mostly walk) to different villages where the villagers used to give them some uncooked rice and lentil. My mother remembers that while giving lentils to Mais, people used to add small packets of basic spices and salt required to temper that lentil and sometimes some money too.
It was not considered as begging but more as a bhiksha (some token given out of respect or care) and these Mais survived on those basic tokens from villagers.
The good thing is that in Uttarakhand, people respected these women and no one ever exploited them.
Many times while traveling from one village to another, they used to halt at different villages during the night and they were always welcomed by villagers inside their homes.
They were clean, hygienic, and peaceful women who used to cook their own food outside the house by burning wood pieces and always used their own utensils for cooking. They also preferred sleeping on the floor and using their own sheets.
During such night halts they sometimes used to share their sad and even harrowing past lives with the hosts.
Why I shared this long story of Mai is because today's recipe – Sabut Masoor ki dal became one of my favorite dals when my mother shared a story of two Mais with me when I was a kid.
Once during the initial months of getting married to my father, my mother and one of my aunts were alone at home when two Mais came to their house. So my mother and aunt gave them some uncooked rice, brown lentils, and a few basic ingredients like salt, turmeric, mustard oil, lemon, green chilies, garlic, etc.
The Mais quickly collected some wood pieces, lit a fire outside the house, and cooked rice and brown lentil curry on it. After eating the food with great satisfaction they lied down on the floor and slept for a few hours before leaving.
My mother told us that the aroma of their simple food was so good that after they left, my mother and aunt cooked the same simple food for dinner and relished it with the whole family.
Since the day I heard this story, I love Sabut masoor ki dal, and whenever I make it I remember this little story.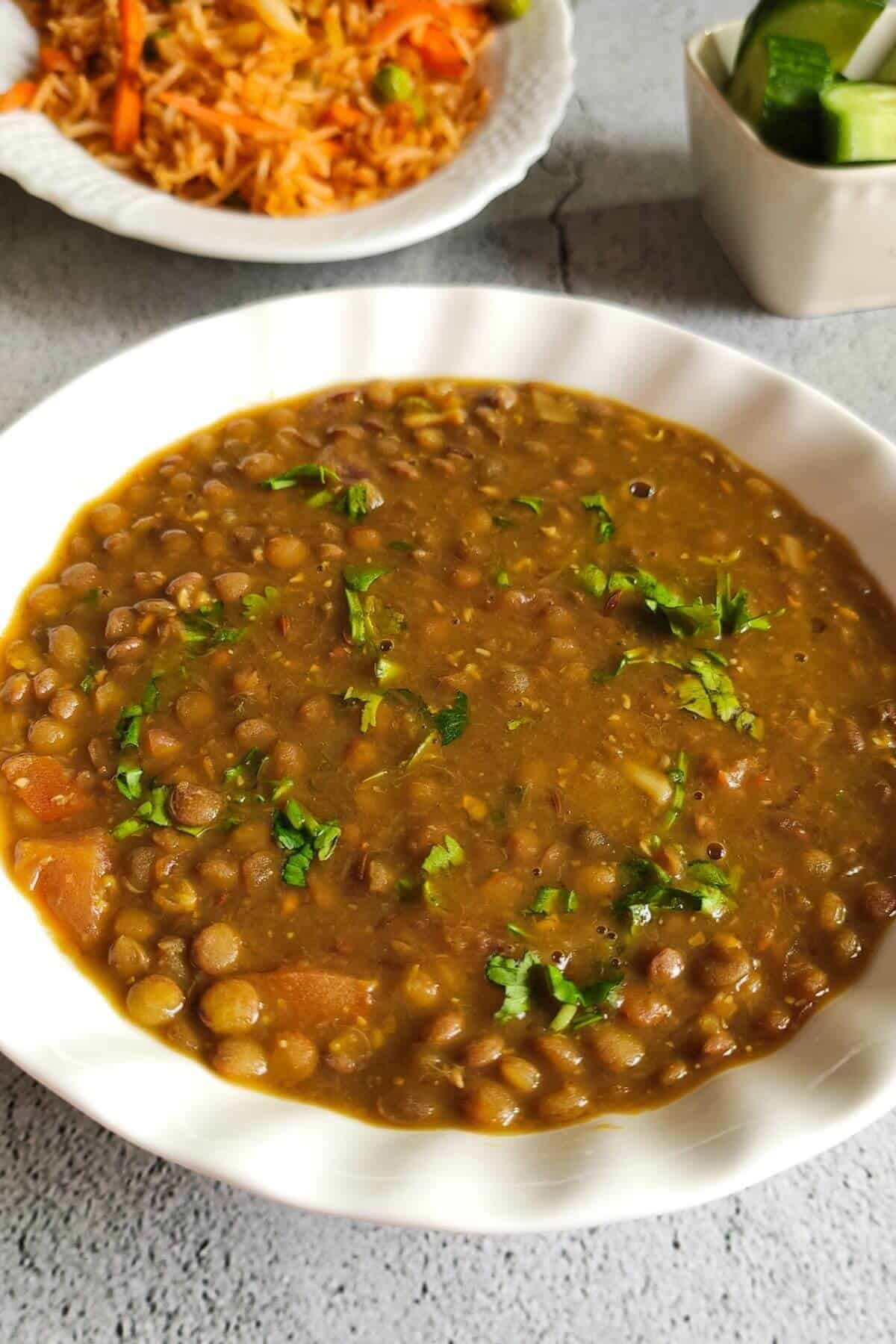 What goes in brown lentil curry?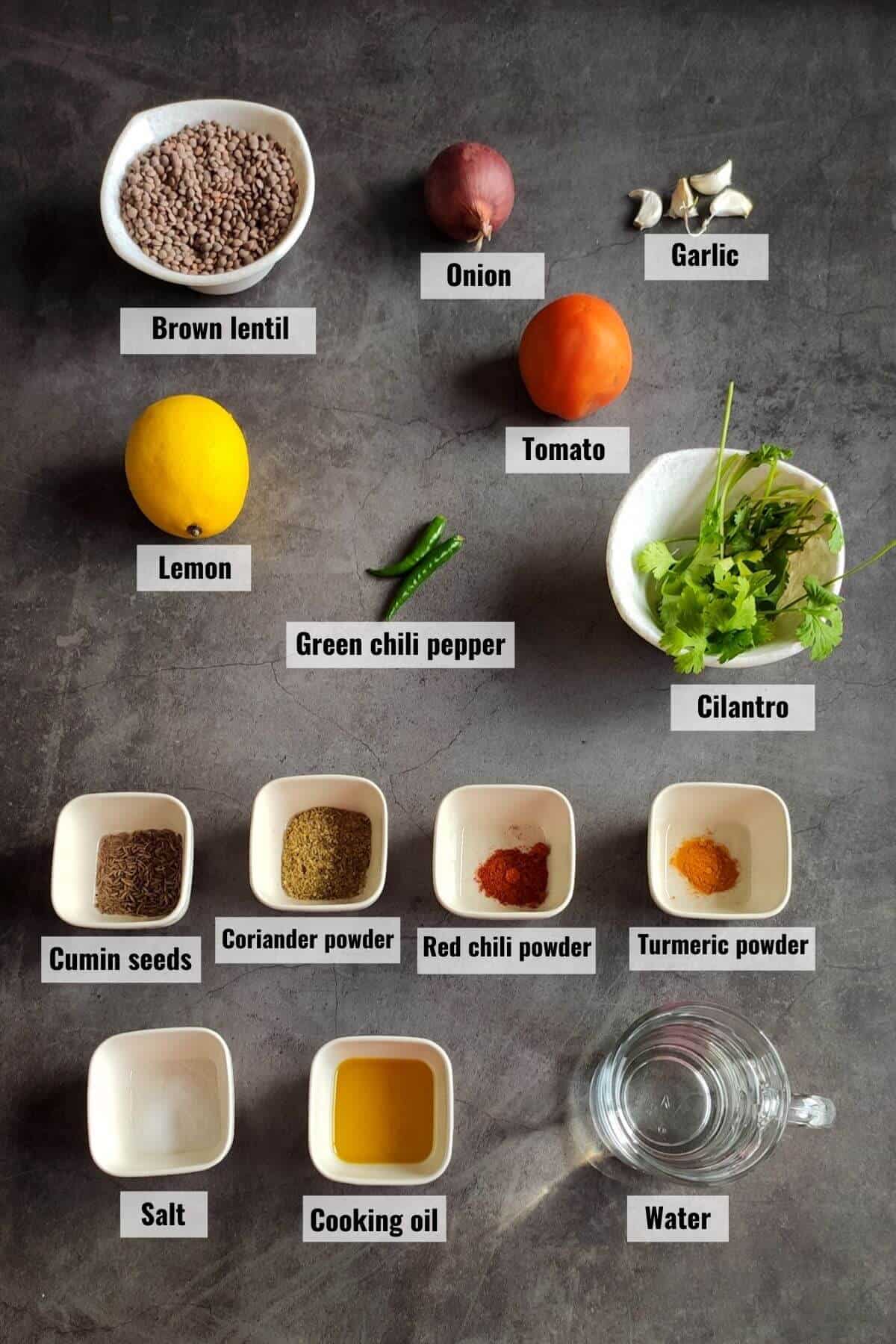 For making this simple lentil recipe, you need only the following basic ingredients:
Brown lentils (whole masoor dal)
Onion: Prefreably red onion
Tomato: Take a red juicy tomato
Garlic: If your taste buds allow, use lots of garlic to flavor this dal.
Lemon juice: This lentil is eaten sour but feel free to adjust the quantity as per your taste. Traditionally, in Uttarakhand, citron molasses is added to masoor dal for the sour taste. This molasses is called chookh in the local language. However, it's almost impossible to find it anywhere outside the Himalayan region so I have used lemon juice.
Green chili peppers
Cilantro ( for garnishing): Indian curries and lentils are incomplete without fresh cilantro. However, if you don't like the taste of cilantro, skip it.
Cumin seeds
Coriander powder
Red chili powder: Skip if your heat tolerance is low or use Kashmiri red chili powder. It will be less spicy but add color to the dish.
Turmeric powder
Salt
Mustard oil: Like many Northern and Eastern states of India, mustard oil is the main medium of cooking in Uttarakhand too. However, you can also use ghee(if not vegan) or any other cooking oil of your choice.
Water/ vegetable stock: Traditionally water is used to cook lentils in India but you can also use vegetable stock for more flavor.
How to make?
This dal recipe is very simple, just follow the steps below:
Cook the lentils: Rinse brown lentils and put in a pressure cooker with around 3.5 cups of water. Add half of the total salt that you will be using in the recipe along with turmeric powder. The remaining half of the salt will be used later while tempering the dal. Put on the lid of the pressure cooker and cook dal until 3 whistles on medium flame. You can also cook it in a regular pot but then it will take more time i.e. around 1 hour to cook the lentils. If using a regular pot soak the lentils in water for atleast 1 hour and add more water around 6-7 cups (preferably hot water) to cook.
Prepare tadka (temper): While the dal is getting cooked, we will prepare the tadka. For that, heat oil in a pan. Add cumin seeds and when they start spluttering add chopped garlic. Saute until it starts turning golden brown. We don't want raw or less cooked garlic in our tadka. Next, add onion and cook until onion also turns golden brown. Add powdered spices and saute for around 30 seconds on medium flame. Spices get burned very quickly so don't leave them unattended. Quickly add chopped tomatoes, green chilies, and remaining salt. Salt helps in faster cooking of tomatoes. Cook until the tomatoes turn soft and mushy.
Mixing everything: Finally, add cooked dal to the pan, mix, and let it simmer with spices for a few minutes. If you feel the dal is too thick add some boiling water to adjust the consistency, if you feel the dal is too runny simmer uncovered on high flame until you get the desired consistency . Switch off the stove. Add lemon juice and roughly chopped cilantro. Mix everything and enjoy!
Step by step photo instructions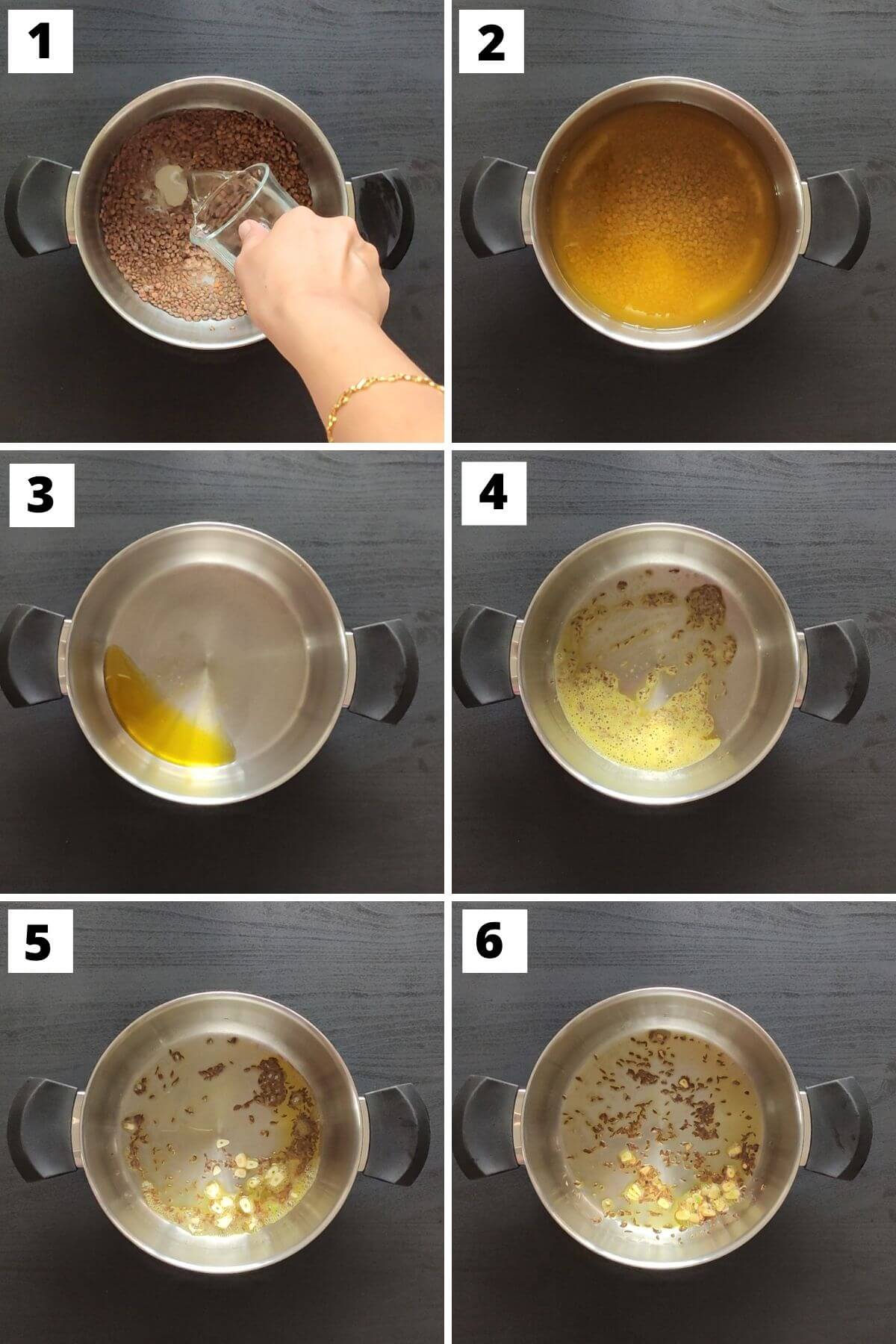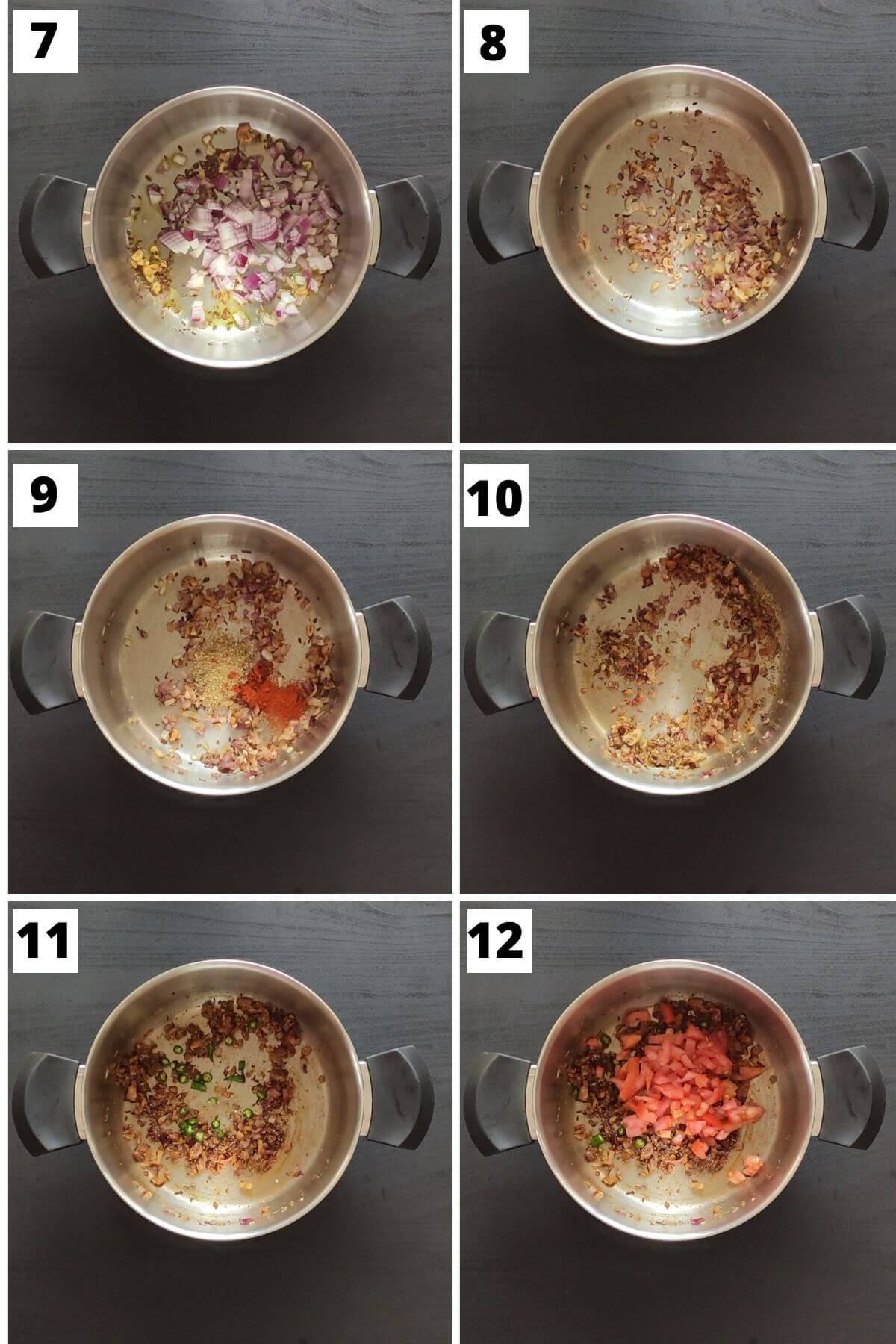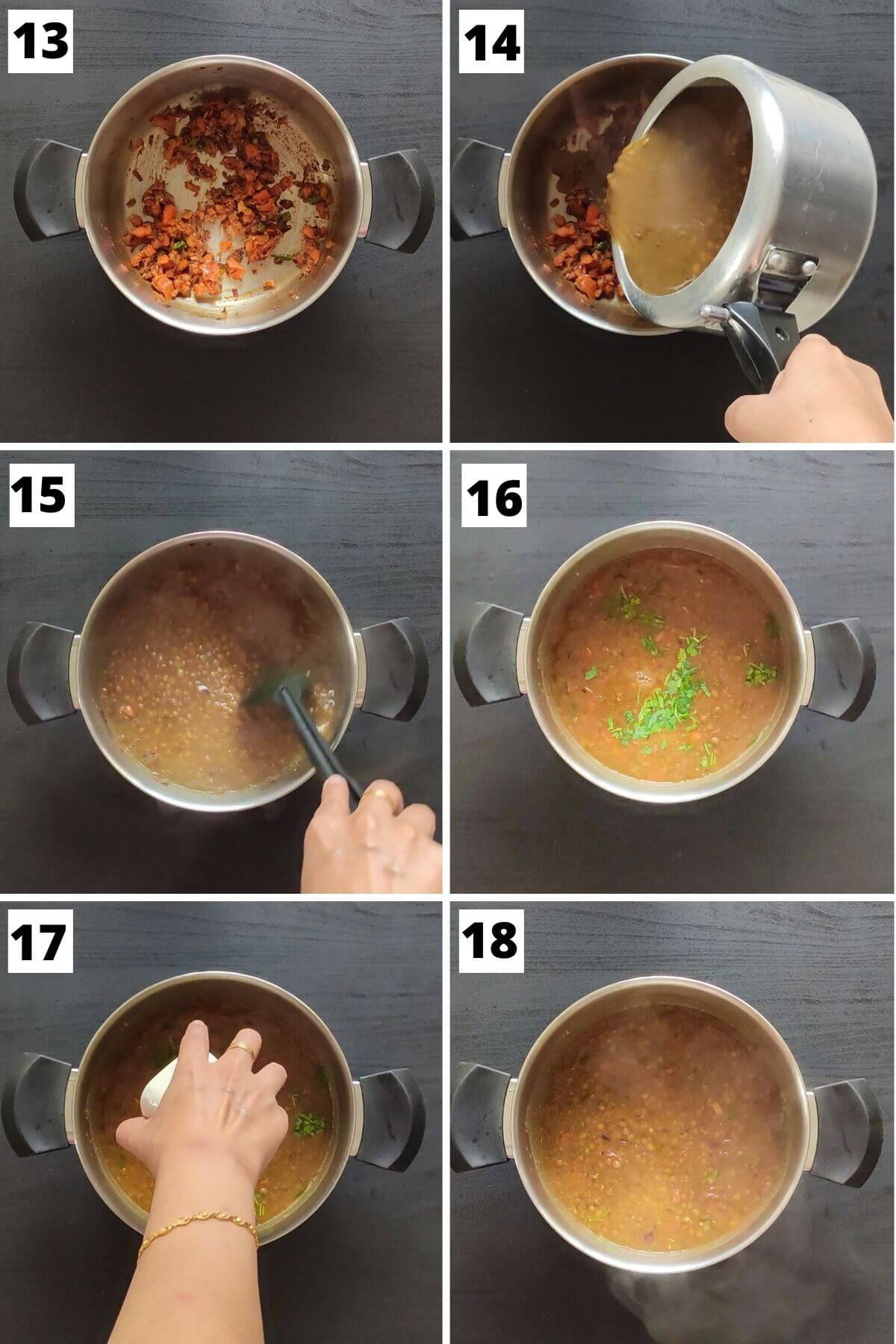 Brown lentil Vs Red lentil
If you have just started using lentils in your kitchen, you might get confused by the huge variety.
And, if you are following an Indian lentil recipe-masoor dal, you might get confused even more because both red lentils and brown lentils are called masoor dal in Hindi.
The difference is that red lentil is called lal masoor (red masoor) or dhooli masoor (skinned masoor) and brown lentil is called kale masoor (black masoor) or sabut masoor (whole masoor).
The reason is that they are the same lentils but in different forms. Brown is in the whole form with skin, red is split and skinned.
Serving suggestions
Masoor dal is eaten with rice as well as roti or any other Indian bread. You can serve a vegetable dish like aloo matar, aloo-matar- gajar, bhindi masala or a simple kachumber salad on the side.
You can also enjoy a bowl of dal as protein-rich soup. If you wish, you can also blend it to serve as soup.
How to store?
To store put in an air-tight container and refrigerate, it will be fine for 2-3 days.
Freezing tips
Freezing cooked food is generally not practiced in Indian homes. Most Indians frown on freezing suggestions as we all grow up eating freshly cooked food and are always encouraged to do that.
However, I keep on receiving queries about freezing dishes from my readers from other countries so I always try to include them in my posts.
This brown lentil curry freezes well. To freeze, first, allow the dal to reach room temperature. Put it in batch-size freezer safe boxes or zip lock bags and freeze.
When you want to eat dal, just transfer it to a microwave-safe bowl and re-heat. You can also heat it on the stove.
For a fresher taste, temper the dal again by just sauteeing some cumin seeds and garlic in around a teaspoon of oil and then pouring it over the dal.
Recipe tips and tricks
To fasten the cooking process of lentils, soak them in water preferably hot water for at least an hour.
For a more flavorful dal, use vegetable stock to cook it.
Dal tastes a lot better with some ghee. If you are not a vegan, add a dollop of ghee on top of the cooked lentils. You can also use ghee as a cooking medium.
If using mustard oil, first heat it to the smoking point and then allow it to get slightly colder before adding cumin seeds.
You can also skip onion and tomato in the recipe and temper the dal with just some cumin seeds, garlic, and green chilies. It tastes amazing that way too.
The number of whistles required to cook lentils may vary depending upon a lot of factors like the quality of lentils, the capacity of the pressure cooker, even the altitude of the place where you are cooking it. With practice, you will get the idea of the exact number of whistles required to cook lentils. It's better to start cooking masoor dal with three whistles on medium flame, if it's not cooked properly increase the number of whistles.
You can also add chopped spinach or fenugreek leaves to masoor dal to make it even tastier and healthier.
Frequently asked questions
Are brown lentils and green lentils the same?
No, brown lentils and green lentils are not the same. Though they look quite similar their taste and texture are slightly different. Also, green lentils take more time to get cooked in comparison to brown ones.
Can this dish be made with green lentils?
You can follow this recipe to cook green lentils in Indian style, the taste may be slightly different, but you won't get that perfect creamy texture also which comes from brown lentils. Also, you will need to cook green lentils for a longer period. Green lentils are more suitable for salads.
Do you need to soak lentils before cooking?
Though soaking brown lentils before cooking is not mandatory if you do, it will fasten the cooking process.
What should be the brown lentils and water ratio in dal?
Lentils to water ratio depends on different factors like the utensil you are using to cook it, the consistency of dal you prefer, the quality of lentils, whether you soaked it in advance or not, etc. If cooking in a pressure cooker, 3.5 cups of water to cook 1 cup of lentils is fine. If you feel it's too thick for you, add more boiling water and then simmer for a few minutes to get the desired consistency.

If using a regular pot to cook, start with around 6-7 cups of water for 1 cup of brown lentils. Add more boiling water later, if required.

Use the above ratio if you have not soaked the lentils in advance. You may need slightly less water if the lentils were soaked for a few hours.
More easy lentil recipes
If you are looking for vegan protein sources then do include lentils in your daily diet. And, if lentils are new to you, start with the following very easy but tasty lentil recipes:
More brown lentil recipes
Don't miss to check more brown lentil recipes from around the world: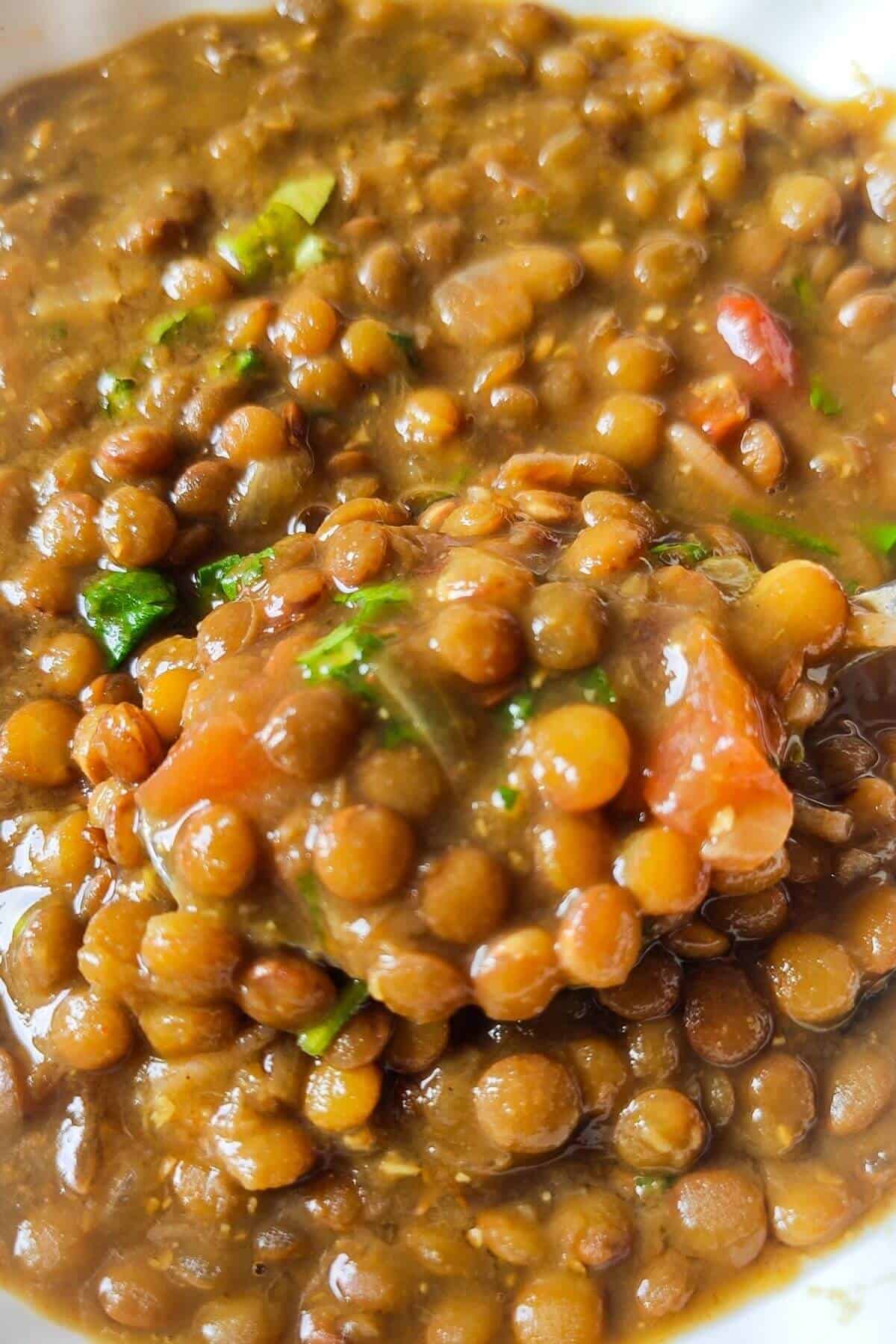 If you try any of my recipes, please rate ⭐⭐⭐⭐⭐ it on the recipe card and also leave your feedback in the comments section below. You can also follow me on Facebook, Pinterest, Instagram, and subscribe to my youtube channel.
Recipe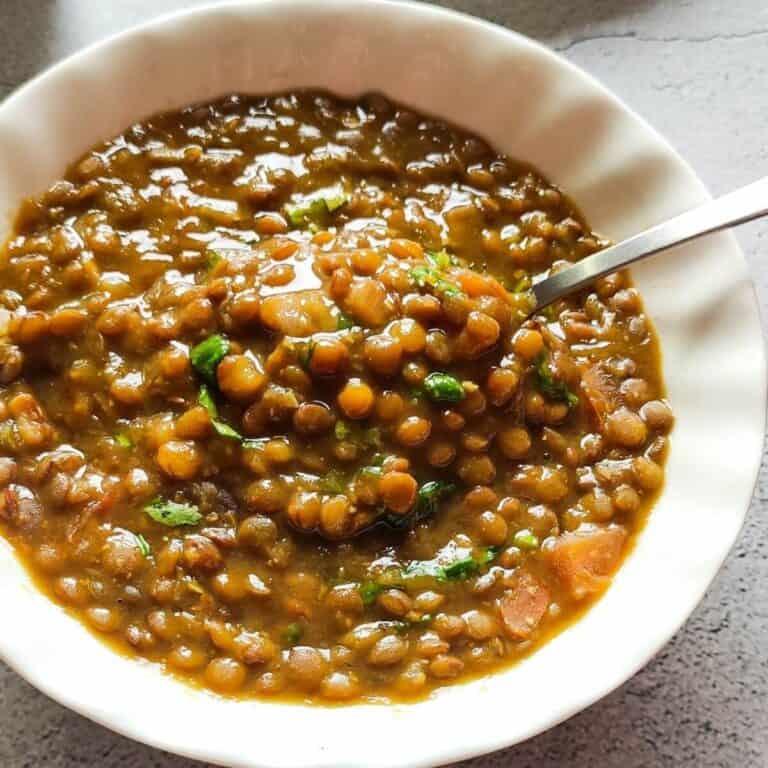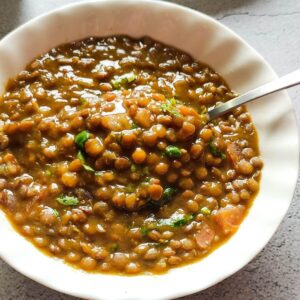 Whole masoor dal-Indian style brown lentil
Brown lentil curry, also known as sabut masoor ki dal is a very comforting and delicious dal recipe from India. This Indian dal is vegan and gluten-free. You can enjoy it with rice as well as any Indian bread like roti or naan.
Print
Pin
Rate
Equipment
Pressure cooker/ Cooking pot
Ingredients
1

cup

dried brown lentils

sabut masoor

3.5

cups

water

if using a pressure cooker

1

small red onion

finely chopped

1

small tomato

finely chopped

4-5

garlic cloves

roughly chopped

1-2

chopped green chilies

adjust to taste

A handful of fresh cilantro

roughly chopped

Juice of ½ a lemon

adjust to taste

1

teaspoon

cumin seeds

½

tablespoon

coriander powder

½

teaspoon

red chili powder

adjust to taste

¼

teaspoon

turmeric powder

Salt to taste

1

tablespoon

mustard oil/ any cooking oil of your choice
Instructions
Rinse brown lentils. Put in the pressure cooker with water, turmeric powder, and half of the salt you are using in the recipe. Cook on medium flame until 3 whistles.

After 3 whistles, switch off the stove wait for around 5-10 minutes or until the pressure gets released completely.

Add garlic and saute until it starts turning brown.

Next, add onion and cook until it also turns golden brown.

Add coriander powder and red chili powder. Saute for around 30 seconds.

Add green chilies, tomatoes, and the remaining salt. Cook until the tomatoes turn mushy.

Finally, add cooked brown lentils and mix everything. Let the dal simmer for 2 minutes and then switch off the stove.

Add lemon juice and coriander leaves. Mix. Serve hot with rice or roti.
Notes
The number of whistles required to cook lentils in a pressure cooker depends on various factors like the capacity of the pressure cooker, the quality of lentils, even the climate of the place where you live. Start with 3 whistles and if you feel further cooking is required increase the number of whistles. I live in Dubai and have used a 2 ltr pressure cooker. In 3 whistles on medium flame, I got the perfect consistency.
If you don't have a pressure cooker, cook the lentils in a regular pot for about an hour or until the lentils becomes soft. Also, add around 6-7 cups of water if cooking in a regular pot.
You can soak the lentils for at least an hour to fasten the cooking process.
Instead of water, vegetable stock can also be used to cook lentils.
Non-vegans may add a dollop of ghee on top of dal. Lentil curries taste even better with ghee.
More recipe tips and tricks are given within the post above. Please follow them to make this recipe.
Nutrition
Calories:
183
kcal
|
Carbohydrates:
28
g
|
Protein:
11
g
|
Fat:
4
g
|
Saturated Fat:
1
g
|
Polyunsaturated Fat:
1
g
|
Monounsaturated Fat:
2
g
|
Sodium:
47
mg
|
Potassium:
487
mg
|
Fiber:
13
g
|
Sugar:
3
g
|
Vitamin A:
285
IU
|
Vitamin C:
9
mg
|
Calcium:
46
mg
|
Iron:
3
mg
Tried this recipe?
Tag me on instagram #greenbowl2soul