Trinidad corn soup is a very popular street food of Trinidad and Tobago. This vegan soup is full of flavors and textures. It's so delicious that I am sure it will become your favorite soup once you try it.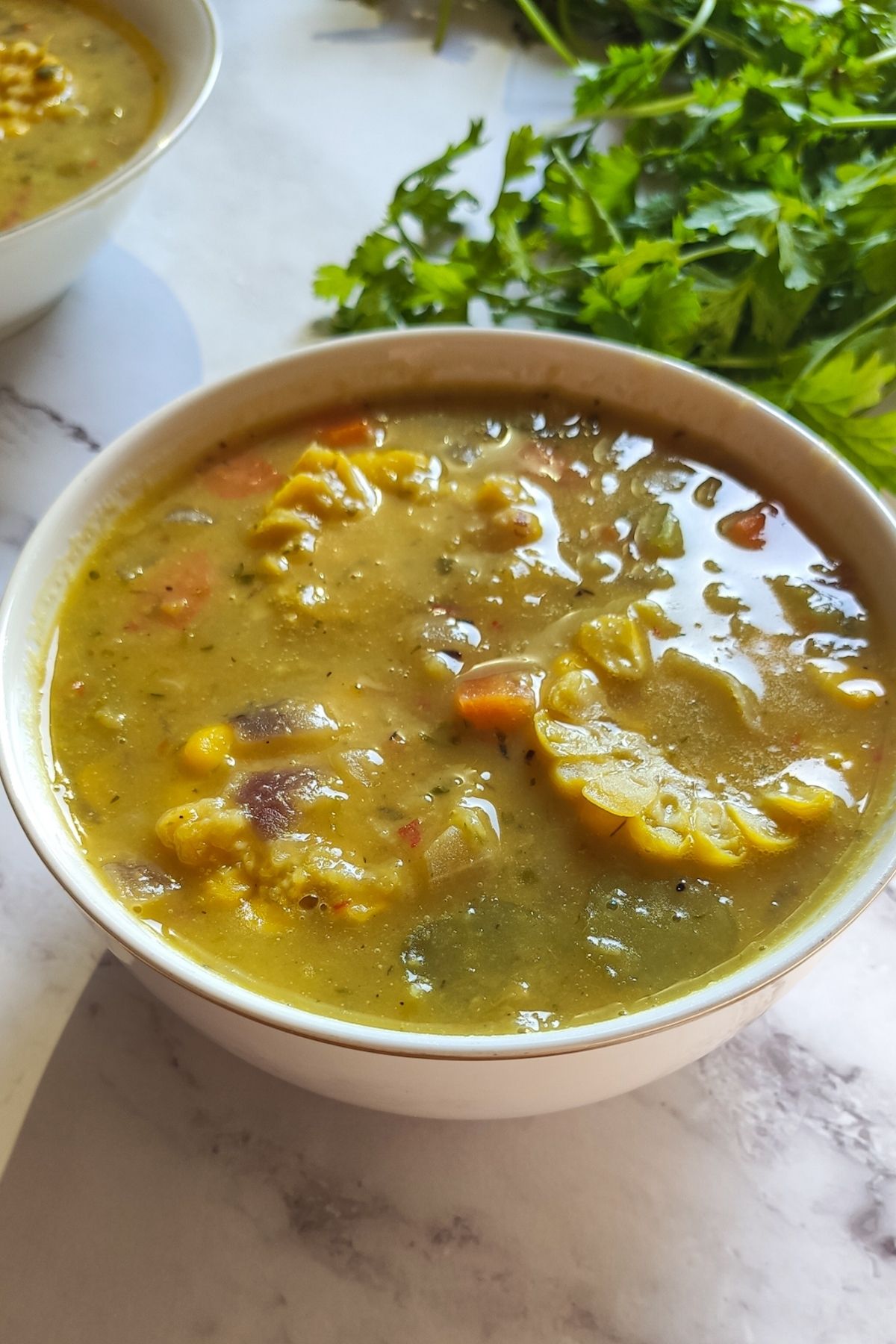 This post contains affiliate links. Please read my full disclosure here. As an Amazon Associate, I earn from qualifying purchases.
If you follow my blog then you must be aware that I am on a food voyage through which I am trying to explore this world by trying it's vegan and vegetarian recipes.
My favorite thing about this journey is the opportunity it gives me to know more about the history of different countries, cultures, and the journey of ingredients.
There are so many surprising and interesting things that I have learned in the last 3 years because of this journey.
Today I am sharing my favorite soup recipe- Trinidad corn soup from Trinidad and Tobago. This Caribbean soup helped me in solving the mystery of an amazing herb that grew in our kitchen garden many years ago when I was a kid.
Jump to:
The mysterious herb in our kitchen garden
When I was around 11 years old, my father got posted at a beautiful North-Eastern state of India- Sikkim. There we had a lovely house with a huge kitchen garden.
I remember, there was a herb grown in that kitchen garden that didn't look like coriander but tasted just like it. In fact, it had a stronger flavor. We didn't know what it was and who planted it there but we loved it.
Later my parents even took the saplings of that herb to my grandparent's house and they still have it in their garden.
That was not an era of Google and nobody in that area knew what it was so we started calling it Sikkim wala dhaniya (Sikkims Coriander).
After many years, I came across an amazing Caribbean recipe – Trinidad corn soup. In the recipe, it was mentioned that one of the key ingredients of that soup is Shado beni or Culantro (not cilantro). I had never heard about that herb before so I searched for it on Google. I was so pleased to know that it's that same coriander like herb which we had in our kitchen Garden in Sikkim. It also amazed me to know that it's a Caribbean herb.
It will always be a mystery for us to know how this Caribbean herb reached the North-Eastern hills of India and also thrived in that completely different environment.
This mysterious herb made me curious to learn about the cuisine of Trinidad and Tobago so I started reading more about it. I was so surprised to know that a lot of their popular dishes have Indian names like Ada roti, Curry Bhindhi, Curry Sem, Fried Kareli, Baingan choka, Kohra Tarkari, Aloo Choka.
The credit of this amalgamation goes to the laborers who were taken to the Caribbean region by the British during the 19th century mainly to work in cotton and sugarcane plantations.
Even Shado beni has another name that sounds like the Hindi name of coriander – Bandhaniya. Ban or Van means forest in Hindi and Dhaniya is the Hindi name of coriander. So, Bandhaniya should mean wild coriander in English.
Maybe I was wrong…maybe Shado beni was never brought to India from the Caribbean Islands…maybe it was Bandhaniya which was taken to these islands from India.
What goes in Trinidad corn soup?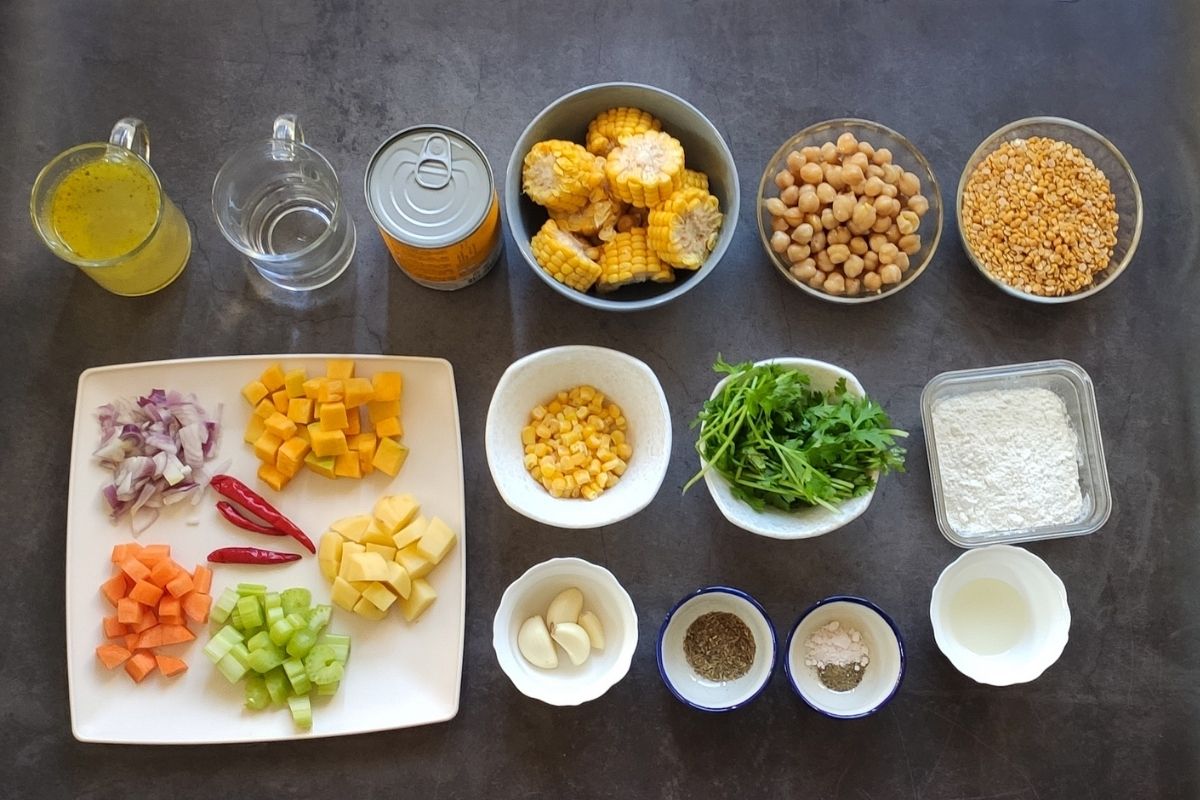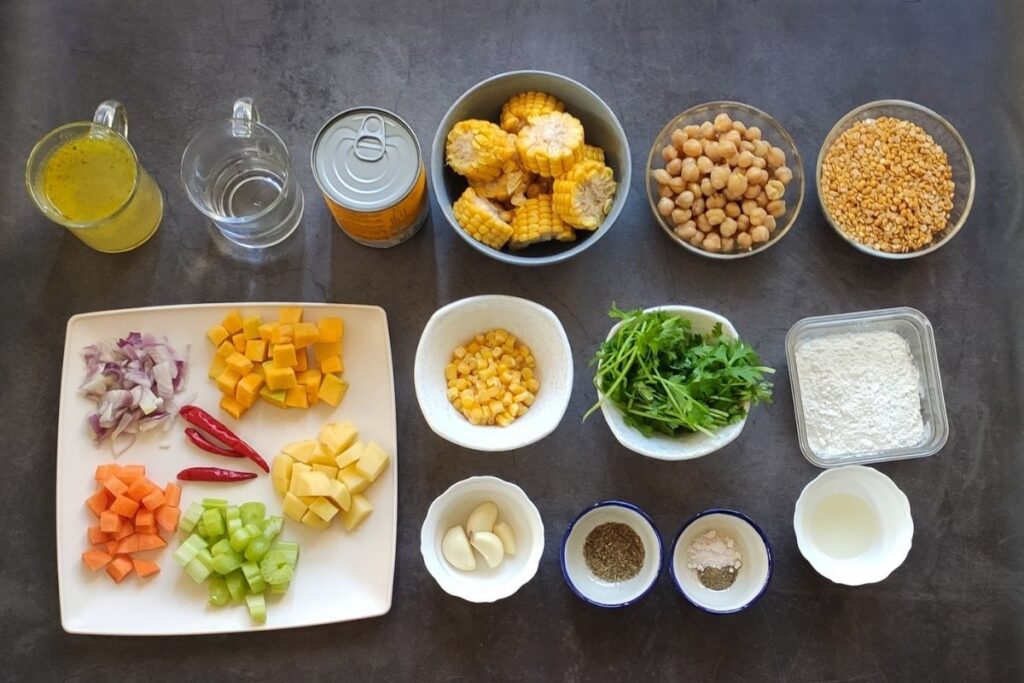 There are a lot of ingredients that go in this Trinidad corn soup. However, most of them are either very easily available or you can find their substitutes.
Vegetable stock
Water
Coconut milk
Slices of corn on the cob
Boiled/ canned chickpeas
Split peas
Onion
Pumpkin
Potato
Celery
Carrot
Scotch bonnet/ any other hot chili pepper
Corn kernels
Shado beni/ cilantro
All-purpose flour
Garlic
Dried thyme
Salt & pepper
Vegetable oil/ any other cooking oil of your choice
Is it required to soak the split peas?
Soaking the split peas is not required if you are using a pressure cooker or instant pot to cook it.
However, if you are planning to cook it in a normal pot, soaking is recommended to fasten the cooking process.
Can pumpkin be skipped?
If you don't like pumpkin either skip it or replace it with any other vegetable of your choice like plantain or sweet potato.
Though I would also like to mention that even I am not a big pumpkin fan but it tastes good in this soup.
How to make it Gluten-free?
The only ingredient of this recipe that has gluten in it is flour. So, if you want to make a gluten-free corn soup, either skip the dumplings or use a gluten-free flour - something that can retain its shape on getting boiled.
Recipe tips & tricks
If using cilantro instead of shado beni, double the quantity given in the recipe as shado beni has a very strong flavor.
Cut equal-sized pieces of vegetables.
Don't make very big dumplings otherwise they may stay raw at the center and won't taste good.
To cook lentil in a pressure cooker, 2 cups of water will be sufficient but if using a normal pan add more water (around 4 cups).
Step by step photo instructions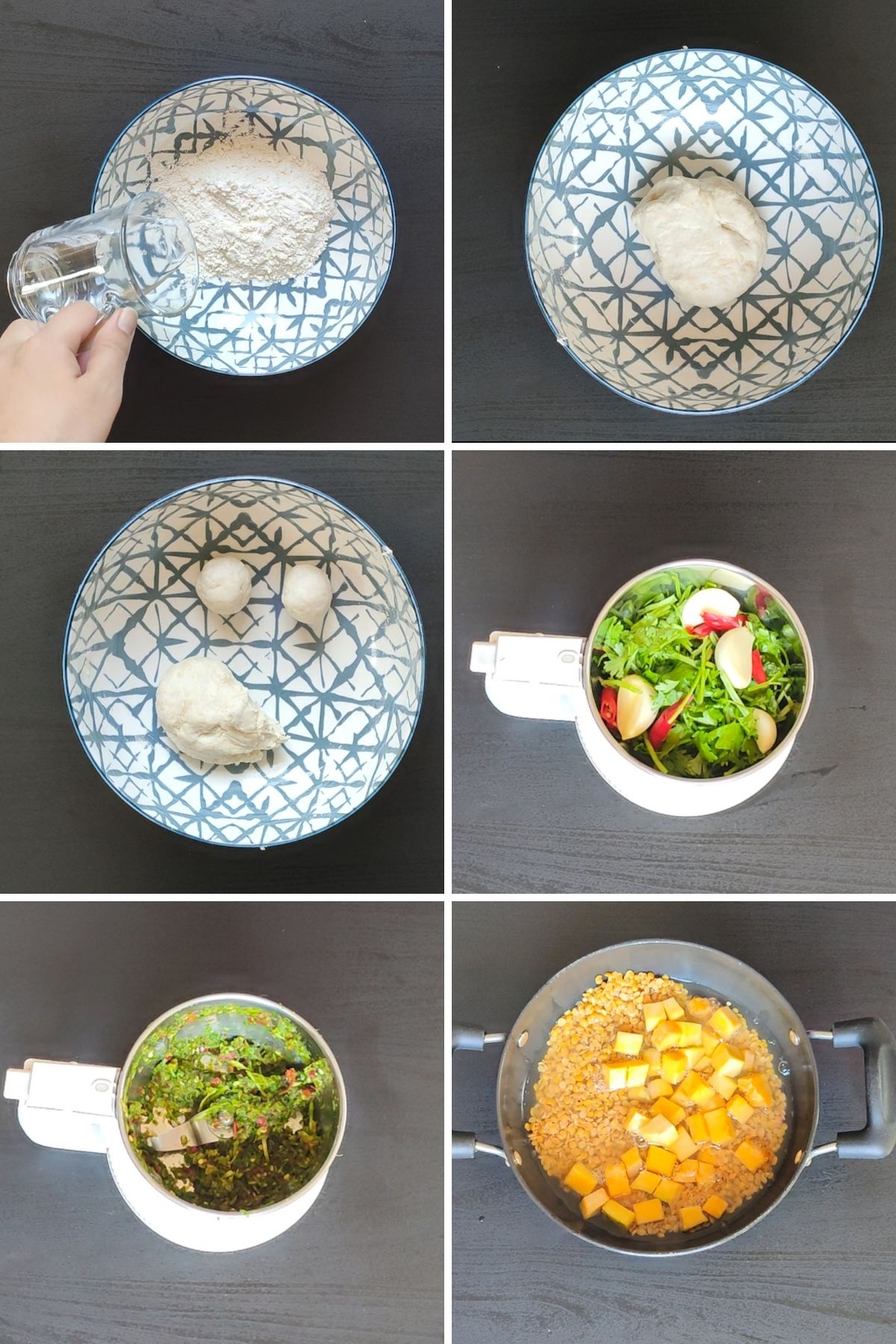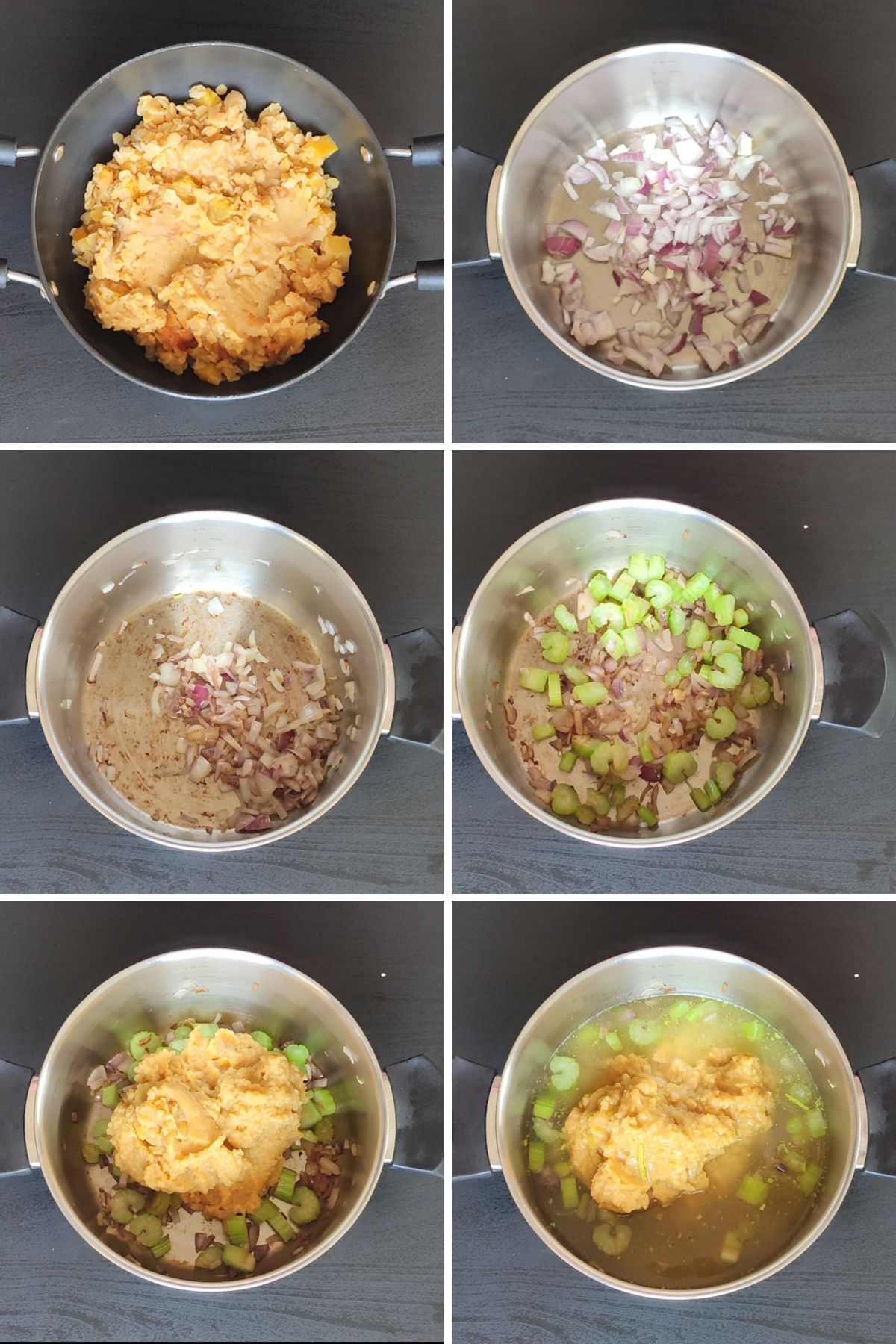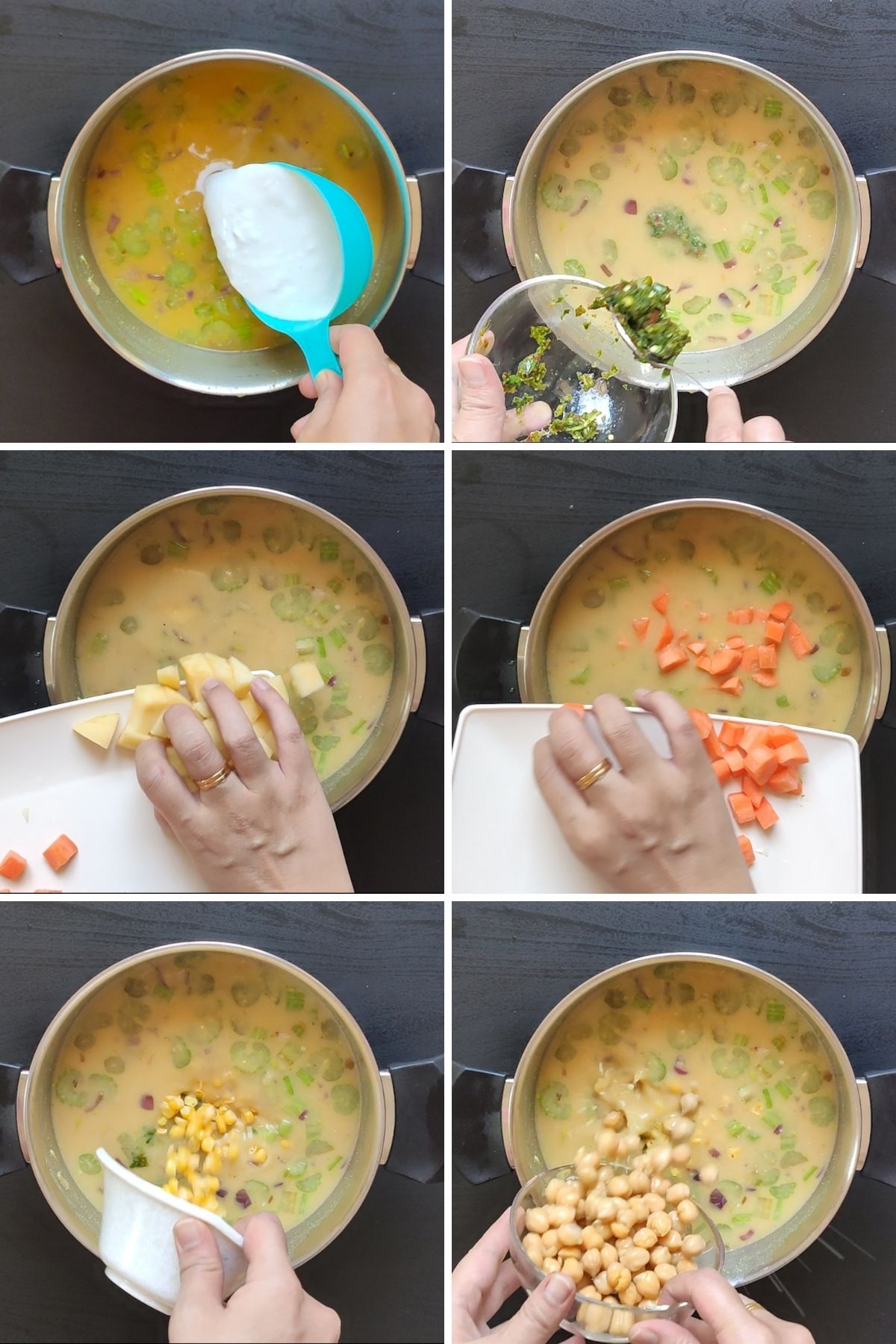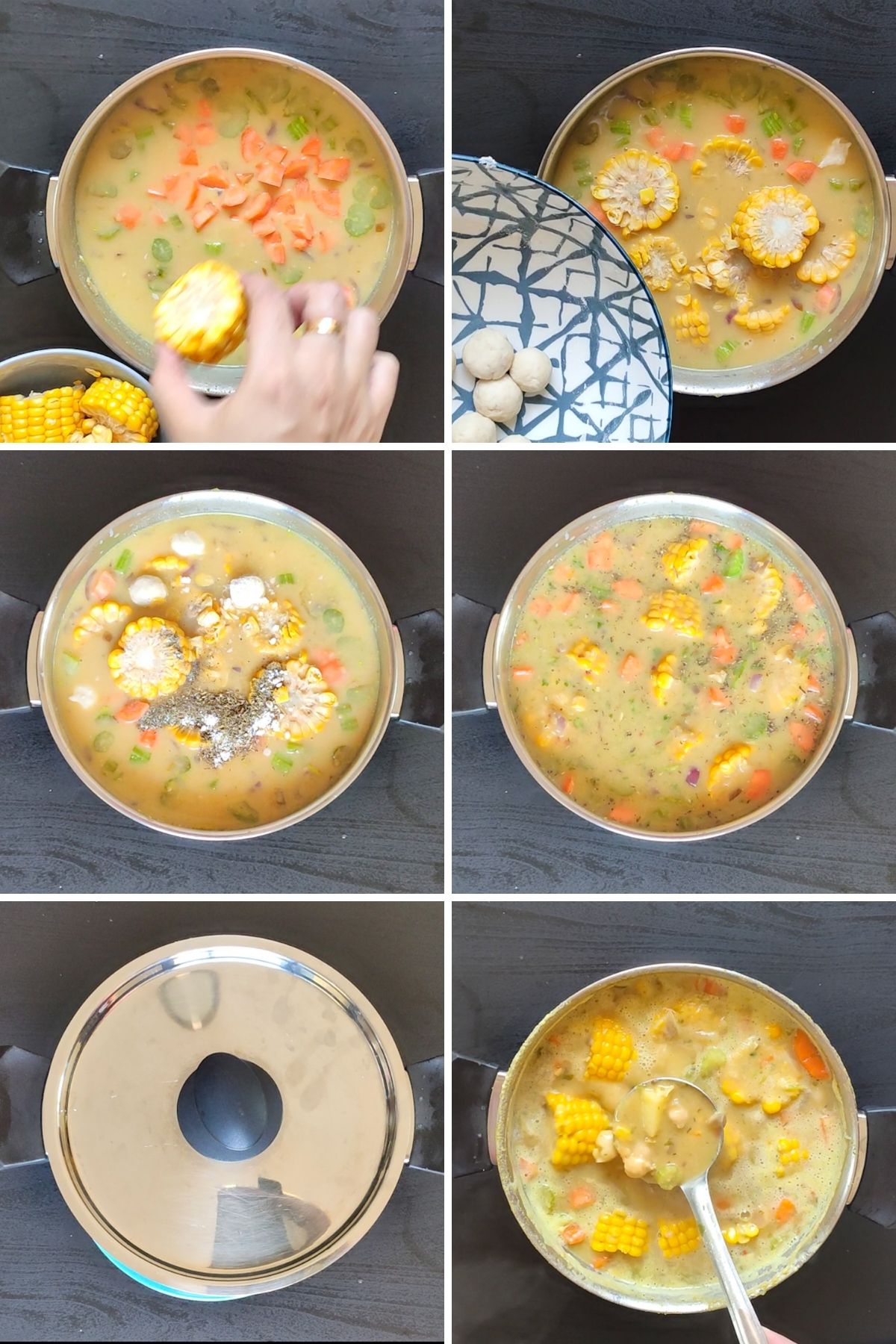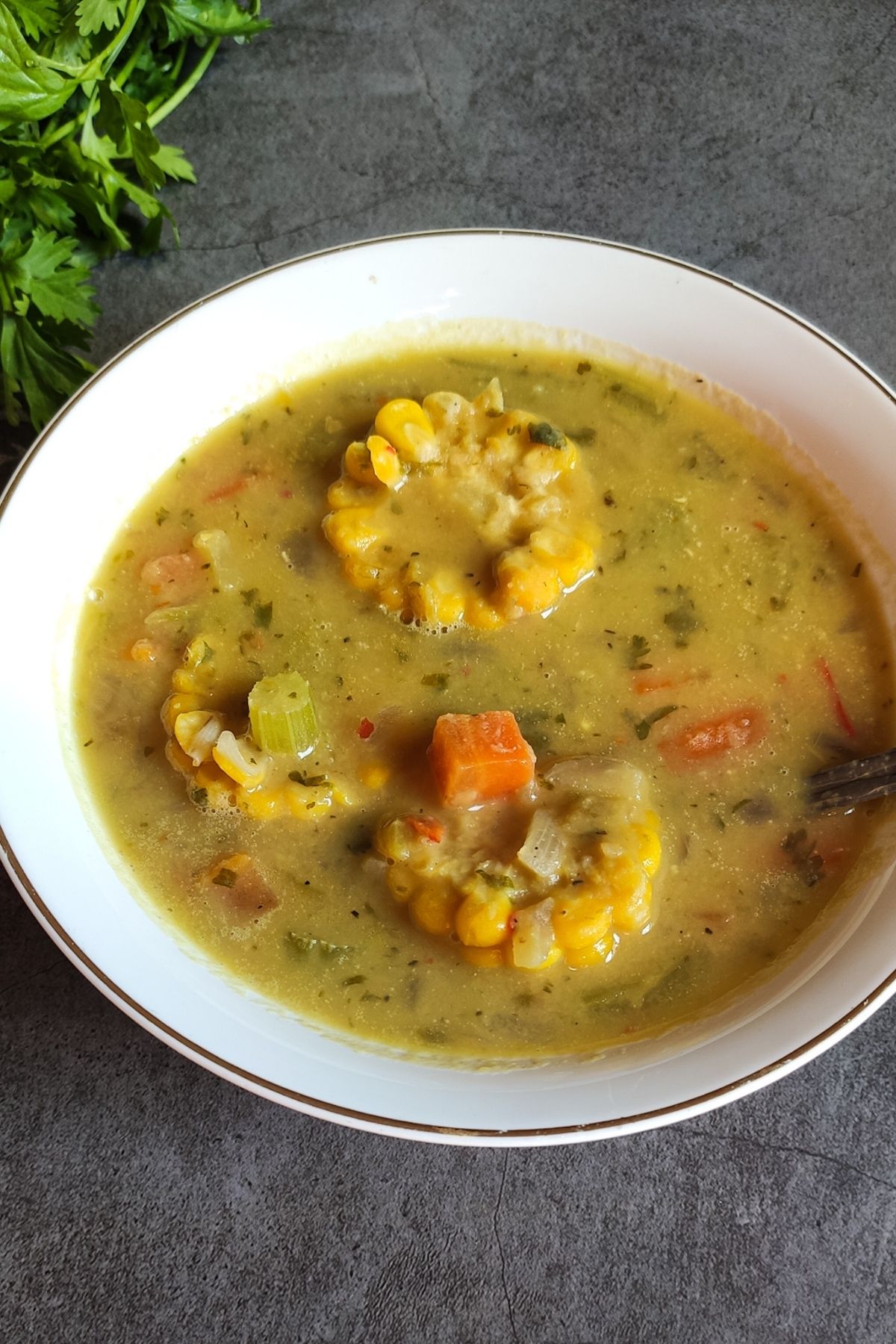 More easy corn recipes
If you are looking for more easy corn recipes, don't miss to check the following links:
If you try any of my recipes, please rate ⭐⭐⭐⭐⭐ it on the recipe card and also leave your feedback in the comments section below. You can also follow me on Facebook, Pinterest, Instagram, and subscribe to my youtube channel.
Recipe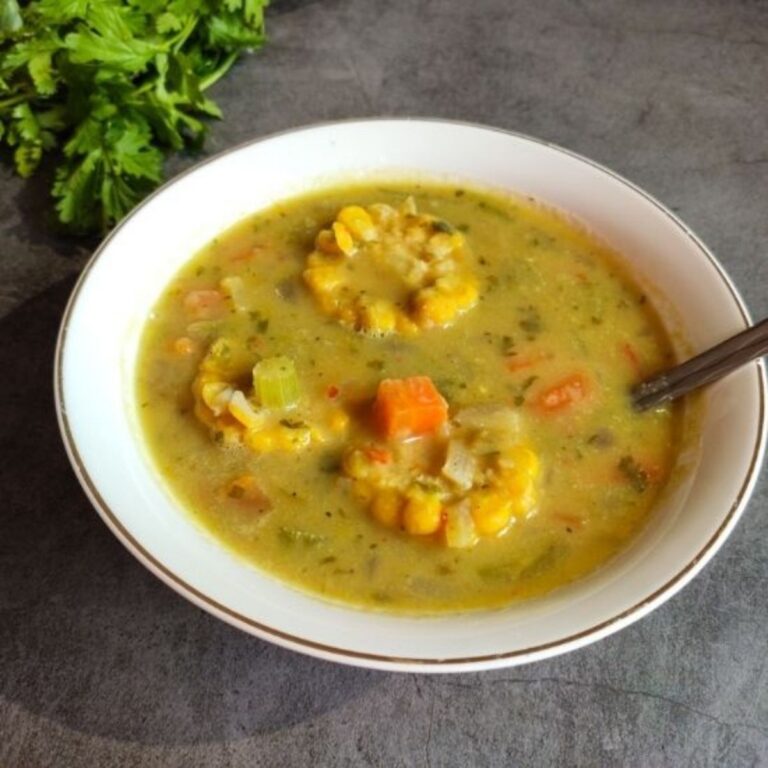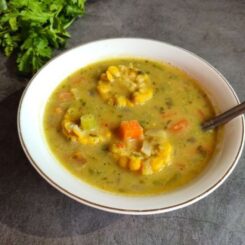 Trinidad Corn Soup
Trinidad corn soup is a very popular street food of Trinidad and Tobago. This vegan soup is full of flavors and textures. It's so delicious that I am sure it will become the favorite soup of most of you once you try it.
Print
Pin
Rate
Ingredients
1

cup

split peas

peele matar ki dal

1.5

cups

chopped pumpkin

0.5

cup

chopped potato

0.5

cup

chopped carrot

0.5

cup

chopped onion

1

celery stalk

chopped

1

corn on the cob

cut into around 1 inch thick slices

½

cup

chopped shado beni

or 1 cup chopped coriander leaves

6-7

garlic cloves

1

Scotch bonnet/ any hot chili pepper

1

cup

boiled/ canned chickpeas

0.5

cup

corn kernels

1

cup

coconut milk

4

cups

vegetable stock

0.5

teaspoon

dried thyme

Ground black pepper as per taste

Salt as per taste

0.5

cup

all-purpose flour

0.25

cups

water

or as required to make a smooth dough

2

cups

water

to cook the lentil

1

tbsp

vegetable oil
Instructions
Wash split peas. Put them in a pressure cooker/ instant pot/ normal pot with pumpkin and water. Cook until the lentil and pumpkin turn mushy. Once cooked mash to a smooth paste with the help of a spatula.

Put Shado beni/ cilantro, garlic, and hot pepper in a grinding jar and make a paste. Keep the paste aside.

In a bowl, mix flour, a pinch of salt, and water. Knead to make a smooth dough. Make small balls from this dough. Cover with a damp cloth and keep aside.

Heat oil in a pan and add chopped onions. Saute until the onions turn translucent.

Add celery and saute for around 2 minutes.

Add mashed split peas and vegetable stock. Mix well and cook for around 2-3 minutes.

Add coconut milk, shado beni paste, chopped potatoes, chickpeas, carrots, corn slices, corn kernels, dumplings, thyme, salt, and pepper. Add more water if needed. Cover the pan and cook for around 30 minutes or until the dumplings are cooked.
Notes
Don't make very large balls of dough otherwise they may remain raw at the center. Also, they increase in size after getting cooked and big dumplings don't taste good in this soup.
Traditionally shado beni is used in this recipe but if you can't find it use cilantro and double the quantity as shado beni is more flavorful than cilantro.
Usually, scotch bonnet is used in this soup but you can use any hot chili pepper.
To fasten the process of cooking split peas and pumpkin use a pressure cooker or instant pot.
Instead of mashing the split peas and pumpkin with a spatula, you can also use a blender to make a smooth paste. Just add some water or stock to the paste and then blend.
To cook lentil in a pressure cooker, 2 cups of water will be sufficient but if using a normal pan add more water (around 4 cups).
Nutrition
Calories:
414
kcal
|
Carbohydrates:
60
g
|
Protein:
16
g
|
Fat:
14
g
|
Saturated Fat:
11
g
|
Sodium:
905
mg
|
Potassium:
999
mg
|
Fiber:
14
g
|
Sugar:
10
g
|
Vitamin A:
5959
IU
|
Vitamin C:
52
mg
|
Calcium:
69
mg
|
Iron:
5
mg
Tried this recipe?
Tag me on instagram #greenbowl2soul