Vegetable rice also known as vegetable pulao is a delicious fragrant one-pot rice recipe from India. Loaded with vegetables, this pulao is vegan and gluten-free. It can be enjoyed with any curry or just a simple raita/ salad.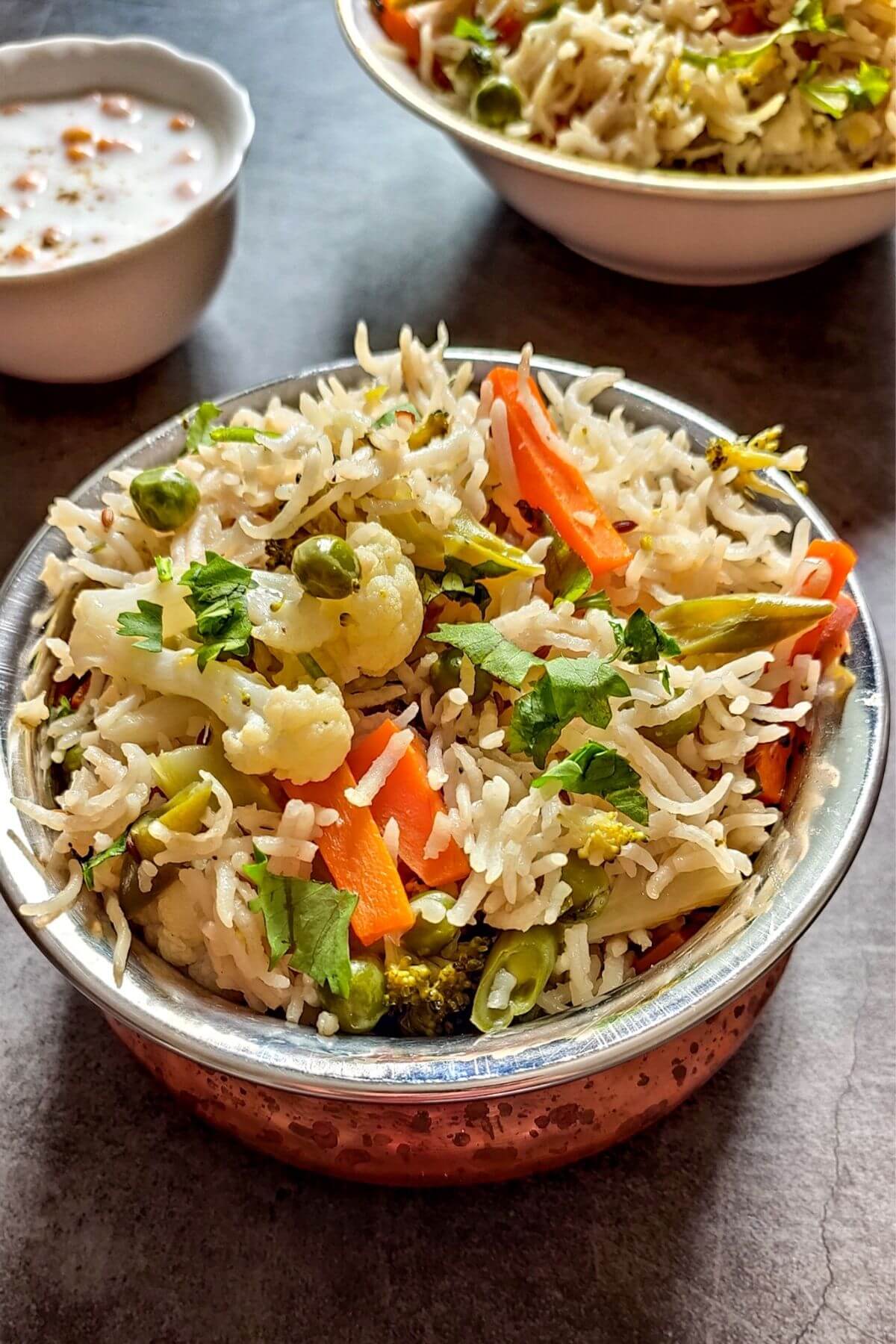 This post contains affiliate links. Please read my full disclosure here. As an Amazon associate, I earn from qualifying purchases without any extra cost to you.
Rice is loved by everyone in my family. At my parents and grandparents house, rice was eaten in lunch every single day. It was generally served with different lentils or curries, stir-fried vegetables, salad, pickle, and raita. Growing up this was the lunch I ate almost every single day.
Though we still love rice, eating it has become less frequent as we mostly eat roti (Indian flat bread).
Today I am sharing the recipe of Indian style vegetable rice more commonly known as vegetable pulao.
This fragrant vegetable rice is the most common vegetarian rice recipe which is cooked whenever you have guests at home or if you are preparing an Indian meal for a celebration- no matter how big or small. You will find it in almost every wedding or every party in which Indian food is served.
Jump to:
What is pulao?
Pulao also known as pilaf, pilao, and by many other similar names in different countries, is a rice dish that's flavored with spices and a lot of other ingredients like meat, fish, or vegetables.
Different versions of pulao are eaten in a lot of countries in the Indian subcontinent and Middle East.
What goes in vegetable rice?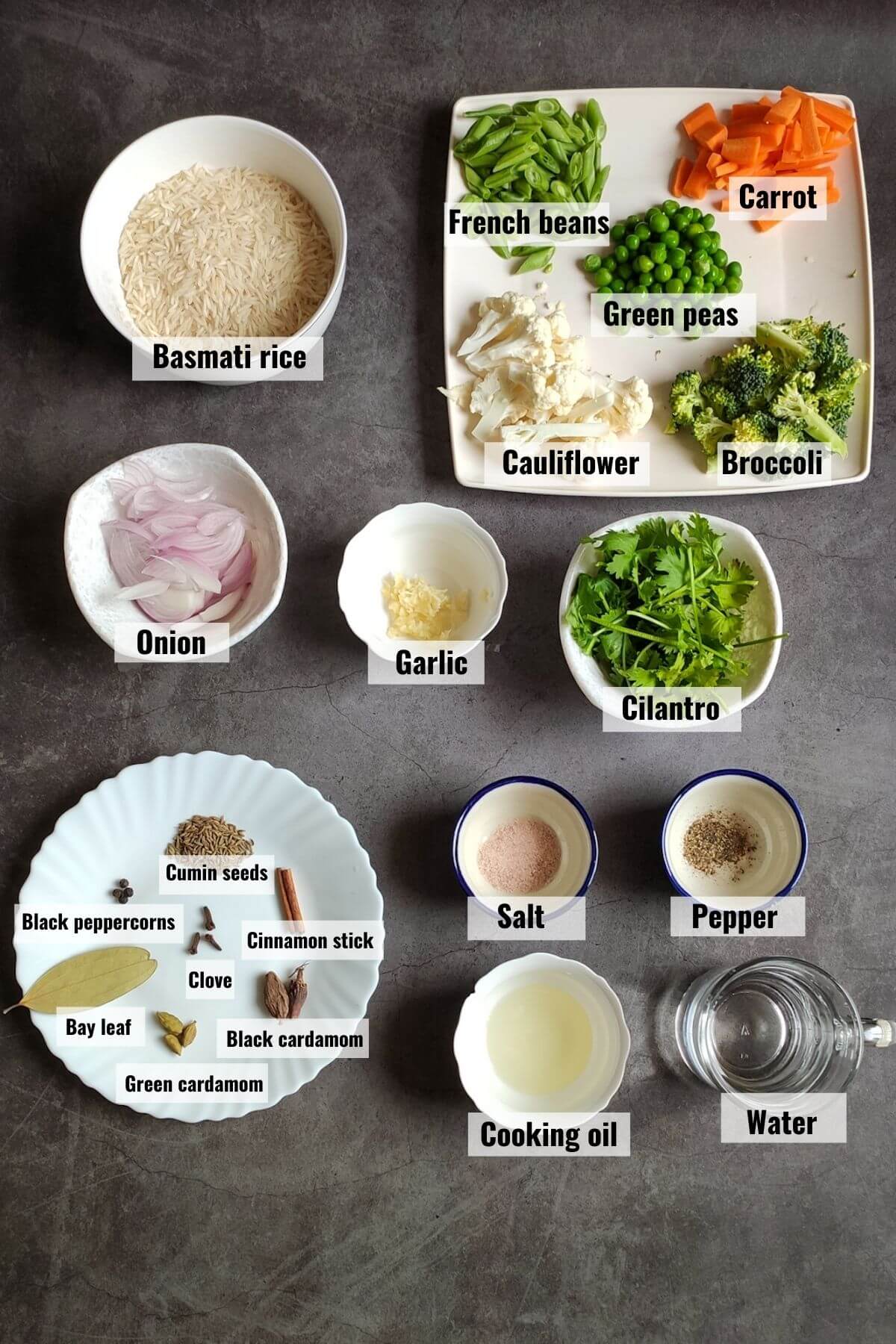 To make vegetable rice in Indian style the following ingredients will be needed:
Basmati rice: For a lot of Indian rice recipes, medium-long grain basmati rice is the best. However, if you don't have Basmati rice, use any other medium-long rice. Don't use a variety with a lot of starch like sticky rice. The rice grain should remain separated from each other in vegetable pulao.
Vegetables: The most commonly used vegetables in Indian vegetable rice are French beans, carrots, green peas, and cauliflower. I have added broccoli too. You can also add corn kernels, sliced baby corn, mushrooms, potato, bell pepper, etc.
Onion: Preferably red
Garlic
Fresh cilantro: You can add fresh mint leaves too.
Whole spices: Cumin seeds, cinnamon stick, black cardamom, green cardamom, bay leaf, black peppercorns, cloves. If you don't have all of these it's fine. Use whichever whole Indian spices you have.
Salt
Ground black pepper
Cooking oil: Use any neutral-flavored cooking oil. If you are not a vegan, I would recommend using ghee (Indian clarified butter) to make vegetable pulao. Ghee enhances the flavor of any pulao.
Rice to water ratio
The ratio of rice to water depends on a lot of factors for e.g. the type of rice used, utensil used to cook it, the quantity of other ingredients added, whether you soaked the rice or not, etc.
Here I have used long grain Indian basmati rice, I cooked it in a heavy-bottomed regular pot with a light lid on and I didn't soak the rice before cooking.
If you follow my exact way of making vegetable rice, for 1 cup of rice, use 3 cups of water. Put a tight lid on and cook on a medium flame for 18-20 minutes and then switch off the gas. Don't remove the lid for at least 5 minutes. After 5 minutes, remove the lid and fluff the rice with a fork.
If you are using a pressure cooker to make this dish or are using soaked rice, use less water and also cook for a lesser time.
How to serve?
Vegetable rice can be served with any Indian curry or dal like lobiya curry, rajma masala, green moong dal or, urad chana dal.
If you want to keep it simple just enjoy with a simple Indian salad like Kachumbar salad. Non-vegans may serve it with a raita like pahadi raita, aloo ka raita, or sprouts raita, which is also my favorite way of enjoying vegetable pulao.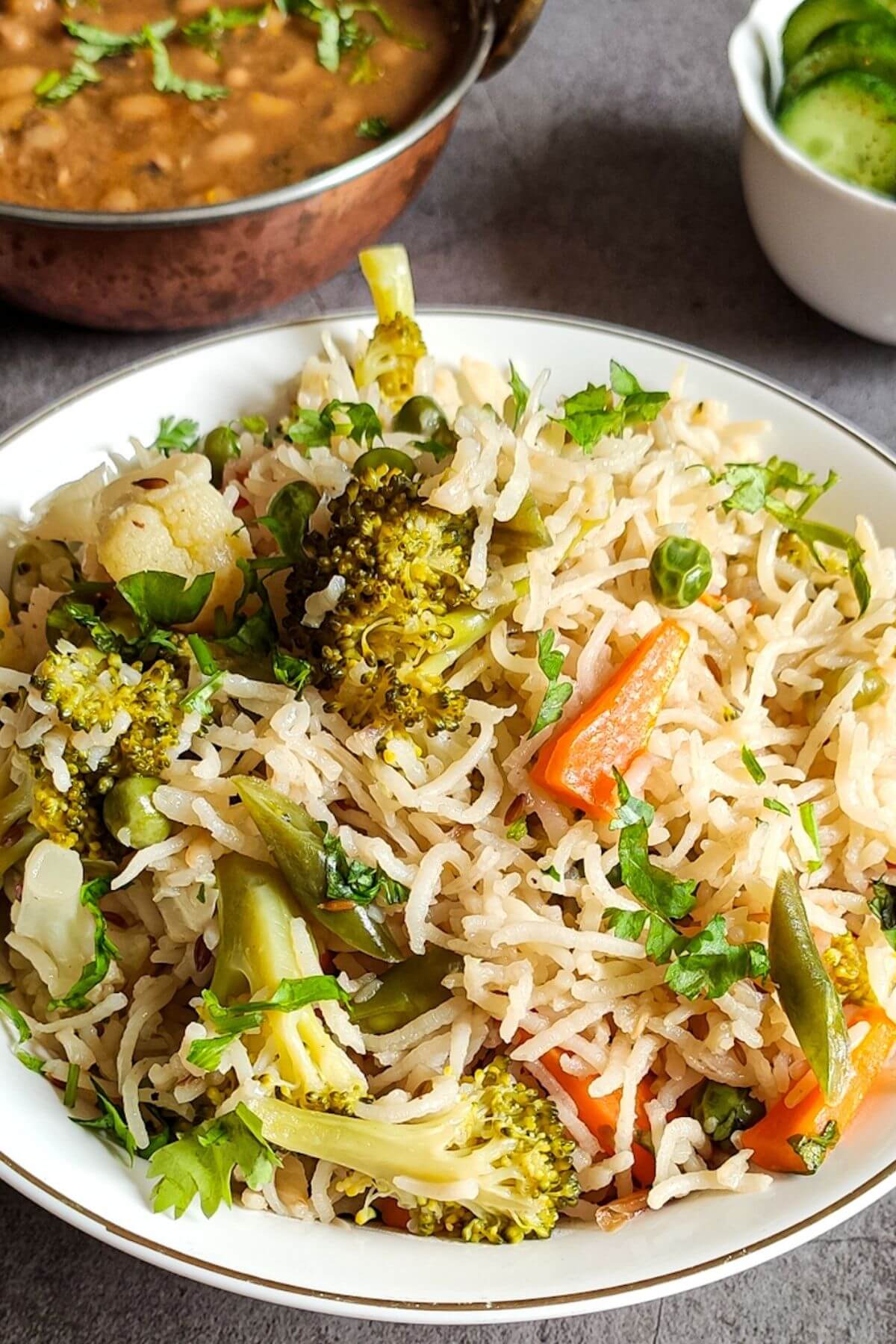 Difference between vegetable pulao and vegetable fried rice
A lot of people ask if vegetable pulao and vegetable fried rice are the same? The answer is no. Though the two main ingredients of both the recipes i.e. rice and vegetables are common, they are two different dishes. Some of the differences between them are given below:
Vegetable pulao is a dish from South Asia and the Middle East whereas vegetable fried rice is from East and South East Asia.
To make vegetable pulao, long grain basmati rice is used. To make fried rice generally a medium-sized rice grain from Asia like jasmine rice is used.
In pulao, raw rice is cooked with vegetables and spices. In fried rice, pre-cooked rice is stir-fried with vegetables.
Pulao is flavored with warm Indian spices. Fried rice is flavored with Asian sauces.
Can it be made in a pressure cooker?
Yes, you can make vegetable rice in a pressure cooker too. But in that case, reduce the quantity of water to 2.5 cups.
Cook for 2 whistles.
Can it made with brown rice?
To be honest, brown rice doesn't have the appropriate size and texture that's required to make vegetable pulao. So, I won't recommend using it if you want to enjoy the authentic pulao or planning to serve it to the guests.
However, if you are a conscious eater who doesn't eat white rice at all but want to try this dish, please go ahead and make it with brown rice. It will take longer to get cooked and the rice to water ratio will also differ.
Recipe tips and tricks
Use long grain Basmati rice to make vegetable rice.
Don't overcook the vegetables with spices. One minute is enough as they will later be cooked with rice too. If you overcook them they will turn mushy and spoil the dish.
Cut equal-sized pieces of vegetables for even cooking.
When adding the spices to oil make sure that the oil is not very hot as the spices get burned very fast. Also, keep the onions sliced before adding spices to the oil.
You can also add cashew nuts and raisins to pulao for a richer taste. Stir fry them with the spices.
If you don't want whole spices to come to your mouth, tie them in a clean muslin cloth and then add to the oil. Once the pulao is cooked remove it from the pot.
Step by step photo instructions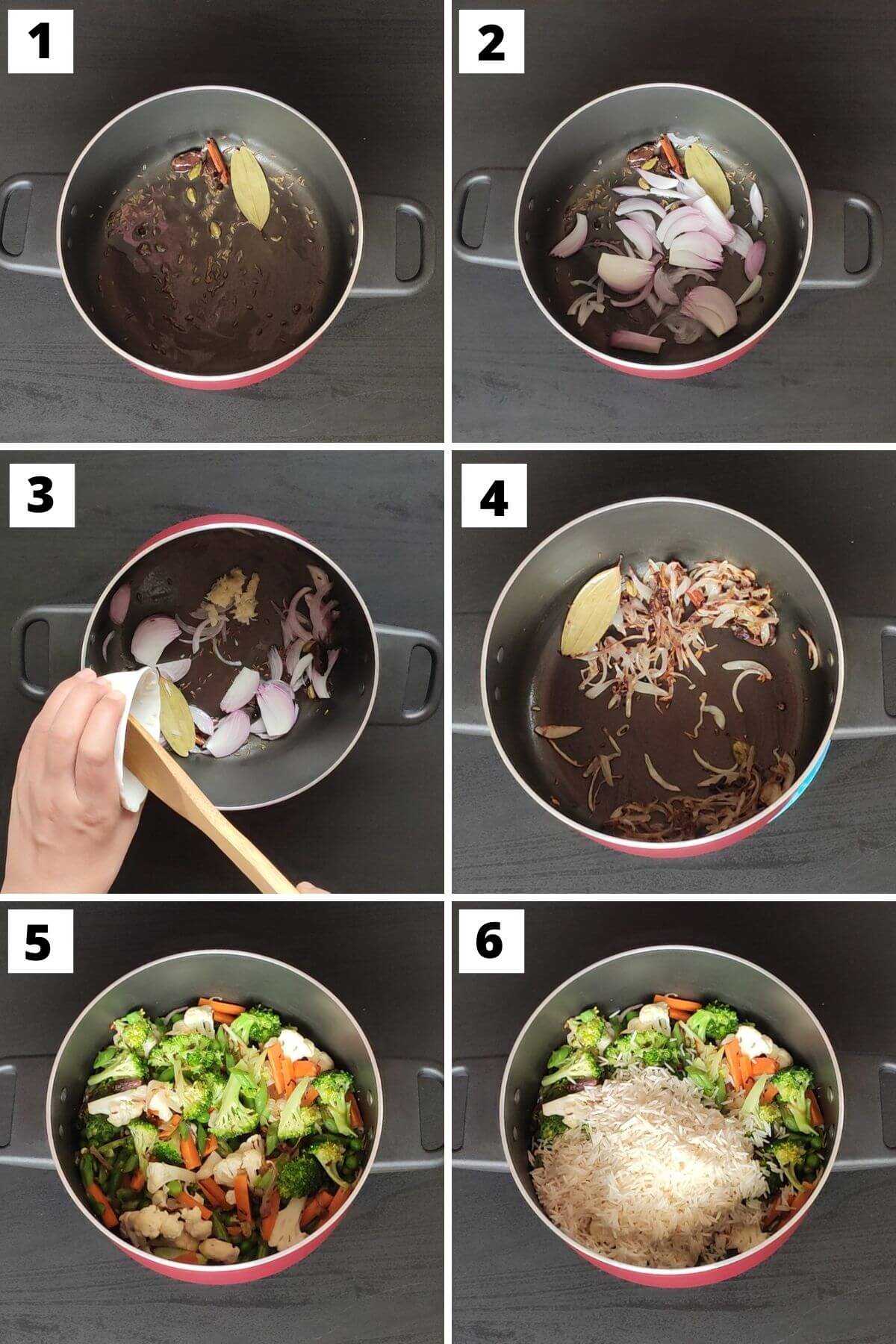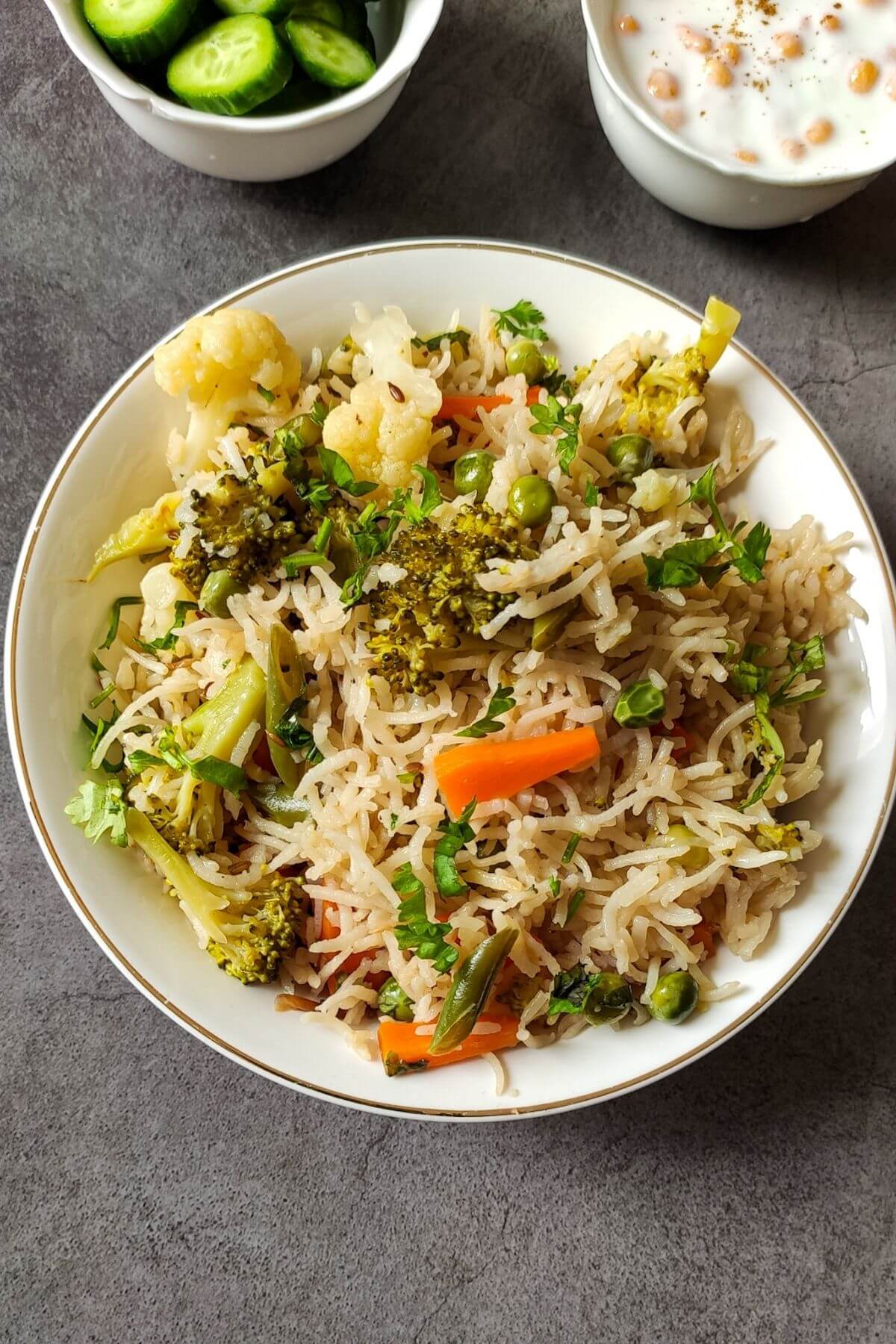 More easy rice recipes
Looking for more easy Indian rice recipes? Don't miss to check the following links:
If you try any of my recipes, please rate ⭐⭐⭐⭐⭐ it on the recipe card and also leave your feedback in the comments section below. You can also follow me on Facebook, Pinterest, Instagram, and subscribe to my youtube channel.
Recipe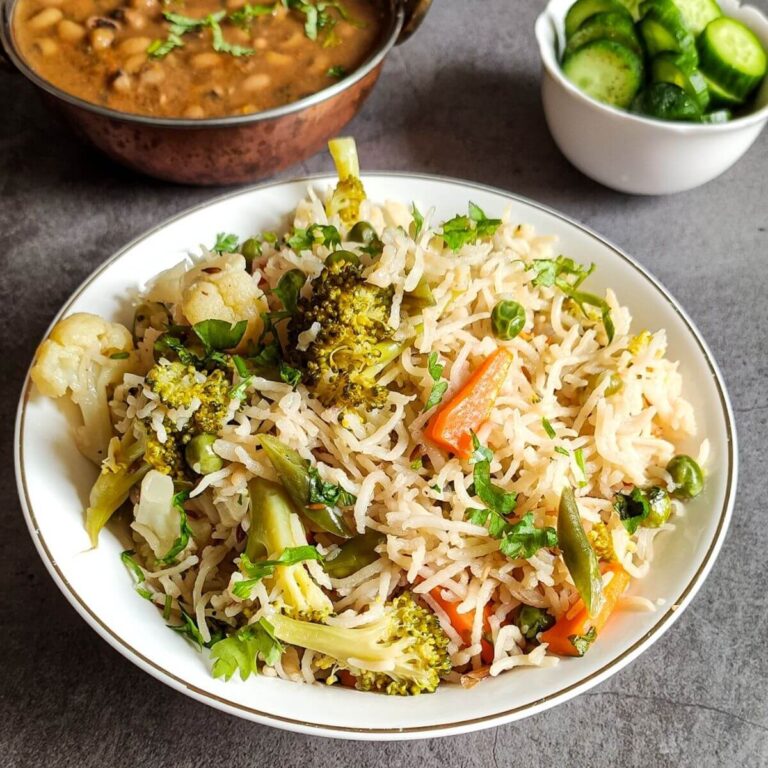 Vegetable rice
Vegetable rice also known as vegetable pulao is a delicious fragrant one-pot rice recipe from India. Loaded with vegetables, this pulao is vegan and gluten-free. It can be enjoyed with any curry or just a simple raita/ salad.
Print
Pin
Rate
Ingredients
1

cup

basmati rice

½

cup

chopped French beans

chopped

½

cup

carrot juliennes

½

cup

chopped cauliflower

½

cup

chopped broccoli

½

cup

green peas

1

teaspoon

minced garlic

1

small red onion

thinly sliced

½

cup

chopped cilantro

½

teaspoon

cumin seeds

1

bay leaf

2

cloves

Ground black pepper as per taste

Salt as per taste

1

tablespoon

any neutral-flavored oil

3

cups

water
Instructions
Heat oil in a pot. Add all the whole spices and saute for a few seconds or until the spices become fragrant.

Add garlic and onion. Cook until the onion turns golden brown.

Add vegetables and saute for a minute.

Next, add washed rice, salt, and pepper. Mix everything and cook without water for around 2 minutes.

Add water and cilantro. Mix and cover the pot with a tight lid. Cook for 18-20 minutes. Switch off the gas. Don't remove the lid for at least 5 minutes.

After 5 minutes, remove the lid, fluff rice with a fork. Garnish with more cilantro. Serve hot with some raita, salad, or curry.
Notes
Use long grain basmati rice to make vegetable pulao.
Feel free to use the vegetables of your choice in the recipe.
Stir fry the rice grains for around 2 minutes before adding water. It will help in keeping the grains separated once cooked.
You can also add cashew nuts and raisins for a richer vegetable pulao.
More detailed recipe tips and tricks are given within the post. Please follow them to make this recipe.
Nutrition
Calories:
255
kcal
|
Carbohydrates:
49
g
|
Protein:
6
g
|
Fat:
4
g
|
Saturated Fat:
1
g
|
Trans Fat:
1
g
|
Sodium:
35
mg
|
Potassium:
337
mg
|
Fiber:
5
g
|
Sugar:
4
g
|
Vitamin A:
3121
IU
|
Vitamin C:
29
mg
|
Calcium:
70
mg
|
Iron:
2
mg
Tried this recipe?
Tag me on instagram #greenbowl2soul