Labneh dip with za'atar- a very popular creamy Middle Eastern dip flavored with Middle Eastern herbs and spices. It can also be used as a delicious smooth spread on toasts and wraps.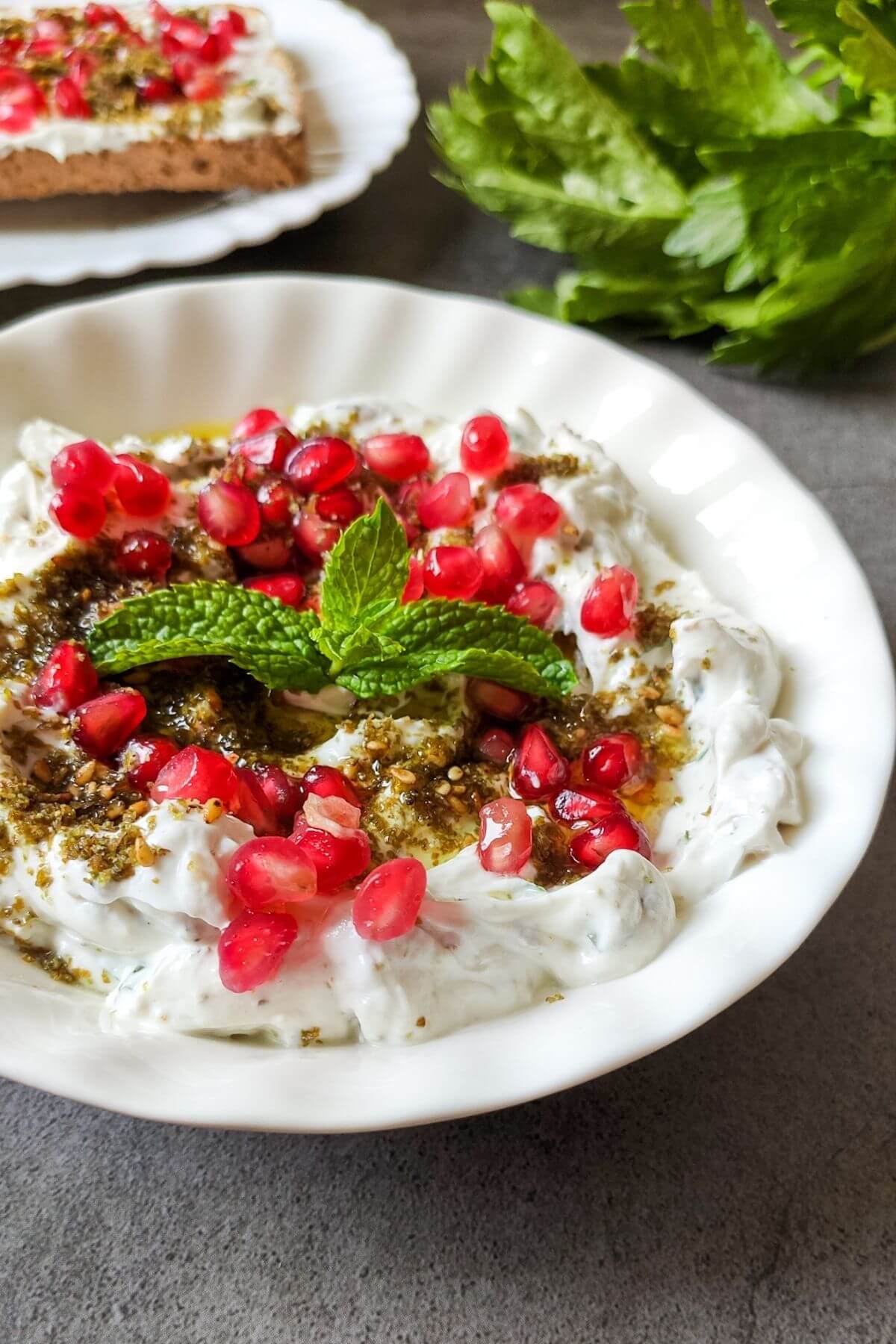 This post contains affiliate links. Please read my full disclosure here. As an Amazon associate, I earn from qualifying purchases without any extra cost to you.
I got the opportunity to taste the Middle Eastern food for the first time after shifting to Dubai around six years ago. I was a non-vegetarian at that time so I immediately started enjoying the local cuisine which is dominated by non-vegetarian dishes.
However, I also got introduced to some vegan and vegetarian Middle Eastern dishes that I ate for the first time in the UAE and they became my favorite. Most of them are dips and appetizers like Labneh dip with za'atar.
Labneh dip is served in every Middle Eastern Mezze. It's made in different ways but my favorite is the basic one with just some garlic, za'atar, and olive oil.
Sometimes, I also like adding toasted nuts, pomegranate, and fresh herbs to make it even more delicious.
We love it so much that now it's made every week at our home and we enjoy it with Indian meals too. It tastes great with Indian flatbread roti and paratha.
Jump to:
What goes in this dip?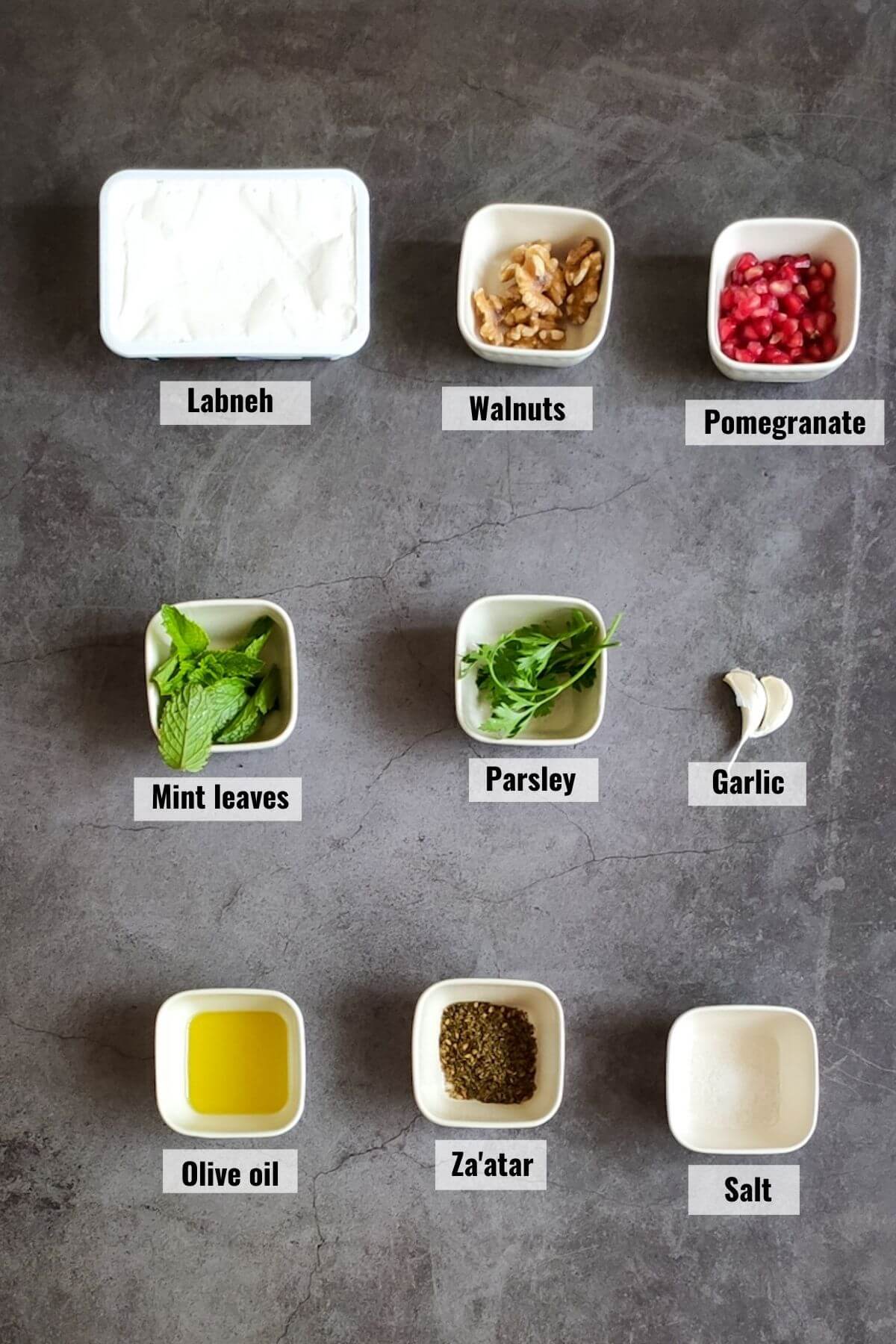 To make this easy savory labneh dip with za'atar, you will need just a handful of ingredients:
Labneh
Walnuts: Slightly dry roast the walnuts to enhance the flavor. Pecans or pine nuts can be used too.
Pomegranate arils
Fresh mint leaves
Parsley/ Cilantro
Garlic
Extra virgin olive oil
Za'atar
Salt: Both labneh and za'atar are slightly salty so add salt carefully and only if required.
What is Labneh?
Labneh is a creamy and thick yogurt dip from the Middle east. It is similar to smooth and creamy hung curd or yogurt cheese.
It is made by straining whey from yogurt by straining it.
What is za'atar?
Za'atar is a very popular spice blend from the Middle East. It is made by mixing different spices and dried herbs like oregano, thyme, toasted white sesame seeds, sumac, etc.
How to make labneh at home?
Though labneh is easily available in the dairy section of any Middle Eastern grocery store, the process of making it at home is also very simple and you can try it.
To make labneh at home you will need a cheesecloth and a strainer.
Put around 2 cups of thick whole milk yogurt on the double layer of the cheesecloth. Tie the cheesecloth and put it on a large strainer. Put the strainer over a bowl to collect the water released from the yogurt.
Press the cheesecloth by putting a small can of beans or something of similar weight on top of it. Leave it like that for around 24 hours.
After 24 hours, transfer the strained yogurt to a bowl. Add around ½ a teaspoon of salt and mix.
Your homemade labneh is ready.
Labneh substitute suggestion
Instead of labneh, you can also make this dip using hung curd. You can add a few tablespoons of cream cheese or olive oil to hung curd to get a smoother consistency like labneh.
How to make Labneh dip with za'atar?
Making labneh dip is very easy and it gets ready in less than 5 minutes.
Put labneh in a bowl and gently mix with a spoon until it becomes smooth.
Add all the other ingredients except pomegranate. Mix everything.
Garnish with more olive oil, za'atar, pomegranate, and mint leaves.
Enjoy!
Step by step photo instructions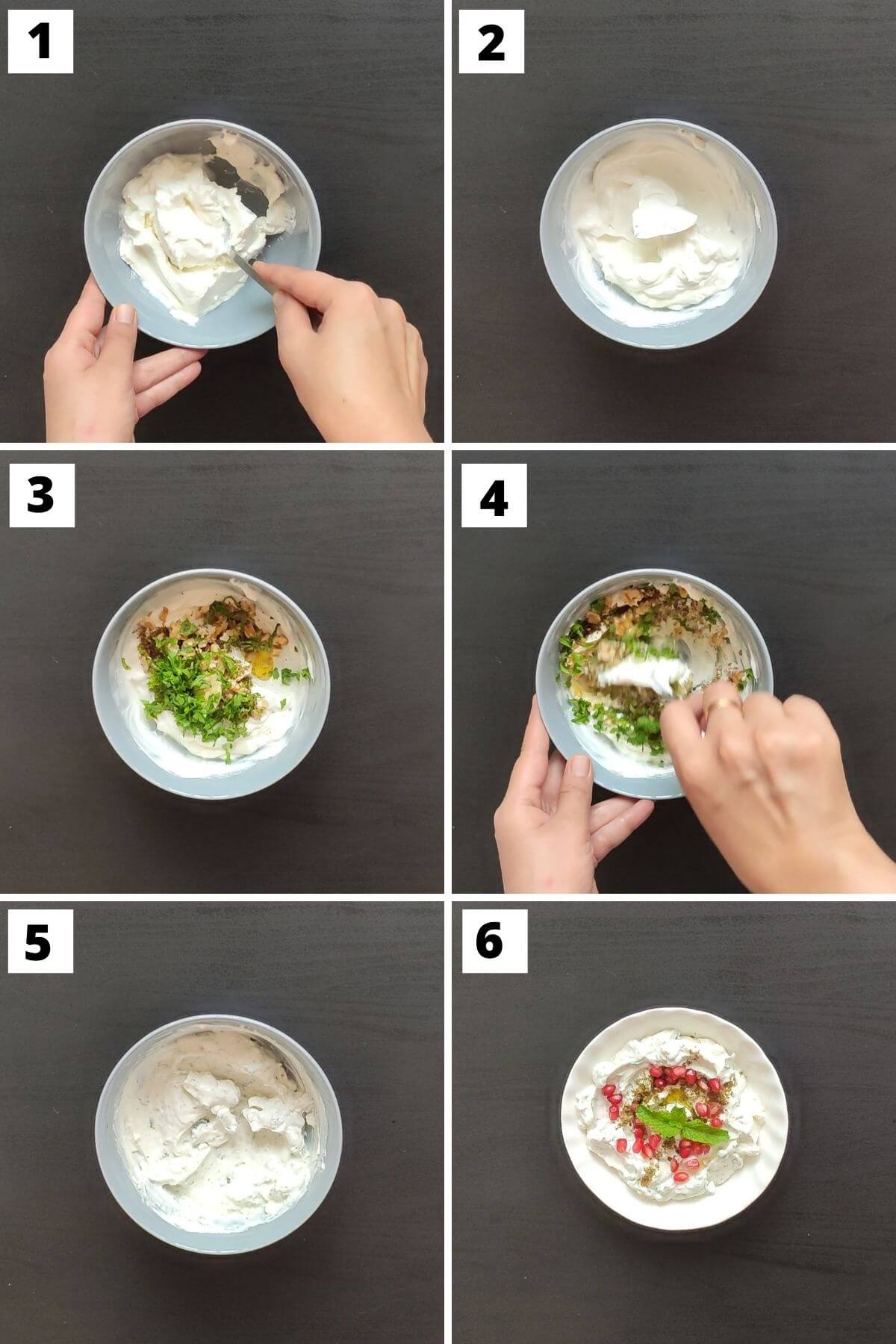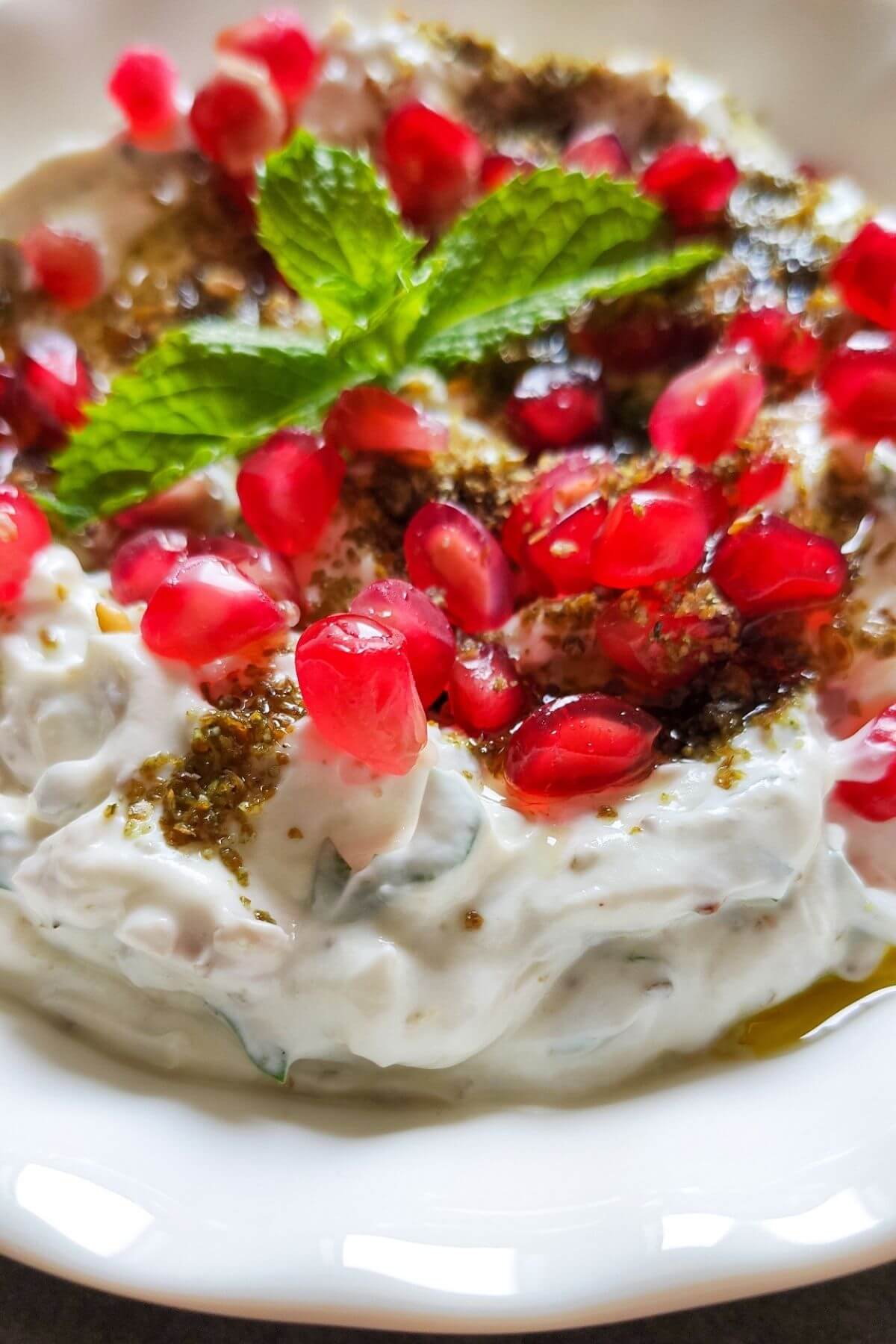 Serving suggestions
Labneh dip can be served with any appetizer especially Middle Eastern appetizers like falafel or couscous fritters.
They taste great with vegetable sticks too.
You can also use labneh dip as a spread on a toast or wrap.
Recipe tips and tricks
Both labneh and za'atar are salty so add additional salt carefully and only of required.
You can also add chili flakes for some kick.
Add pomegrante arils only after mixing the other ingredients wit labneh otherwise the arils will release juice and change the color of the dip.
Slightly dry roast the walnuts or whichever nut you are using before adding to the labneh dip. Roasting nuts increases their flavor as well as aroma and also makes them crunchier.
Frequently asked questions
Are labneh and Greek yogurt the same?
No, Labneh and Greek yogurt are not the same. Labneh is made by straining yogurt for a longer time and has a consistency similar to cream cheese. Labneh is also always seasoned with salt.
Is Labneh healthier than cream cheese?
Yes, labneh is considered healthier than cream cheese because of lesser fat and calories in it.
Can you freeze labneh?
No, you cannot freeze labneh for future use because when you defrost it, the texture will not remain the same.
How long can labneh stay in the fridge?
The opened pack of labneh remains fine for around 5 days but it tastes the best in the initial 3 days. After that, though it doesn't go bad for another 2-3 days but may taste slightly sour.
Can labneh replace sour cream?
Though the texture and taste of sour cream are different, if you couldn't find labneh, use sour cream or hung curd in this recipe.
Are labneh and laban the same?
Some people who have recently got introduced to Middle Eastern cuisine may get confused with two very important ingredients from the region-Labneh and Laban. Though they sound familiar, both are completely different. Labneh is strained yogurt whereas Laban is a drink similar to thick buttermilk.
More easy Middle eastern recipes
From Middle eastern dips to desserts, if you are looking for easy recipes from this part of the world then don't miss checking the following links on my blog:
More easy vegetarian dips
Looking for more easy vegetarian dip recipes from around the world? The following recipes are worth checking: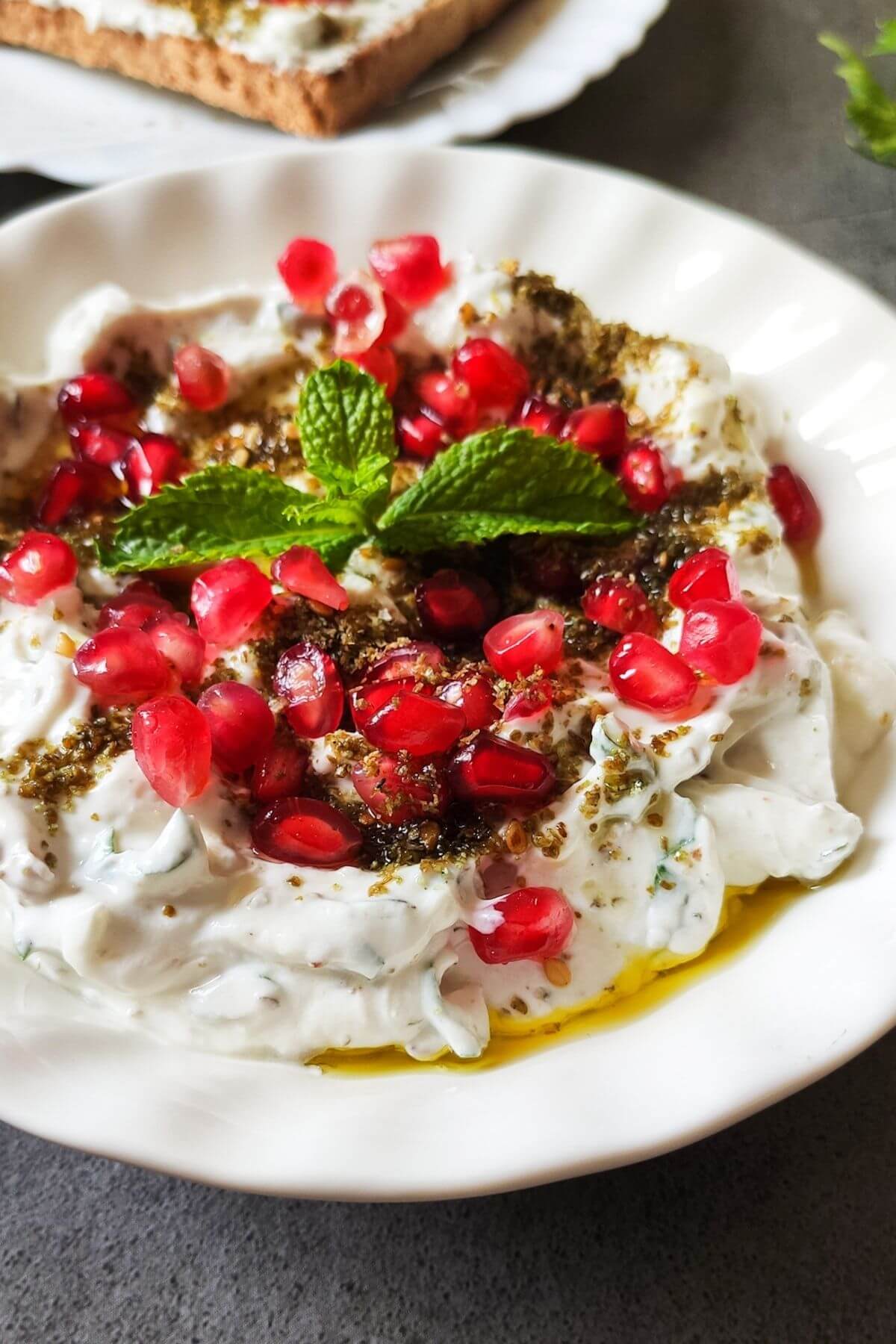 If you try any of my recipes, please rate ⭐⭐⭐⭐⭐ it on the recipe card and also leave your feedback in the comments section below. You can also follow me on Facebook, Pinterest, Instagram, and subscribe to my youtube channel.
Recipe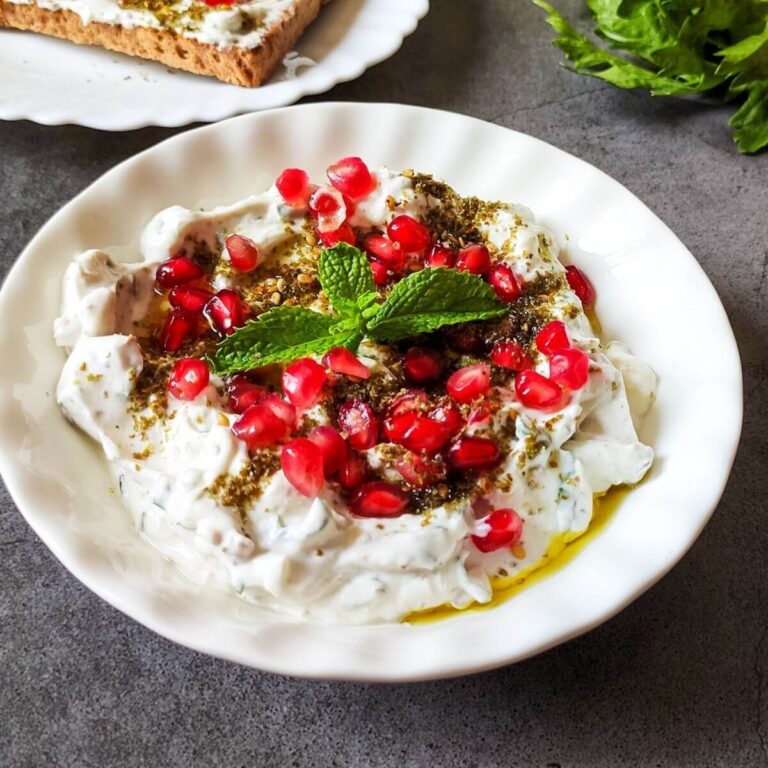 Labneh dip
Labneh dip with za'atar- a very popular creamy Middle Eastern dip flavored with Middle Eastern herbs and spices. It can also be used as a delicious smooth spread on toasts and wraps.
Print
Pin
Rate
Ingredients
200

grams

labneh

1.5

tablespoons

zaatar

½

teaspoon

minced garlic

1

tablespoon

finely chopped mint leaves

1

tablespoon

finely chopped parsley

1

tablespoon

chopped toasted walnuts

2

tablespoons

pomegranate arils

2

tablespoons

olive oil

Salt to taste
Instructions
Put the labneh in a bowl. Add 1.5 tablespoons olive oil, zaatar, salt, garlic, walnuts, parsley, and mint leaves. Mix everything.

Transfer to a serving bowl.

Drizzle remaining olive oil on top. Garnish with zaatar, pomegranate, and mint leaves.

Serve with falafels, vegetable sticks, or any other snack of your choice. You can also use it as a spread.
Notes
Both labneh and za'atar are salty, so add more salt carefully only if required.
Add pomegranate only after mixing the other ingredients with labneh.
Slightly dry roast the nuts before adding to the dip. Roasting makes the nuts more flavorful, aromatic and crunchy.
Nutrition
Calories:
480
kcal
|
Carbohydrates:
20
g
|
Protein:
23
g
|
Fat:
36
g
|
Saturated Fat:
5
g
|
Polyunsaturated Fat:
8
g
|
Monounsaturated Fat:
22
g
|
Trans Fat:
1
g
|
Cholesterol:
10
mg
|
Sodium:
81
mg
|
Potassium:
503
mg
|
Fiber:
5
g
|
Sugar:
11
g
|
Vitamin A:
788
IU
|
Vitamin C:
14
mg
|
Calcium:
367
mg
|
Iron:
9
mg
Tried this recipe?
Tag me on instagram #greenbowl2soul