This vegan pasta recipe is simple, delicious and very easy to make. Made with cherry tomatoes, spinach and mushrooms, it gets ready within 30 minutes.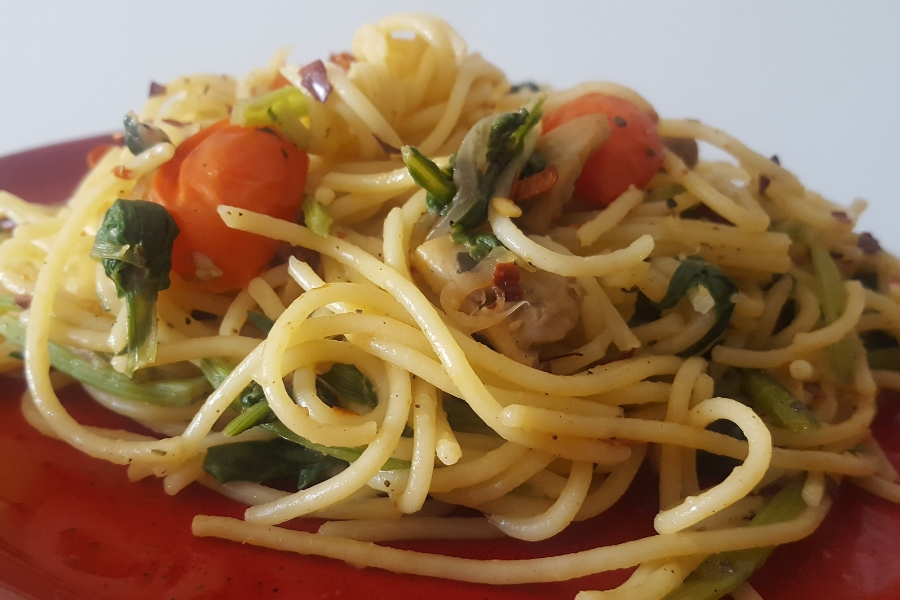 If you follow my blog then you must have noticed that the most frequently shared recipes here are of Noodles and Pasta.
The reason is that it's very easy to make these recipes, they are delicious and we love them.
Most of my recipes Pasta and Noodles recipes get ready within 30 minutes so after a long tiring day when you don't feel like spending hours in the kitchen but also want to have something delicious, these are the best options.
If you have missed any of my noodle/ pasta recipes, you can check them below:
Though most of us consider Pasta an Italian food, there are different claims made on this Global food.
Some believe that the concept of noodles was brought to Italy from China by Marco Polo in the 13th century which later took the form of Pasta.
Some also believe that the Arab vermicelli is in the root of Pasta and many claim Greece to be the place of origin for every type of Pasta.
I don't know how true these claims are. I don't know from where the journey of Pasta begin but what I am sure about that it has ended in the heart of people from every country and that's what matters.
If you also love Noodles and Pasta then please let me know and also share your favorite recipe with me.I will definitley try it.
Disclaimer:  Please note that some of the links shared in my blog are affiliate links and I will get benefited if you buy products from them at no extra cost to you. However, I have personally used most of these products hence recommending them to you. You are free to buy them from anywhere also.
How to make Vegan Pasta with spinach, mushrooms, and cherry tomatoes:
Recipe:
Preparation time: 15 minutes
Making time: 15 minutes
Total time: 30 minutes
Serves: 4
Ingredients:
Any pasta of your choice: 400 gms
Cherry tomatoes (cut into halves): 1 cup
Roughly chopped spinach: 2 cups
Roughly diced mushrooms: 1 cup (You can use any variety of your choice)
Thinly sliced red onion: 1
Finely chopped garlic cloves: 6-7
Oregano: 1/2 a tablespoon
Red chili flakes: ½ a tablespoon/ as per taste
Black pepper powder: ½ a teaspoon/ as per taste
Unsweetened almond milk: ½ a cup (You can use normal milk/ cream if you are not a vegan)
Salt: As per taste
Olive oil: 1.5 tablespoons
Method:
Boil pasta as per the instructions given on its packet and keep aside.
Heat oil in a large pan/ wok and add chopped garlic to it. Sauté for a few seconds till it becomes fragrant.
Next, add in the onions and sauté till it becomes translucent.
Now add in the mushrooms and saute for around 2-3 minutes. Add in some salt and pepper.
Once the mushrooms are done add spinach and let it cook for 2-3 minutes till the moisture gets released and leaves shrink.
After spinach, add the cherry tomatoes, chili flakes, and oregano. Saute for around a minute and then add in the almond milk. Mix well.
Now add in the boiled pasta, mix everything well and switch off the gas.
Serve hot. If you are not a vegan then sprinkle some Parmesan cheese on top and enjoy!